Akhnaten
Philip Glass
Met Opera on Demand
Metropolitan Opera House, New York
–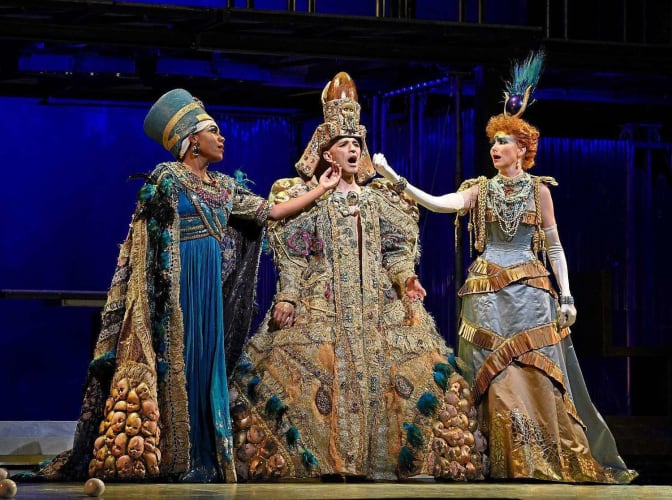 It is surprising to discover that this production in November 2019 was the first time that Akhnaten, the final opera in Philip Glass's "Portrait" Trilogy, had been staged at the Met, at the advanced age of 35.
Glass offers a very different operatic experience from the classics. When his work is combined with the direction of Improbable Theatre's British auteur Phelim McDermott, aided by unorthodox choreography from juggling legend Sean Gandini, the result is astonishing.
From the first moments, it is clear that the director has pulled out all of the visual stops in a stunning vision that often exhibits the kind of beauty that one might more commonly expect to see at Tate Modern or MoMA rather than in a theatre.
In addition to the stars supported by the Metropolitan Orchestra and chorus conducted by Karen Kamensek, McDermott has enlisted a team of immaculately choreographed Gandini Jugglers to enhance the visual impact.
Although they might distract in a Mozart or Verdi setting, their skills seem highly appropriate to complement the hypnotic, repetitive music of this great minimalist.
They also form part of an expansive system of imagery and symbolism, which together help to tell the tale of this ground-breaking Pharaoh, portrayed by Anthony Roth Costanzo.
The evening opens, on the first of a series of large-scale Tom Pye sets, with the death of the protagonist's father, Amenhotep played by Zachary James, who as de facto narrator speaks or booms as much as he sings.
The leader's departure heralds the first of a series of ritualistic set pieces with his funeral a first chance to sample the astonishing costumes of Kevin Pollard.
The event is presided over by a team of holy men, one of whom rather incongruously looks like a witchdoctor who has escaped from the Mexican Day of the Dead.
In a bold political move, the new, pure countertenor Pharoah dispenses with polytheism, hanging his spectacular headdress on the sun god, Aten.
In another visually memorable, if literally slow-moving section, he approaches and falls for mezzo-soprano J'Nai Bridges as Nefertiti, both dressed in blood-red with trains that together span the width of the Met's massive stage.
The lighting, designed by Bruno Poet, is also a major part of the performance, never seen to better effect than in the long Hymn scene in which Akhnaten pays homage to Aten in front of a sun that changes from blue to yellow and orange while receiving his homage.
In a situation that parallels so many rulers who have followed, Akhnaten's fate is determined by his failure to listen to the needs of his people and their religious leaders as his 17-year reign spins out.
This means that the ending is not what he might have hoped for but, instead, leads to a wordless, memorialised epilogue in which the Pharoah and Nefertiti are tunefully joined by his mother, Dísella Lárusdóttir as Queen Tye.
This spectacular and boldly imaginative production by Phelim McDermott must have cost a Pharoah's ransom but is worth every dollar, looking and sounding beautiful throughout.
Reviewer: Philip Fisher