Akram Khan's Giselle

English National Ballet
Palace Theatre
–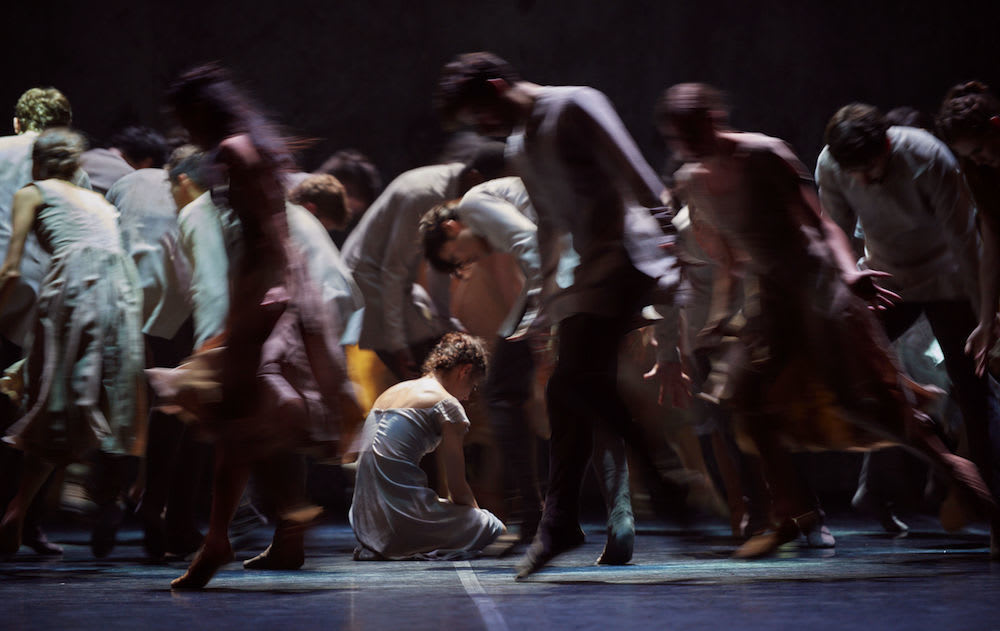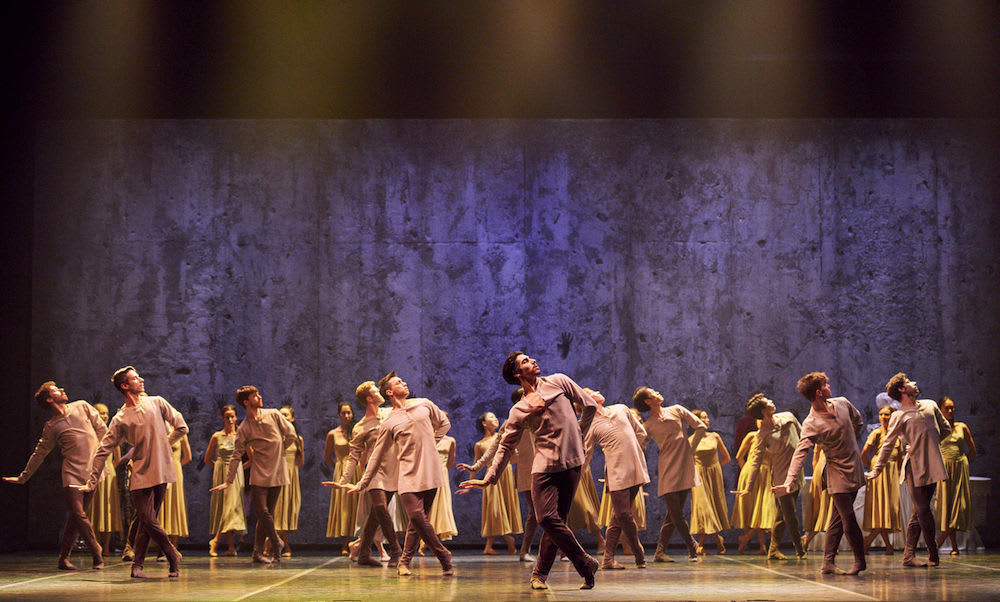 Few shows have been more highly anticipated in Manchester this year than Akram Khan's Giselle. Co-produced by Manchester International Festival and Sadler's Wells, this English National Ballet retelling of one of ballet's most beloved stories promised to be a completely new creation under Khan's direction.
The curtain rises on a line of migrant workers, their hands pressed against a grey wall that towers above them. This stark image of enslavement sets the tone for a contemporary, politically-charged retelling—there will be no snowy white tutus here.
Albrecht (Isaac Hernández) and Giselle (Alina Cojocaru) are soon revealed amongst the crowd and dance a playful, tender duet that contrasts with their surroundings. Cojocaru appears to float in and out of each lift, but Giselle's fragility can be glimpsed even beneath the girlish happiness of these steps. Hilarion (Cesar Corrales) is a powerful presence onstage, throwing himself into breakdance moves and attempting to force the lovers apart.
Vincenzo Lamagna's score skilfully borrows from Adam's original music, incorporating recognisable phrases with passages of silence, sound effects and dramatic crescendo. The workers dance to the rhythm of factory machinery, beating their arms and galloping across the stage to its mechanical pulse. Khan's choreography is a whole new dance language—classical ballet steps are interwoven with deep lunges, arched backs, stamping feet and intricate hand movements from the Indian kathak tradition. Repeated motifs work in place of classical ballet mime—Giselle and Albrecht cover each other's faces with the palms of their hands to express their love.
The energetic momentum of the workers is shattered when an alarm sounds, and the wall—a truly impressive design feat—rises like a giant garage door to reveal several figures silhouetted in bright light. These are the ruling class (Landlords), swathed in sumptuous, outlandish costumes that contrast with the shabby, pale clothes of the workers.
Amongst them is Bathilde (Begoña Cao), Albrecht's cold and glamorous fiancée. The revelation of their attachment is devastating—having sunk into an embrace with Giselle, Albrecht quite literally drops her, turns his back and walks away. The ensuing mad scene—one of classical ballet's most powerful episodes—sees Giselle contort in a physical manifestation of her pain, before being surrounded by the workers. They link arms to form a circle around her and pulse in waves—a movement reminiscent of Dust, Khan's first work for the company—before parting to reveal her lifeless body.
Act II is more heavily influenced by classical ballet. Unusually, it begins with a solo for Albrecht—Hernández's vigorous leaps and turns expressing his character's anguish and regret at betraying Giselle—but soon we are in the realm of the Wilis. Mark Henderson's lighting design, impressive throughout in its use of extreme light and dark, perfectly nails the traditional moonlit effect.
Khan's Wilis look like they've just crawled out of their graves—their dresses are tattered and stained, while their loose hair hangs over their faces, evoking images of horror films. Interestingly, they are also the only characters en pointe. After an act of dancers in soft shoes, they seem unnaturally tall—their queen, Myrtha (Stina Quagebeur) is a particularly towering presence as she drags Giselle's corpse onto the stage at the start of the act. After reanimating the heroine's body, Myrtha drags Giselle up onto her pointes and teaches her to dance as the Wilis do. Quagebeur deserves a special mention here—whilst all of the Wilis spend a lot of time on their toes, at least ninety percent of Myrtha's choreography appears to be bourrées.
It's unclear why the normally repentant Hilarion tries to strangle Giselle—unless it's out of rage at being spurned—but the Wilis ensure that he is duly punished. Beating their sticks on the stage in time to a heady drum beat, they close in and use the sticks to manipulate him like a puppet in an echo of the forced dancing of the traditional version.
Sadly, this is the last we see of them. As the Wilis withdraw with Hilarion's body, Albrecht and Giselle dance their final bewitching duet. As they dance, Giselle becomes increasingly lifeless, resulting in athletic Kenneth MacMillan-style lifts. Myrtha repeatedly intervenes, attempting to stab Albrecht, until Giselle finally seizes hold of the stick and forces the Queen back into the shadows with her.
Albrecht is left alone on the stage as the wall comes down between them, leaving the audience with no sense of hope or relief—the heroine is clearly as enslaved in the spirit world as she was in the real one.
But the rapturous applause that echoed around the Palace Theatre testifies to the triumph of this production—Akram Khan's Giselle isn't just a clever, contemporary retelling, but a work of real emotional and technical substance that will wow everyone who is lucky enough to see it.
Reviewer: Georgina Wells