Lest We Forget: No Man's Land / Second Breath / Dust
Choreography Liam Scarlett, Russell Maliphant, Akram Khan
English National Ballet
Sadler's Wells
–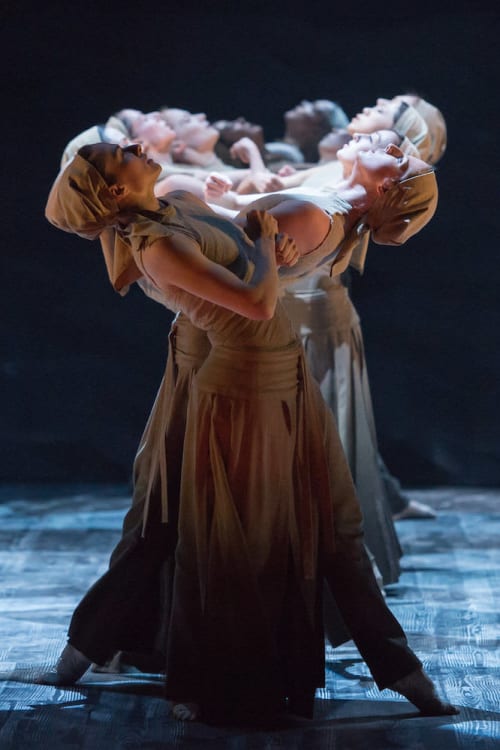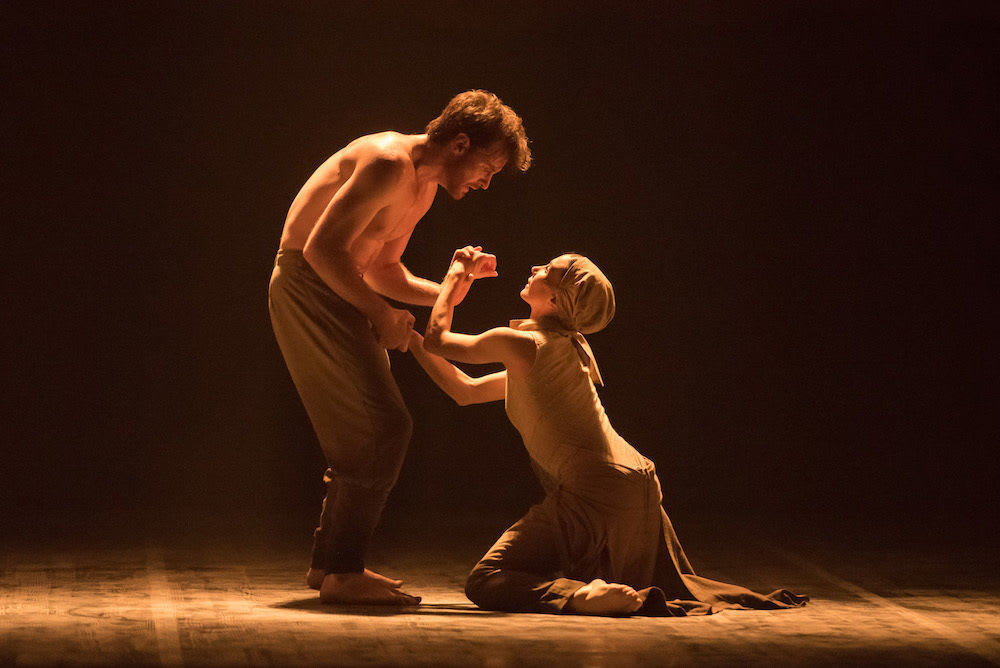 Specially commissioned last year for the centenary first year of the First World War, the commemorative Lest We Forget trilogy of ballets warrants repeat viewings. All three are treasures to keep.
Liam Scarlett's forty-minute No Man's Land, Russell Maliphant's twenty-minute Second Breath and Akram Khan's twenty-five-minute Dust are breathtakingly beautiful, breathtakingly poignant, breathtakingly danced and staged. An epic tale and two short stories as short as a soldier's life.
No Man's Land blows me away afresh, confirming Scarlett's talent, nascent no more. Liszt's music, Jon Bausor's set and Paul Keogan's dramatic lighting create an unforgettable stage picture, matching soundscape to art.
Rays of light break through the tall broken windows of a shell-bombed working factory, very like John Piper's Coventry cathedral in its shattered grandeur, into its dusty gloom, picking out seven women and shapes on the raked floor which turn out to be men not sacks. Both on the conveyor belt of war, the women making shells, the men at the mercy of these shells, a symbiotic dance of death and loss and longing.
The emotional and intellectual weight of the drama is explored through clever metaphor and in choreography that is hauntingly ardent and true. The baggage of war: the women on men's backs are both their mainstay and their burden.
Three pas de deux share an intimacy of love: Crystal Costa with Max Westwell passionate, Erina Takahashi with Fabian Reimair lyrical, but the most heart-stopping of all is Alina Cojocaru with James Forbat. Their final duet to the solo piano's (Julia Richter) sombre chords brings No Man's Land to a bitter conclusion.
Memory, the intimate life-confirming sense of touch, caressing the air promise crammed, moulding her man's former shape with her arms, one minute he's there then he's gone. Women without men—no men land—and men lost in a land no man should endure.
The stage turns darker still for Maliphant's Second Breath. Lighting designer Michael Hulls believes we can see more than we think we can in darkness, eyes adjust, but not according to one elderly gentleman in the audience who feels he isn't getting his money's worth…
I tell him to think of it as a dreamscape, an artistic vision of men returned from the realm of the dead for a second breath. But how do they find each other on such a dark stage? Think Orpheus and Eurydice, through love, energy, smell, shape, breath, how do we know our loved ones?
Heartbeats as one, a cohort of eighteen moves in repetitive unison to Andy Cowton's repetitive score. Voices, layers of sound, something from the archives, but the dancers continue relentlessly in fluid flow, fall and rise, fall and rise: muscle memory, they remember falling and rising. They search into their darkest reaches.
Light sepia and cadaver green, military khaki garb, the dead arise in precise military drill. They do not need to see; they know each other's moves, the blind can lead the blind. Alina Cojocaru and Junor Souza peel away, she spins, he catches, t'ai chi and capoeira refined with classical poise and grace.
Wonderful to see Alina in bare feet, to see her agility, speed and strength outside the classical canon. Five couples join them in refracted image, in dream slow time, and fade. A brief glimpse, and then the shutter falls.
It is also wonderful to see Tamara Rojo in bare feet, rooted in the soil of Khan's Dust. But who can replace the inimitable Khan (he performed in the première), his Kathak-trained vocabulary and mercurial body? His role is split between Fabian Reimair and James Streeter.
Gut-wrenching writhing, contortions, body screaming, sweating—are these his post-traumatic stress disordered nightmares? A row of twenty stands behind him, witnesses in the parched torched earth.
A church choir sings—Jocelyn Pook's music providing the structured drama of the narrative reminds me of Gavin Bryars's. The row plaits arms in an undulating wave of mutual aid—an allusion to John Singer Sargent's "Gassed" perhaps—a strong rope of redemption.
The men vanish over the edge of the trench in sacrificial ritual; the women toil and weave. In earth-coloured clothes and scarves, indivisible from the dust they raise, like slaves in a galley they continue.
But a man (Streeter) returns, and, legs wrapped around his torso, Rojo will not let him go. A duet of such eroticism—they make a scorpion creature, his legs, her torso—that it makes the audience laugh and gasp out loud. Four arms, four legs, whose they are it doesn't matter. The curtain call cheers are richly deserved.
Reviewer: Vera Liber