Aladdin and the Twankeys
Berwick Kaler
York Theatre Royal
York Theatre Royal
–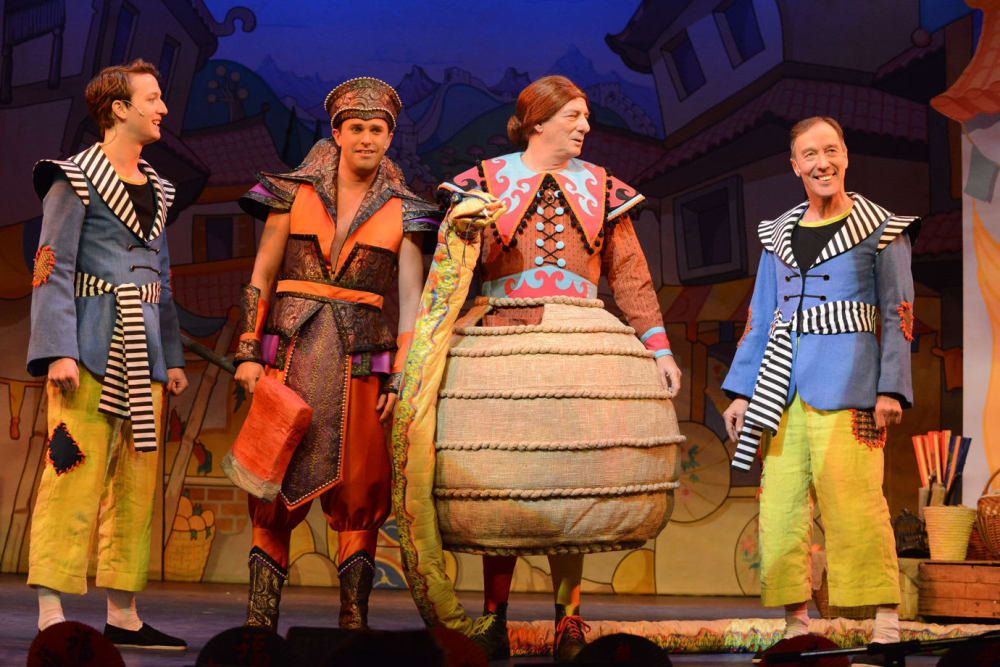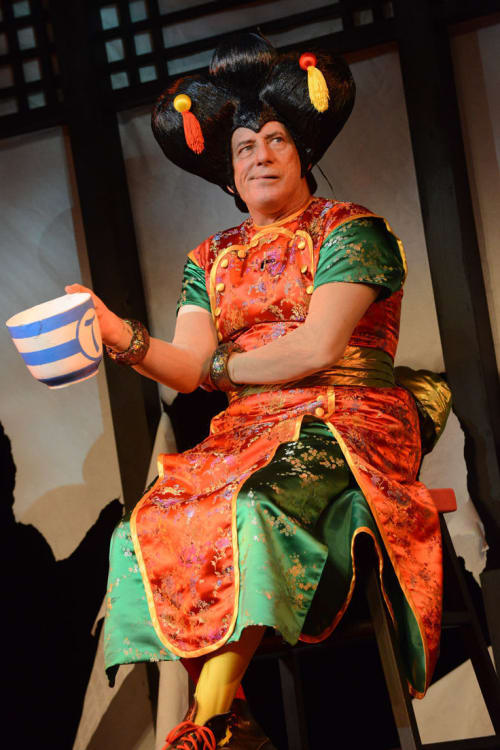 As ever, a great buzz surrounds the York Theatre Royal as Berwick Kaler and his cohorts take over the main stage for a month and a half. Kaler's thirty-fifth outing as the dame sees no lapse in the quality, humour or style of the show, with all the familiar gags, characters and offbeat quirks firmly and joyously in place.
Jonathan Race has been invited back after last year's successful turn as the baddie. Stepping into the often loftily platformed shoes of David Leonard, who's now happily ensconced in a West End career, was never going to be easy, but Race is a characteristically astute appointment and an endearing, powerful presence.
Kaler and director Damian Cruden play the likewise clever move of having Race, as Abanazar, the first to appear: his opening line 'You don't like me, do you?' gets us onside from the very start. Race leads us through the setting and set-up with his usual style and understated humour. He's helped by the first bit of VT, though here for a change we get an early guest star, Christopher Biggins, delivering a lovely, suitably eccentric piece to camera ('Am I getting paid for this?' he asks the off-camera Kaler).
From there on it's the familiar stream of killer puns and gags, often casually thrown in but never wasted. Martin Barrass is as ever the master of the alertly gormless reaction and double-take. Al Braatz also returns to play Aladdin with an expert but unobtrusive control of his audience interaction.
This is also enabled by a superb script and direction, with masterful anticipation of such audience responses. When Aladdin is tempted by Abanazar with a large purse, he ponders to us 'what should I do with this massive bag of money?' As the audience calls back 'keep it!' he confidently replies 'that's exactly what I'm going to do—return it to its rightful owner,' switching on the innocent charm of the stereotypical panto lead at precisely the right moment.
Tiny but wonderful touches like this proliferate through an incredible first half. Lasting an hour and a half when I saw the production (your mileage may vary), it is one of the speediest and most enjoyable ninety minutes I've spent in a theatre. Occasionally a scene will go on too long (as in the otherwise splendid 'Twankey family at home' sequence, which contained a few blown moments but nothing show-spoilingly so). Some of the song choices are eccentric to say the least, though most work and some are outstanding—Race and the lovely AJ Powell's duets are, like last year, wondrous to behold.
And the end of the first half includes some genuinely spine-tingling moments of stagecraft and technical wizardry. Simple effects combine with excellent execution to end with a pleasing coup de théâtre. The show continues with some more low-fi effects but these too are splendid, and the design on the whole, by Phil R Daniels and Charles Cusick Smith, is beautiful, with bold comic book outlines and splashes of purple and gold providing the backdrop.
Suzy Cooper is again youthful and sparkling, singing well and sending herself up with a winning balance of talent and self-deprecation. Siân Howard, as the Empress of China, has slightly less to do, though her contribution to the 'Karate Rap', for instance, is memorable.
As always, the show is stuffed with material and gags; Kaler must pun in his sleep, and for a pensionable dame, his mind seems still to work insanely sharply and quickly (and never predictably). That Cruden spins this together into an event that is at least as much fun for the audience as it seems to be for the cast is admirable in the extreme. It's a hit formula which deserves to pack them in again this Christmas.
Reviewer: Mark Smith