Robin Hood and his Merry Mam!
Berwick Kaler
York Theatre Royal
York Theatre Royal
–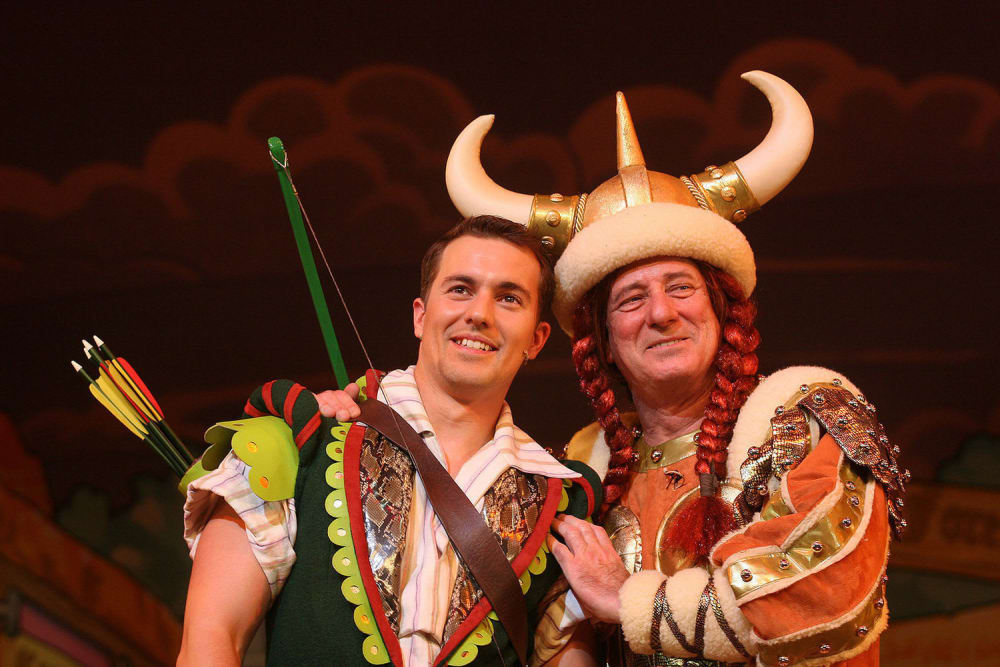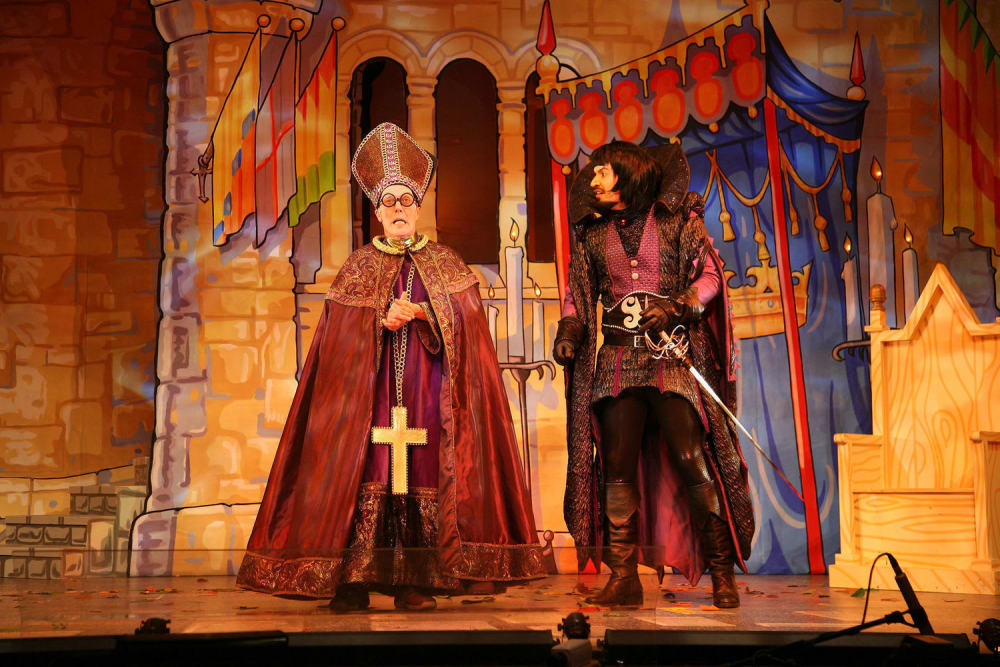 The York Theatre Royal pantomime is a long-running tradition, packed with running jokes which often stretch back years, if not decades. While some of these may pass by the newcomer or casual viewer, none feel like in-jokes and the key note of the night is a warmth and care which surrounds the audience from the outset.
Berwick Kaler, in his fourth decade of involvement with the panto, as usual writes, co-directs (with Damian Cruden) and stars as the Dame, the eponymous Merry Mam. This year the big news is the absence of long-time favourite David Leonard who usually plays the villain, but who is currently committed to a run in the West End as Miss Trunchbull in Matilda.
Ably filling the ridiculous shoes and glittery costume of the arch-nemesis is the new-to-panto-but-nonetheless-familiar Jonathan Race. He charms (in exactly the right, evil kind of way) straight from his galloping entrance, handling his steed with aplomb. It's not long before his plummily posh vowels are drawing cries from Kaler of 'I think they've sent us Rylance!' And his later superb duet with habitually Brummie village idiot Ice Blondel (AJ Powell), rapping and body popping his way through "Under Pressure / Ice Ice Baby" suggests that he's an astute and capable choice to replace Leonard.
He's helped by the script, full of inventive twists of logic, with many of the best puns thrown in almost under the radar, in Kaler's casual-seeming, profligate approach to crafting the humour. So Race's villain is 'Sheriff Hutton' (the name of a local village), but it's not long before he's being referred to as Len Hutton, in a characteristic move which follows a logical associative path to utter illogicality.
Long-time (not to say long-suffering) Kaler sidekick Martin Barrass has also had a good year, returning from a West End run in the smash hit One Man Two Guvnors. This, of course, also places him in prime position for ribbing from Kaler. Other returnees include Vincent Gray as the dashing man in green, Siân Howard as Lady Hamalot and fortune-teller Broomhilda, and most of the game young dance corps / chorus.
Suzy Cooper, apparently (though implausibly) returning for her 19th year of panto, plays Marian with fantastic charm and twinkle—she is a gifted and likeable comic performer and singer.
And despite Kaler's gravitational force at the centre of it all—his dresses never fail to impress; nor do his unfailingly flat Sunderland vowels—his script is remarkably even-handed, doling out classic puns and hilariously snide remarks almost, it seems, willy-nilly. The sequence of events around AJ Powell's legs while he is disguised as a woman (which starts with the assertion that he's 'got Kate Moss's legs') suggests the ever-present influence of classic British purveyors of crisply logical nonsense such as the Pythons and—perhaps more aptly (I'm sure this is where Berwick nicked this particular gag)—the Goons.
Act Two dips somewhat after a fairly impeccable first half, with one or two of the song and dance numbers inaudible and fairly inconsequential, though credit is due to choreographer Brendan Matthew for creating some inventive and energetic routines which use the stage well. The Olympics sequence, though, which is incorporated in a surprisingly coherent fashion, not merely as a nod to the wonderful 2012 we've had, hits the right note, and the showdown reaches a fitting climax for newcomer Race. (Towards the end, he turns to Barrass to enquire, 'I'm losing the plot—does this happen every year?')
Some may complain of the production's longueurs and find it too self-indulgent; Kaler does proclaim slightly too often and emphatically his own eccentricity (it's alright, Berwick, we believe you)! There are certainly plenty of metatextual references—mostly to do with the shoddy quality of the 'entertainment' on offer—and deliberately wonky moments of staging.
But at heart this show is put together with love and attention to detail by all involved, and warmly welcomes in audience members new and old.
Reviewer: Mark Smith