Aladdin
Neil Armstrong and Paul Hartley
Gala Theatre
Gala Theatre, Durham
–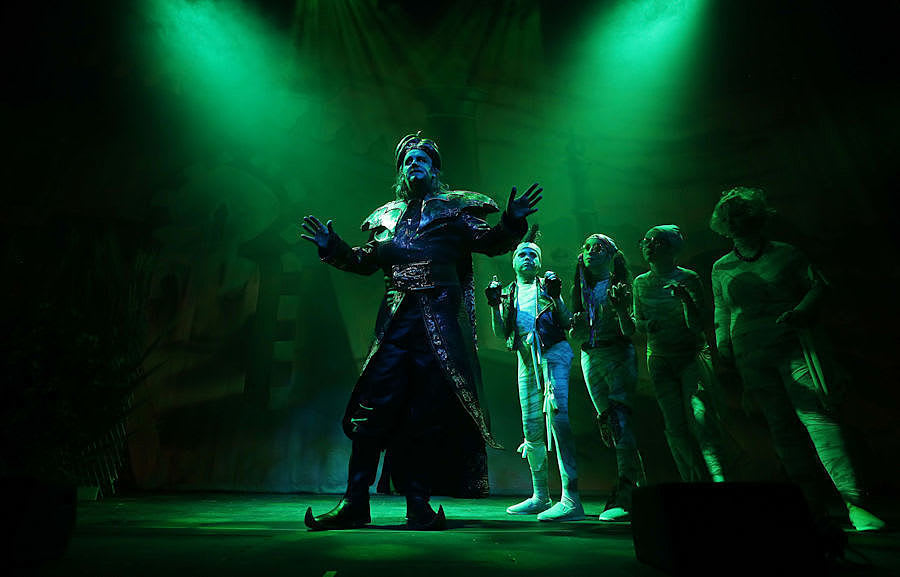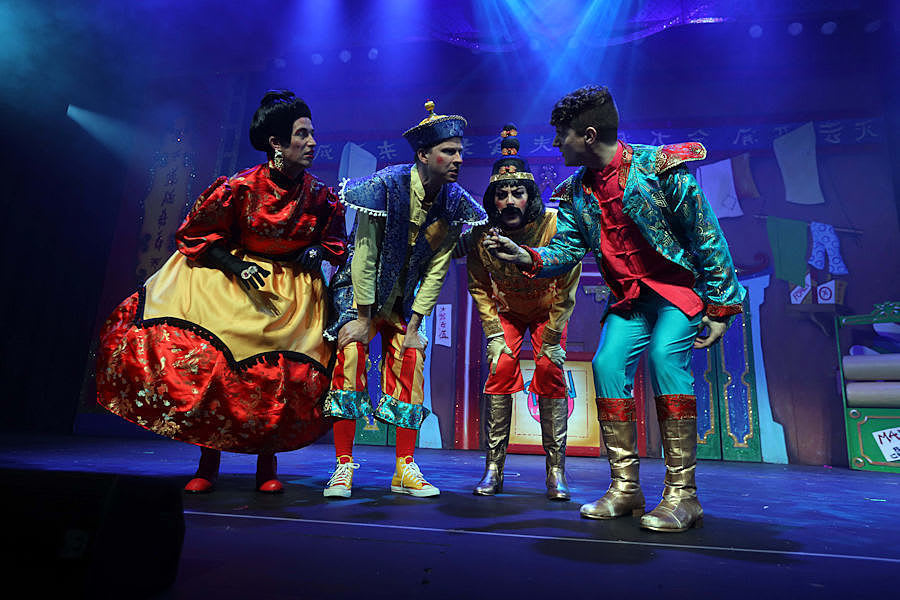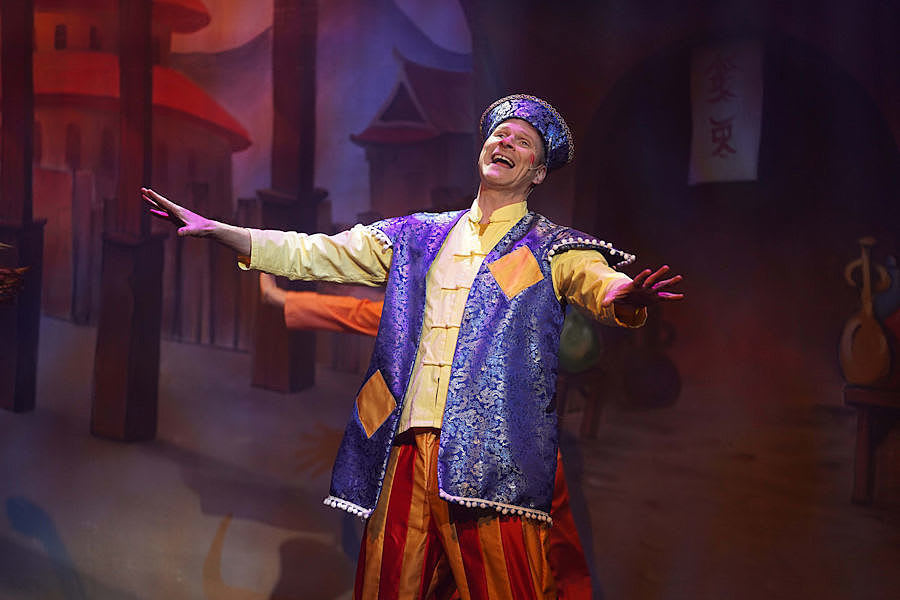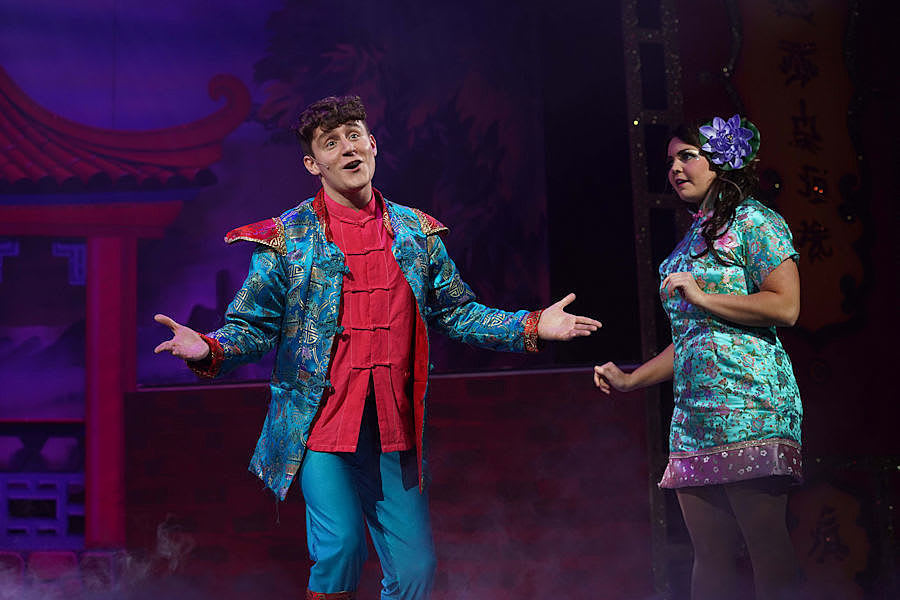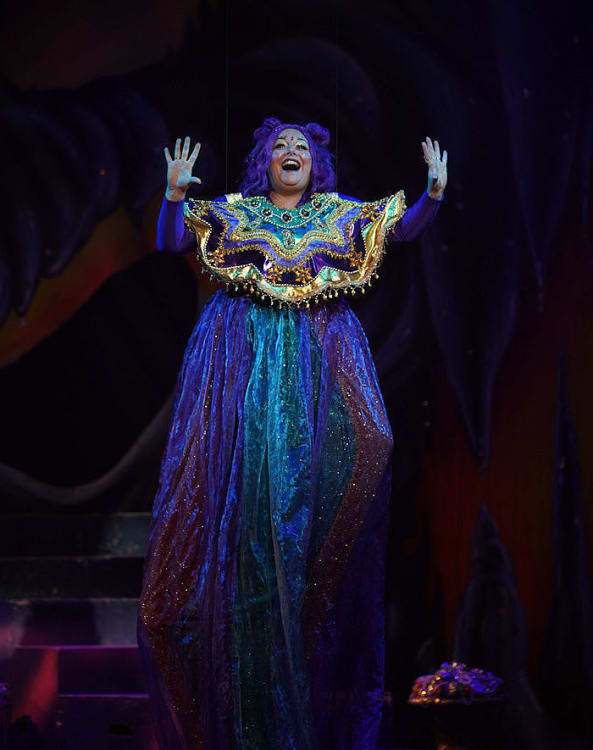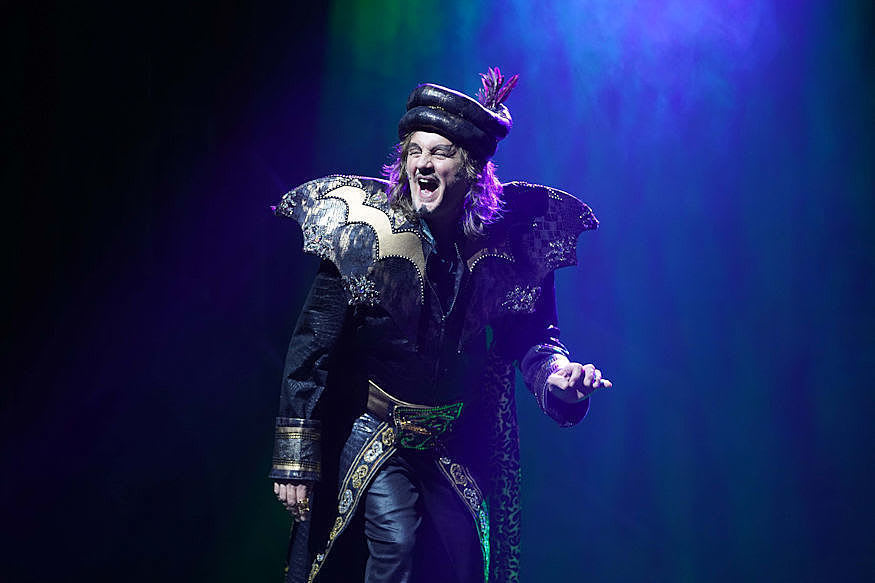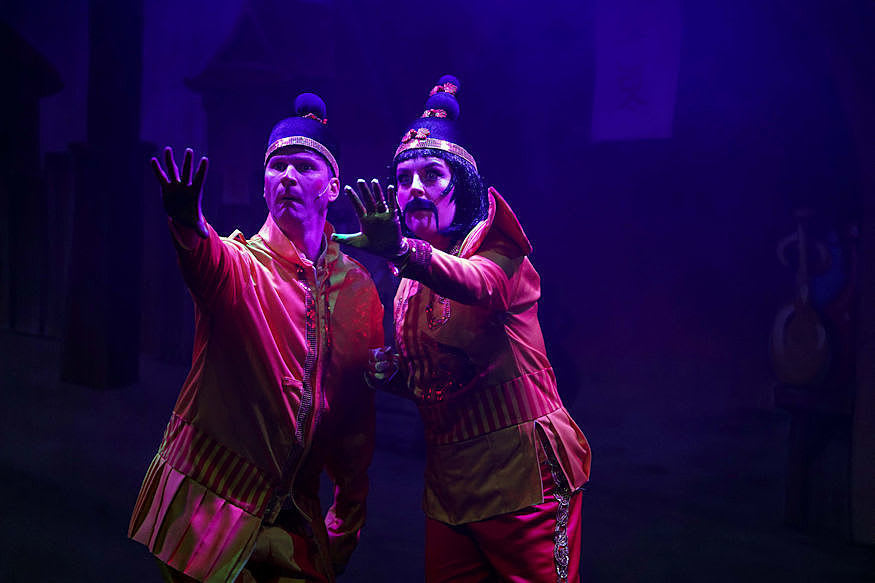 I can spot a traditional panto joke from half a mile away. You know the sort of thing—
"I'll have you know, I have the complexion of a 16-year-old."
"Well give her it back. You're getting it all wrinkled!"
—and I can safely say I didn't spot one in Aladdin at the Gala. Unless you count the newcomer about the Dutchman with inflatable shoes, of course… (insert your own punch-line here). Nor are there any of the traditional scenes—no slosh scene in Widow Twanky's Laundry, no take-off—but this is not short-changing the audience in any way because this is what we have come to expect of the Gala pantos under Armstrong and Hartley: the traditional story told in a somewhat off-the-wall way.
We may have lost the slosh and take-off scenes but we've gained some quicksand—perfect for trapping the hapless Wishy Washy (Paul Hartley)—and a pantomime camel which not only spits but performs other bodily functions as well. And guess who's on the receiving end of all of them!
Toilet matters feature quite prominently too in an exploration of Widow Twanky's laundry basket—but if there's one thing children love more than a good poo joke, it's a lot of good poo jokes. And actually adults seem to enjoy them too, in a 'yuck' sort way. The aged (like me) will remember the Daz TV adverts of the '70s and their references to the "understains"; Widow Twanky's basket brings them alive! We see them! Very yuck!
We start off in Egypt in a pyramid where the magician Abanazar (Neil Armstrong) has been buried alive for six years, along with four mummies, played here by four (unnamed in the programme) children with distinct and hilarious characters who are—and there is no other word for it—brilliant! Such a shame we don't get to know who they are, but we can certainly say that they are the best possible advert for the value of youth theatres!
This year, Armstrong's villain shows a new side to his character. He is a master of disguise, appearing at point as one of the big-eared nuns of Newton Aycliffe (there's more than a touch of the Monty Pythons in this show's humour)—and fooling absolutely no one!
They escape, and thereafter the story follows the traditional lines, although not necessarily in the traditional way. Laura Lonsdale's Genie, for example, is not the oriental mystic figure but something more down to earth—even though she flies in—calling everyone "babes" and telling Aladdin he gets "not one, not two, but three wishes!" A lovely idea and Lonsdale makes the most of its comic potential.
(Incidentally, she made her Gala debut last year as Mum in the show for the under-5s, Once upon a Christmas.)
Returning for a fifth year as Dame is Paul Dunn who is really making the role his own, developing his style and yet making every character different.
Making their Gala debuts are David Hosie as Aladdin, Eleanor Chaganis as Princess Jasmine and Kylie Ann Ford as Chief Inspector Tai Chi (who, along with her fellow Chinese policemen, reveals the real purpose behind the topknot!) who fit right in: Hosie as the cheeky streetwise lad, Chaganis singing beautifully and Ford showing off great comic skills.
Four professional dancers and a chorus of teenagers (good to see a boy among them) make up a fine cast who can take anything fate throws at them—including the moment when the anguished cry, "we don't know where we are in the script!" went up leading to a bout of giggling shared—and enjoyed!—by the audience. Well, it was only the second night and things going wrong is in the nature of panto. Corpsing, ad-libbing and sharing a raised eyebrow with the audience are all part of the fun!
As ever, the music—or rather, the mixture of music—was a highlight, from modern pop to "War of the Worlds" to the song that got all the wrinklies (like what I am) in the audience singing along: The Monkees' "I'm a Believer".
Was that really 1967? Ye gods!
Oh yes! And Aladdin is educational! We learned some Mandarin. To the greeting "Ni hao" (hello) came—this is County Durham after all—the reply "Nee bother!" from the very young—very young indeed—emperor of China.
Reviewer: Peter Lathan