Once upon a Christmas
Susan Mulholland
Gala Theatre production
Gala Theatre, Durham
–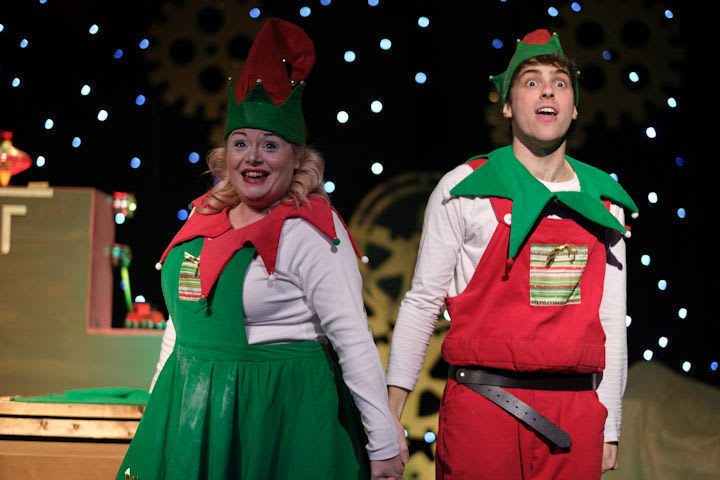 If I am totally honest, I'm not sure that the Gala quite "gets" theatre for the under-5s. They made a great start by commissioning Susan Mulholland to write Once upon a Christmas. She is one of the most experienced writers of plays for very young children in the region and her collaboration over many years with director Mark Calvert at Northern Stage on the youngest audience show was a highlight (and often the highlight) of the North East Christmas theatre season. And this Durham show also has props and puppets by Andrew Stephenson, who was very much an important part of that Northern Stage era. I still chuckle at his Reggie and Ronnie, the two evil squirrels, in The Goblin Who Saved Christmas all of ten years ago.
They've booked two actors—Laura Lonsdale as Mum and Stanley Hodgson as Froggs—who are clearly very much at home working with these very young kids, as is director Kate Sorahan.
And as we go to the performance area, we pass through quite a magical installation with lots of tinsel and glitter, including a little snow-covered hump-backed bridge over which the children could pass—or, in some cases, run back and forth!
But on reaching the performance area, early arrivals were ushered onto the steeply raked seats and later-comers had to sit on the floor in the open space in front of the performance area itself. Parents were asked to keep their children beside them at all times.
The children who sat on the floor and in the first couple of rows were by far the best off as they were able to jump up and down with their hands up to answer Froggs's questions, whereas it was almost impossible for those at the back to attract his attention. He did his best, running up and down those steep steps (exhausting!), but I'm afraid that those kids did lose out.
Last year, Kitchen Zoo brought their show The Owl and the Pussycat to the same space and they had all the children sitting on the floor in a big space in front of the performance area with parents sitting on chairs on three sides (no raked seating) so the kids could run to mam or dad if they needed to—and some did, but they very quickly returned to the floor space, a much more exciting place to be!
All this wouldn't have mattered if it had been a straightforward play which you just sit and watch but this isn't. From the very start it's full of interaction with the audience. Froggs talks to them all the time, asks them questions, asks for their ideas, comes amongst them and, when he's being told off by his mum—and that's quite often because he'd much rather be spending his time inventing new toys than doing the boring jobs she wants him to do—his eyes beg for the audience's support.
It's a fairy-tale kind of play which starts with two of Santa's Elves—that's Froggs and Mum, of course—doing all kinds of jobs to prepare for Christmas, following the lists Mum has made. But Christmas isn't about lists, is it? Froggs doesn't think so and after moaning to his friends, the children, and asking for their help (and, incidentally, making a terrible mess of cooking the blue slime—imagine that!), he loses himself in his favourite book in which an ageing toymaker finds he is unable to keep his shop bright and shining and full of wonderful toys until two magical creatures—played by Froggs and Mum, of course—come out at night and start producing beautiful new toys. And the shop becomes bright and shiny and popular again—a true children's "happy ever after" moment!
It is a lovely show for that age group and the performances, along with the set and costumes by Katy Gardner, are spot on. It's such a shame that some of the most important part of the audience—the children—didn't have the best experience they could have had.
Reviewer: Peter Lathan