Aladdin
Cole Porter and S J Perelman
Lilian Baylis Studio at Sadler's Wells
–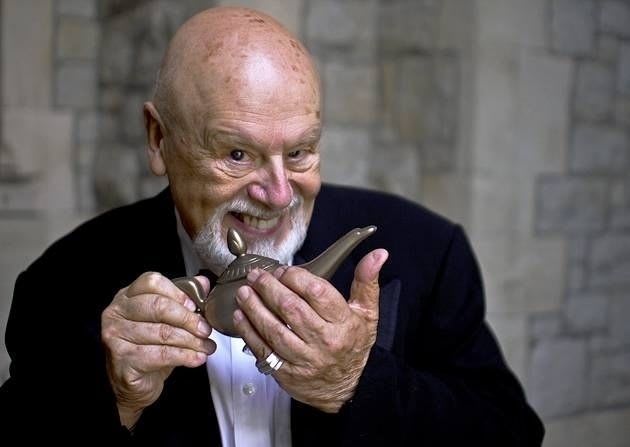 Ian Marshall Fisher has been reviving lost American musicals in concert form for 23 years. The actors are in evening dress and seated along the back wall when they are not on stage. They have scripts. There are no props, no scenery, just chairs.
Cole Porter (1891-1964) is admired for his urbane, witty, sophisticated songs and his ingenious lyrics rather than for the trivial shows they were in. The revamped Anything Goes, recently seen in Regent's Park's Open Air Theatre and the West End, and Kiss Me Kate, which is at present at Chichester and is transferring to the Old Vic in November, are the two musicals which will most probably last.
Porter in the 1950s was toying with the idea of making a musical based either on the Bette Davis movie, All About Eve, or the Gloria Swanson movie, Sunset Boulevard, when CBS asked him to write a 90-minute musical specially for television which would be based on Aladdin and performed live.
No doubt encouraged by the fact that 107,000,000 people had watched Richard Rodgers and Oscar Hammerstein's Cinderella on television, Porter agreed and Aladdin aired in 1958. The book was by S J Perelman who wrote scripts for the Marx Brothers. Cyril Ritchard was the magician and Sal Mineo (who had shot to fame in the James Dean film, Rebel Without a Cause) was Aladdin. The cast included Anna Maria Alberghetti, Denis King, Basil Rathbone and Una Merkel. It didn't get good reviews.
There was a version in London the following year which brought in a new book, added songs from Porter's other shows and got rid of the magician and added Widow Twankey, who was played by Ronald Shiner. Bob Monkhouse was Aladdin. Robert Helpmann directed. The only things which were admired about the show were Loudon Sainthill's scenery and costumes.
The songs are not up to Porter's usual standard and the book is lacking in any of Perelman's wit. John Rawnsley is in good voice as the Astrologer. The cast includes Richard Dempsey as Aladdin, Vivien Martin as Aladdin's mother, John Savident as the Magician and Candy Ma as the Princess. "Wouldn't it be fun not to be bored to death," sings the Emperor. I came out of the theatre wondering if Sandy Wilson's 1979 Aladdin was any better.
Reviewer: Robert Tanitch