Aladdin
In a new version by Bille Brown
Old Vic
(2004)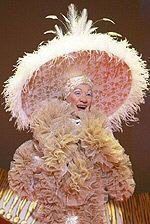 Sometimes being a reviewer can put you under a lot of pressure. When you know that your editor has written a book on pantomime that has sold about 1,500 copies in the month since publication and is already about to enter a second edition, your visit to what is cracked up to be the country's favourite (and best) panto of the year is stressful. There is such a high standard to live up to.
It had better be said that this fine book, already reviewed in all of the most important places, the Sunday Times and British Theatre Guide to the fore, is called It's Behind You. It is inevitable that when this review is published, there will be a link to Amazon with a real bargain price (and who am I to disappoint you? It's here! (Editorial comment)). Seriously, it is a wonderful work and if you do not already have a copy, stock up immediately.
When Hollywood superstar Kevin Spacey took over as artistic director of the Old Vic, he announced that he was keen to produce a pantomime for Christmas 2004. He did not say that his intention was to ignore the normal mix of bad acting and singing from minor celebrities, reluctantly humoured by talented and actors and actresses supplementing their annual income.
The central characters of Aladdin and the Princess are relatively conventional. Joe McFadden, well-known for his performances in Rent and Sex, Chips & Rock'n'Roll plays a fresh-faced Aladdin who could easily be the presenter of a kids' TV show. With his good looks, singing ability and Glaswegian charm he is perfectly cast and even gets away with an American football shirt and Bay City Rollers tartan trousers. His Princess, played by Cat Simmons, looks the part from her arrival in what looked like a turquoise lampshade and sings equally well.
Sean Mathias' Aladdin is most distinguished though, because it welcomes a new face to the world of pantomime. However, this is no cricketer, boxer or shamed politician. Sir Ian McKellen is one of the finest actors of his generation and like so many of his fellow cast members, his CV is littered with appearances at the National Theatre and the Royal Shakespeare Company. Indeed, his debut performance at the Old Vic some 40 years ago was in a National Theatre production directed by Sir Laurence Olivier.
Sir Ian clearly has great fun in his role as a Dame and seems to suffer from not a shred of embarrassment. This is just as well, given that having made an opening sortie in a coat of many fluorescent colours that would have shamed Joseph or Dame Edna, he subsequently dresses as Agnetha from Abba, Carmen Miranda and finishes up showing off his legs in a couple of Mary Quant-style mini-dresses.
In terms of talent and entertainment value, the new young stripling has a run for his money. Not only are everybody's favourites, Maureen Lipman playing well named Dim Sum and Sam Kelly as a short-sighted dotty emperor, giving their all but Roger Allam makes a fantastic Abbanazar. The audience soon evaluates him, hissing within thirty seconds and booing less than a minute from the opening curtain. They also hear his wonderful abilities as an impressionist taking off the likes of Sir Clement Freud, Sir Michael Gambon and Leslie Phillips.
He is a villain to die for and Aladdin nearly does. It is all very well to have a magic lamp but inevitably, the bad guy will try and steal it.
The music can be rather bland despite a new song written by the team that will be presenting Billy Elliot in March next year. I Believe in You by Sir Elton John and Lee Hall is the kind of duet that Britain loves to put into the Eurovision Song Contest. It is perfectly pleasant but like so many others, with the exception of the jaunty and appropriately-named Pantomime, not terribly memorable. Similarly, the dancing from an enthusiastic ensemble of ten is staple fare but rarely excites.
Where the production has really gone overboard is in the costume budget and almost every cast member must have between five and ten changes in the two and three quarter hours.
The design by John Napier favours Pop Art and draws on the work of 12-year-old potter, Flo Perry, herself influenced by dad, the cross-dressing Turner Prize winner Grayson.
All in all, this, together with some Keystone Coppery, is exactly what one would expect from a high quality, well acted panto. The plot about a boy in love with a Princess, and needing help from a genie to overcome an evil baddie, is hardly worth mentioning since everyone knows it.
What is oddly apparent is that amid lots of audience participation, the children were constantly drowned out by swiftly-regressing dads and mums. It was they, too, who benefited from the risqué jokes and the political ones.
Finally a panto challenge, find one this year that doesn't lampoon our (just) former Home Secretary, Mr Blunkett.
Visit our sponsor 1st 4 London Theatre to book tickets for the 2005 production of Aladdin
Reviewer: Philip Fisher