Aladdin
Simon Stallworthy
Gala Theatre, Durham
(2008)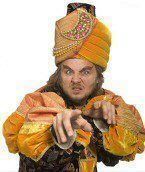 A traditional pantomime, the Gala steers clear of too many pop culture references or them-off-the-TV casting and without these artificial sweeteners creates a wholesome Christmas treat. Energy is instead provided by lashings of slapstick, punchy dance routines and, most importantly, the characters, Wishee Washee and Widow Twankee add a local twang, but even better is the baddie.
Abanazar does more than take Aladdin's lamp; he practically steals the show. Neil Armstrong as the baddie is all eyebrows and booming voice, as first on stage he gets the audience interaction off to a brisk start. His pomposity and arrogance always making him target for a fall, while his scathing tongue spent its time firmly embedded in his cheek.
Armstrong recently appeared at the Gala in Northern Stage's Our Friends In The North, so it was great to watch him throw more subtle acting aside and become the über-villain, taking on not just Aladdin and co, but the audience, the band and even the sign language interpreter.
Bobby Dazzler's Wishee Washee adds a touch of coarseness to the show, but keeps it family friendly - just. The pantomime simpleton keeps the children happy with sweets, winds up the baddie and occasionally wiggles his toe over the line. The children are hard work and Dazzler works hard to keep them involved.
The story stays on track, with the necessary stops for slapstick sequences and song, assisted by many set and costume changes - and no-one changes more than the dame of the forty frocks, Widow Twankey. Aside from her elaborate attire, including a lotus flower that doubles her height, Twankey, played by Donald McBride, dresses up her North East accent to equal heights of absurdity. A cross between the Queen and Barry Chuckle, she provides plenty of chuckles with her verbal dexterity.
The weakest parts were not Aladdin and Jasmine, despite how wet the lovers can be, but the Genie and the Emperor, both played by Joe Fisher who seemed to suck the energy out of scenes. His singing was also weak; luckily Aladdin (Jonathan Hayton) and Jasmine (Amie Clapson) made up for this with their songs.
Aladdin, like many panto protagonists, can fade against the many colourful comedy characters, but Hayton, fresh from drama school, was delightful, throwing himself into the upbeat songs and dance routines and in one scene providing eye candy in skimpy silken underwear.
Clapson was the stronger singer, but didn't get much opportunity to demonstrate it. What really made the show's musical numbers were the well-choreographed chorus that combined adult dancers with talented little tots. With two shows most days their constant grins and many energetic routines are all the more impressive.
This was a healthy feast with all your panto staples, including my personal favourite the pure slapstick scene with plenty of mess, plastic sheeting heralding its arrival. The comedy duo (Jane Deane and Paul Hartley) provided this cathartic dessert with the help of Wishee Washee. Water, eggs and cream all found their rightful homes in faces, shirts and down trousers and everyone lived happily ever after.
Until 3rd January 2009
Reviewer: Seth Ewin