Alarms and Excursions - More Plays Than One
Michael Frayn
In Company
Brockley Jack Theatre
(2009)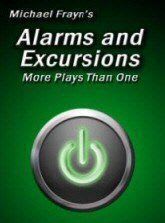 Michael Frayn's Alarms and Excursions is as much about man's inability to communicate with man as it is about man's inability to cope with gadgetry - including the bits of kit which should facilitate that very communication.
Across three playlets and five sketches there are some twenty-plus characters to be played by four actors and since the writing neither permits nor encourages any subtlety or depth, so the features that differentiate the roles are drawn with a broad brush. Whether this goes far enough in explaining why the director has sanctioned a diverse collection of accents for the characters is questionable, particularly when the cast are not always up to the job of maintaining a convincing accent throughout the length of a piece.
Director Daniel Brennan has also not been strict enough with the cast about other fine details which diminish comic impact such as anticipating an interruption. In addition he has let the sense of period drift in a couple of crucial scenes: take Immobiles - in a world where everyone over the age of ten seems to have at least one mobile phone, to pull off a play where the action is predicated around being home to pick up messages from an answer-phone requires the setting to be very firmly seated in the answer-phone era and this has not been sufficiently achieved either through direction or design.
There is also a design faux pas in Toasters where the observant have to pretend that there is no table on set, otherwise the hilarity loses all meaning.
Having said that, my real gripe is with the choice of material and even to an extent the writing itself. You could expect a collection of eight pieces penned by a master farceur and wordsmith to provide much laughter and entertainment but in this instance the work seems rather badly aged and requiring of much more than the usual leap of imagination than it deserves. To qualify that criticism it has to be said that some of the writing is brilliantly successful in creating a farce whilst at the same time pointing up middle-class pretensions in Alarms and similarly comically in Leavings, and the second act opener is all the richer for balancing comedy with a bitter-sweet undertone.
However, the fact remains that no self-respecting politician today would let herself be made a fool of by a disgruntled autocue operator as in Glassnost, and Heart to Heart where dance-floor conversation drowned out by over-loud music leads to predictable misunderstandings no longer seems to stand the test of time, not just of itself but because we've seen it done before. Ditto satirising in-flight safety announcements which has also been done to death and this one fails to bring anything special to the party, though lovely-to-look-at Trudi Ross as Bloss has a wide range of effective facial expressions that keep our eyes on hers.
The other three members of the cast have their moments of glory. Trudi Boatwright is most effective as slightly frigid and snobby Melanie in Doubles, where she proves she can handle good dialogue adeptly and where she is clearly more comfortable than in the farce. In this playlet she is married to boring Miles. Nick Kneller plays this irritating bungler somewhere on the Autism spectrum-cum-boy-who-never-grew-up and this has to be his best performance of the evening. Kane Bixley's tolerant and gently-spoken Dietrich in Immobiles wins the man of the comic match award though and is also the only exception to the earlier criticism about bad accents. His performance here has real charm and shows a natural comic ability.
Alarms and Excursions has never offered an event of such uproarious delight to match Frayn's comic masterpiece Noises Off, but if you are willing to be underwhelmed by the weaker pieces, there are some terrific laugh out loud moments to enjoy.
"Alarms and Excursions" runs Tuesdays to Saturdays until 28th February 2009
Reviewer: Sandra Giorgetti