Alaska
DC Moore
Royal Court Theatre Upstairs
(2007)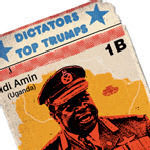 New Royal Court artistic director Dominic Cooke has done it again. Following That Face and My Child, his third consecutive play by a new writer since he took over also has much to commend it.
Alaska is known as a frozen waste and might symbolise the mind of central character, Frank, played with tremendous conviction by Rafe Spall. The measure of DC Moore's quality as a writer is his ability to garner sympathy for this immensely dislikeable university drop-out.
That isn't easy, when Frank not only goes out of his way to push away those who might become friends but seemingly hates himself. He is also the worst kind of bully, all mouth and no trousers.
Frank's main beef with society is that it is filled with people of colour, though that is not how he expresses it, veering between biblical quotation and racist slur in his search for cutting jibes.
He works at the local cinema and even turns down a promotion, mistakenly as it turns out, since his new boss is tiny Asian lady Mamta.
Fiona Wade plays this spunky character who answers the old refrain to go back where she came from with the question, "St Albans?" Having initially fancied Frank, she soon begins to pull rank, much to his displeasure. The pair eventually end up in a ranting war that escalates leaving Frank battered by her brother but fantasising to co-worker Chris about how he might have saved society by crucifying Mamta.
Just when the 70 minute play seems to be no more than a disapproving portrait of a racist loser, the balance swings when Mamta gets high and mighty with Frank's occasional one-nighter, Christine Bottomley's Emma, firing her on the spot.
By the end of a claws drawn duel between the two feisty ladies, one can still not understand the racist mentality but at least it is possible to feel sorry for a man who is delusional to the extent that he should probably be on medication.
Young director Maria Aberg works competently in the round and is well served by her equally young cast. Rafe Spall is outstanding, while the two actresses each have great moments, especially when given powerful speeches to deliver.
This start bodes well for Cooke and also his three new playwrights, all developed through the Young Writers Programme. The Court might just be on a roll.
Reviewer: Philip Fisher