The Jail Diary of Albie Sachs
Adapted by David Edgar
Salisbury Playhouse
(2004)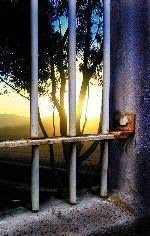 Enough, Orsino tells the musicians in Twelfth Night, "You're getting on my nerves!" The same mood comes to mind long before the end of David Edgar's adaptation of The Jail Diary of Albie Sachs, running at Salisbury Playhouse until 20 November.
Not so much a criticism of this almost tongue in cheek account of life under South Africa's Apartheid - nor of Dana Fainaru's production. Rather, a suggestion a kind-hearted Wiltshire audience may be getting more than their share of social theatre.
Recently, patrons have examined community provision for those with speech and hearing difficulties, considered the plight of women under dictatorship in Nigeria and wrestled with the moral arguments confronting scientists responsible for weapons of mass destruction.
All these have been raised on the Playhouse main stage while the Studio has offered psychoanalysis and another study of South Africa's apartheid.
It is hard, if not impossible, to suggest these issues have no place on the stage. What is the stage for, if not issues? Or are we referring to the political platform?
Surely, however, "entertainment" comes into theatre somewhere? Which means, of course, that when you do stage a great old yarn, or a piece of Agatha Christie, you don't set out to turn that into social theatre, too!
Fainaru's production is vulnerable from the moment Playhouse regulars are confronted by house tabs, things not generally worn at Salisbury. Their spectacular removal, however, exposes the most intimidating set of prison cells imaginable. Indeed, the actors may not even realise just how demoralising this set is to an audience obliged to stare at it for 90 minutes before escaping to the interval bar.
Guy Lankester is a strong if eccentric Albie but his only effective company is Terry Taplin as the even more eccentric gaoler Swanepol. The rest, through no fault of their own, are caricatures of apartheid - which is possibly what Sachs/Edgar intended.
I suspect the real trouble with Albie Sachs's story is that it no longer "concerns" us. The world has moved on, taking our anxieties into other areas. Now a play about Bush, Blair and Iraq or a drama about hunting with hounds
The production runs until 20 November.
Reviewer: Kevin Catchpole