Albion
Chris Thompson
Bush Theatre
–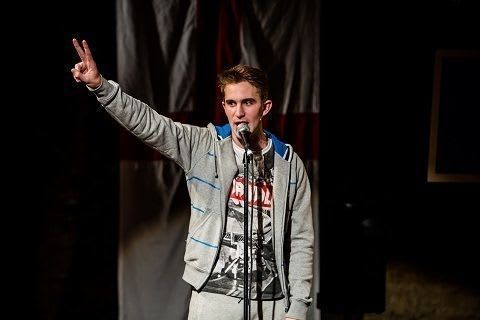 We have all become familiar with jukebox musicals, but Chris Thompson has created what must surely be the world's first ever karaoke play, linking themes through songs.
Albion has its heart in the right place seeking to depict a right-wing, neo-nationalist political party attempting to conquer Tower Hamlets. Without wishing to second-guess which grouping the playwright had in mind, its arrogant leader Paul, played by EastEnders' Steve John Shepherd (no Jimmy Somerville with a microphone in his hand), places the EPA (English Protection Army) somewhere between the mainstream trio and the BNP.
The writing is consistently schematic and relies on stereotypical characters carefully placed to make points. Thus, when interviewed by the BBC, Paul is able to point at his two loyal lieutenants, one his gay brother, the other black.
This is an unfortunate family since sister Poppy and her stepdaughter Leanne, both played by Nicola Harrison, are respectively an army officer who loses her life in a desert somewhere and a teenager groomed by local Asians.
Much of the drama revolves around Tony Clay playing gay brother Jayson, a karaoke freak who enjoys performing in Paul's eponymous bar. The younger man's mood swings are epic, particularly when confronted with Dharmesh Patel's Aashir, the kindest of kind lovers that any man could wish for but, as his name suggests, British-born of Pakistani extraction.
This causes too many conflicts and too much confusion for all concerned, particularly when Aashir symbolically tries to replace karaoke nights with his own brand of lowbrow YouTube-inspired entertainment.
Following a different line but equally coincidental is Christine Wolfe, played by TV favourite Natalie Casey. She is the social worker who, like so many in Rotherham, turned a blind eye to abuse for fear of accusations of racism.
However, the combative northerner reinvents herself first as a TV personality and author delivering political speeches on The Shopping Channel and then as equally right-wing competition for Paul when he stands for Mayor of the borough.
It has to be said that, while Paul's political diatribes are deeply offensive, they are also far more powerful than the lady's twinkling observations.
Putting all of this together, Albion is a play that sets out with incredibly good intentions and contains a number of powerful speeches about important issues. However, it gets lost in trying to weave the songs into the drama but also as a result of too much contrivance in the plotting and weak characterisation.
Reviewer: Philip Fisher