Alcina
Handel
Opera North
Leeds Grand Theatre
–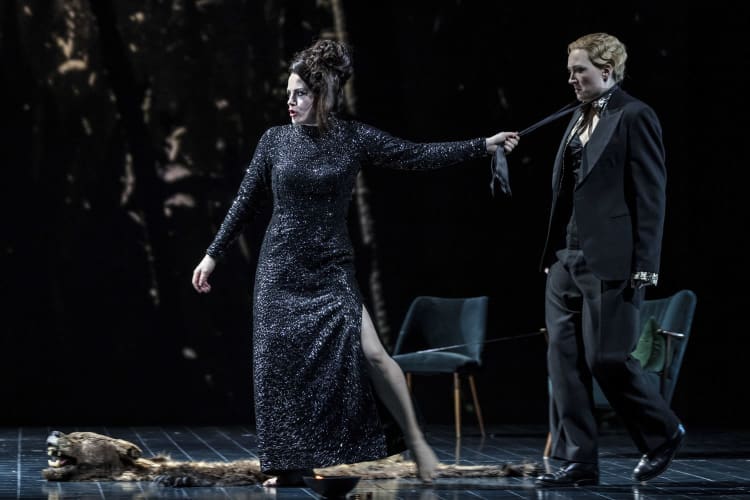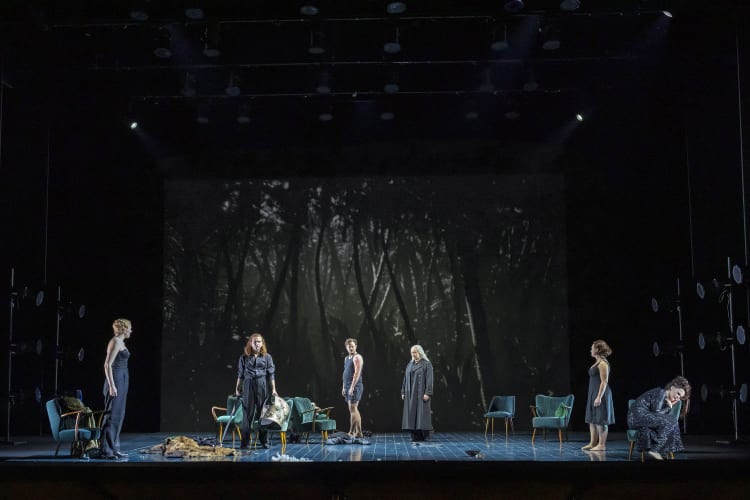 Handel's 1735 opera is a tale of bewitching passions and betrayals, magical transmogrifications on a haunted island. In its full form, it can run for upwards of three and a half hours, but Opera North's touring performance trims this by around an hour, stripping away characters and choral parts to present a restrained six-person staging.
The singers are uniformly excellent, and well-paired to their roles. Norwegian mezzo-soprano and company debutante Mari Askvik is Bradamante, whose search for her missing lover Ruggiero takes her, in disguise as a knight, to the enchanted island of the sorceress Alcina. Bradamante's protector, usually Melisso, is here sung by Claire Pascoe as Melissa. It's a worthwhile intervention which emphasises the balancing act between Melissa's benign Prospero-like presence and Alcina's more chaotic and self-interested use of her powers.
A towering backdrop provided by Ian William Galloway's video design dominates the stage. In place of a prologue, we swoop across the water until the island, thronging with palm trees, appears in view. The first scenes thus occur on the beach, with freedom still in view to Bradamante and Melissa. But the island draws them into its thick jungle canopy; palm fronds, twitching in the breeze, form the constant backdrop to the rest of the action.
Morgana is the first island denizen the pair encounters, and as the mysterious woman introduces the apparent paradise, she also speedily abandons her own love, Oronte, in favour of Bradamante. As Morgana, Opera North regular Fflur Wyn again shows her skill and versatility. While I remember her as the playful and mischievous Gretel in previous show Hansel and Gretel, here she is sensuous and bubbling with deep emotion, embodying a perhaps faded, slightly despairing, but nonetheless tangible glamour.
Nick Pritchard's Oronte is the source of some of the piece's rare lighter moments, as his frustration at being cast aside turns to desperation, possibly madness, and revenge. At one point, he strips off his clothes to his underwear in a half-parody of one of the staging's recurrent, though not always enlightening, visual motifs. But his "Un momento di contento" offers a characteristically precise reading of a complex set of vocal runs, and indeed each performer navigates with great skill the score's challenging swoops and melisma, well supported by conductor Laurence Cummings and the ever-impressive Opera North orchestra.
The design and direction (Hannah Clark and Tim Albery respectively) place the characters' wild passions in the restraints of a pared-back staging and glamorous 1950s/60s costumes. So when we do meet the island's mistress Alcina (Máire Flavin), she has the neat coiffure and full-length ballgown of someone freshly stepped from a frame of Last Year at Marienbad, or from a nightclub stage in '60s Soho, trailing the errant, entranced Ruggiero in her wake.
To me, one of the most striking features of this piece is this latter role: the brave knight bewitched into laying down his sword, written for a castrato voice, and sung here by counter-tenor Patrick Terry. His performance of "Verdi prati" ("Green Meadows") as the scales fall from his eyes and Alcina's spell is broken is simple and affecting.
This the more so for being followed by one of Flavin's many bravura performances, in "Ombre pallide" ("Pale Shadows"). The latter's trilling runs and unexpected depths strain to break out of the order imposed by the baroque setting, with electric effects. Flavin is simply stunning, and holds the whole piece together with immense power.
The staging is designed to be sustainable and efficiently tourable, an admirable and well-achieved aim. Unfortunately, however, it only sporadically supports the performances in aesthetic terms. As we see Alcina surrounded and railing against the loss of her bewitching forces, she gathers the set's sixties-styled easy chairs around her as a barricade. Here, the imagery and story work in concord, but elsewhere, Albery's choice seems to have been to emphasise restraint rather than the deeper magnetic forces between the lovers that have ensorcelled the island.
Matthew Richardson's lighting design and Galloway's video both have a flattening effect, washed out and almost monochrome throughout, with the costumes, too, mostly confined to the cold combination of black, white, silver and gold. So while the projected images occasionally shift and flow, to take us deeper into the night-time island and under the spell, the stage remains atmospherically and environmentally one-note, with little sense of wonder; quite the opposite of these varied, technically impressive and passionate performances.
Reviewer: Mark Love-Smith