Alice Through the Looking Glass
Lewis Carroll, in a new adaptation by Daniel Winder and Candida Caldicot
Iris Theatre
St Paul's Church Covent Garden
–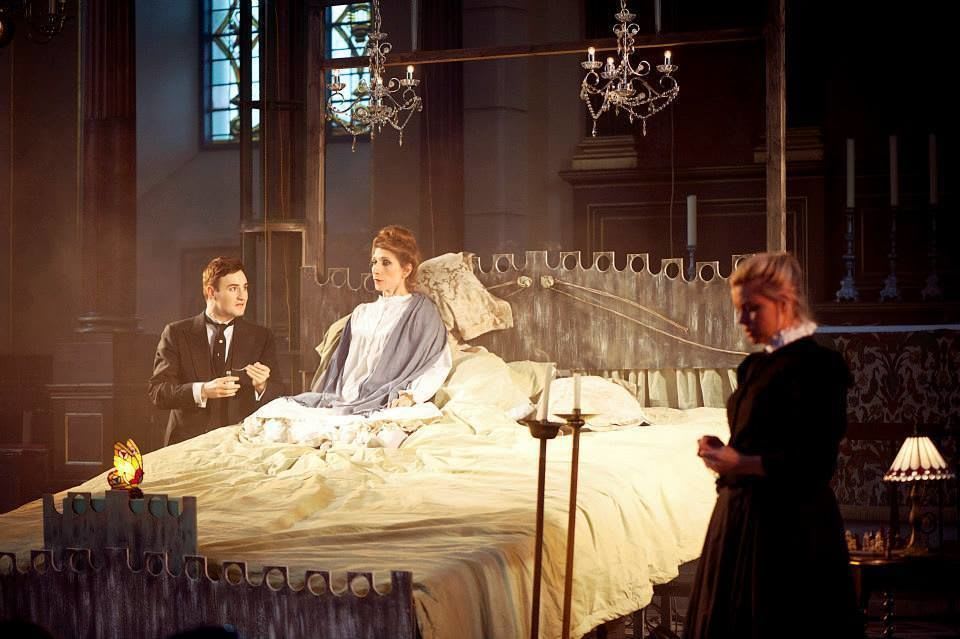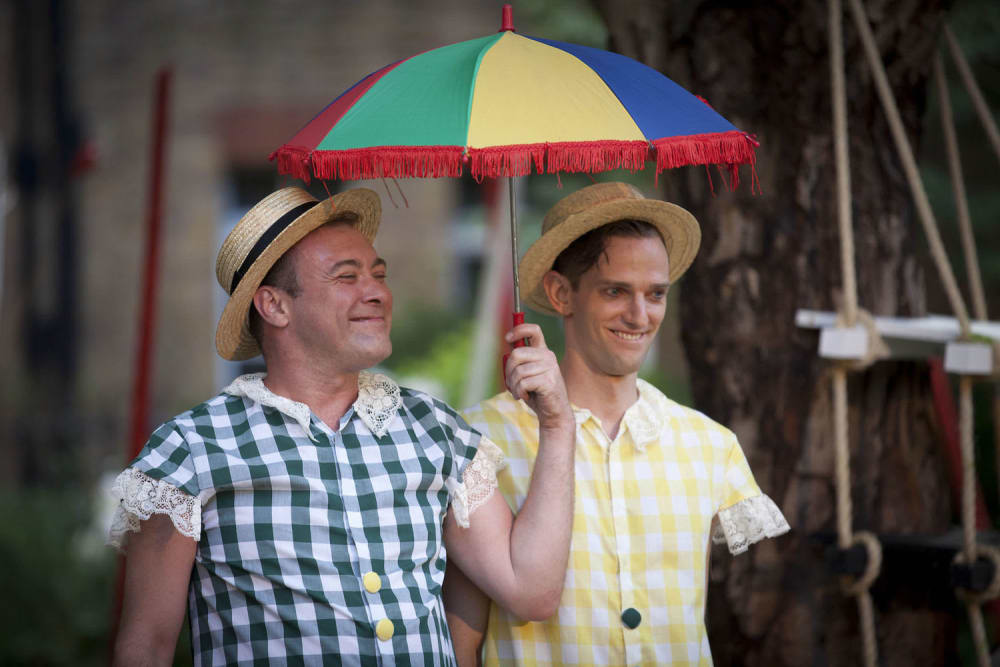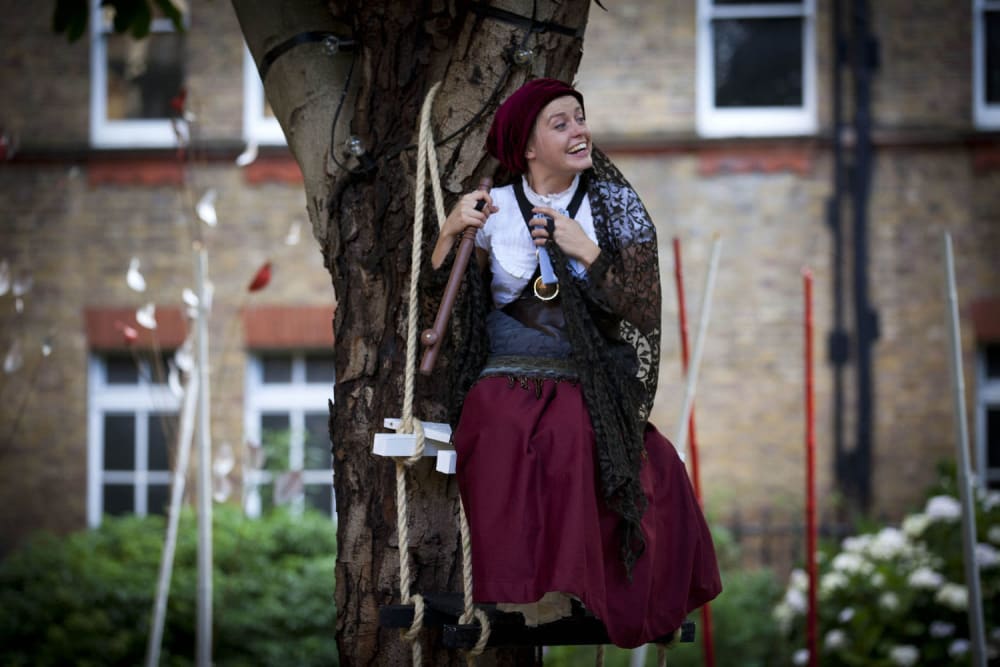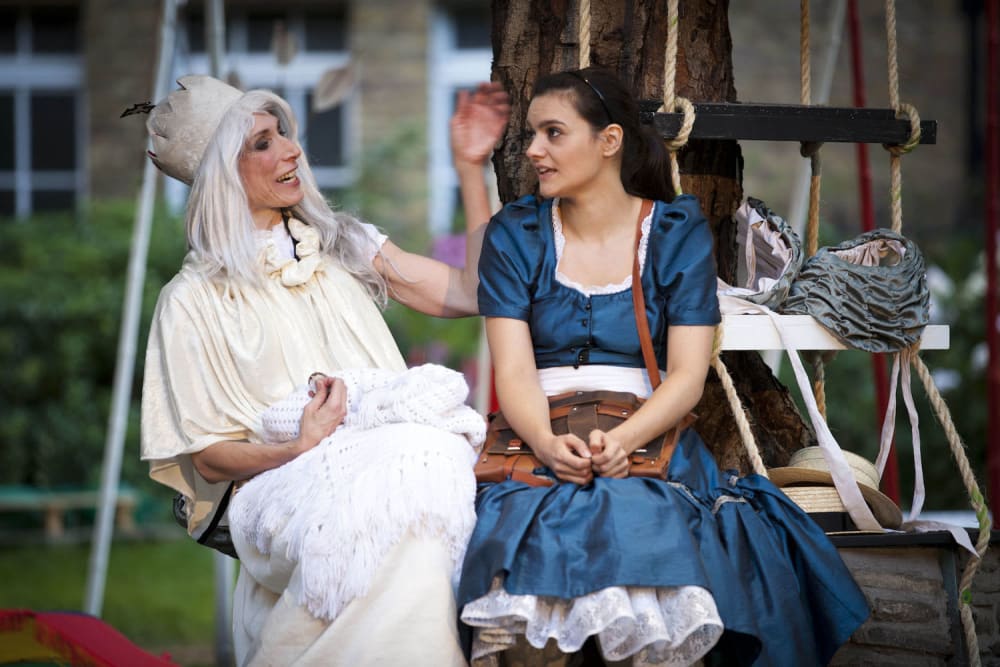 This hilarious adaptation of the sequel to Alice in Wonderland is staged as a promenade in the church and gardens of St Paul's, the Actors' Church in Covent Garden. It is even more fun that Iris Theatre's treatment of the first book last year.
Once again, Laura Wickham plays Alice, now 6½ and perhaps a little more knowing and rather bolder, as she sets off to rescue her elder self: here called Mrs Grey, for she is a child's idea of oldness and now old and ailing. This elder self, already seen in last year's production, is the adapter's addition to the story and here provides a frame instead of cat Dinah and her kittens.
Mrs Grey becomes the first encounter of the evening, receiving the children she likes as she lies, a little confused, in bed surrounded by black-clothed clergy. Welcoming though they are to the visitors, there is a possessively predatory air about these priests as though they are waiting to give last rites. Alice's quest across the chessboard that then follows could be seen as a mission to outwit death.
That doesn't make this a serious evening; far from it. The challenges and confusing contradictions that Alice has to face on her way to face the Jabberwock are full of humour, light-hearted nonsense and clever wordplay, both Carroll's and that of the adapters.
Talking flowers, time reversals, running just to keep with where you are that gets you nowhere, the nobody that none can see, the oyster-guzzling Walrus and the Carpenter, Humpty Dumpty, a mysterious mosquito, the feuding Lion and Unicorn and battling Tweedledum and Tweedledee as well as the characters from the chessboard: the Red and White King and Queen and their Knights, they are all here.
There is even the curly-wigged Wasp with its sting that Carroll cut from the story before publication (just one of a succession of stylish performances from Valerie Cutko whose White Queen is rigidly regal).
Dafydd Gwyn Howells falls off a wall as Humpty Dumpty, pops up from behind it the White King and is a jolly Tweedledee. His brother Tweedledum is Nick Howard Brown, also a comic White Knight, repeatedly unseated from his saddle, and the Hatta manifestation of the tea party Hatter.
Jos Vantyler is the Red King, an outrageously roaring Lion and a Tiger Lily that could be a cabaret on her own and Anne-Marie Piazza dashes off as the energetic Red Queen to emerge in moments as Mosquito or prancing Unicorn as well as providing some delicious vocals.
As well as playing Haigha, this book's equivalent of the March Hare, and Carpenter, Leo Elso also pops up regularly to add his musicianship. Then there is Laura Wickham's bewildered Alice. This is a succession of vivid characterisations but they are also a hard-working, well-knit ensemble whose energy is infectious.
The church's difficult acoustics don't help the first scene and an exit via the shattered mirror slows things down almost to a halt, which risks the whole production falling on its face, but once outside into the garden it becomes a joy. Director Jamie Jackson has a deft touch and the design team of Nigel Winder, Amber Scarlett and John Hoof have made good use of the location in their simple settings and devised some stunning costumes and Candida Caldicot has composed a delightful original score.
It helps to be sufficiently lettered to keep up with the wordplay wit, but even the youngest members of the audience seem to get caught up in things and this is a show that everyone can enjoy. It is another success for Iris Theatre and if you can see it on a balmy summer evening that's a bonus.
Reviewer: Howard Loxton