All Above Board
Nigel Planer
Northern Comedy Theatre
Salford Arts Theatre, Salford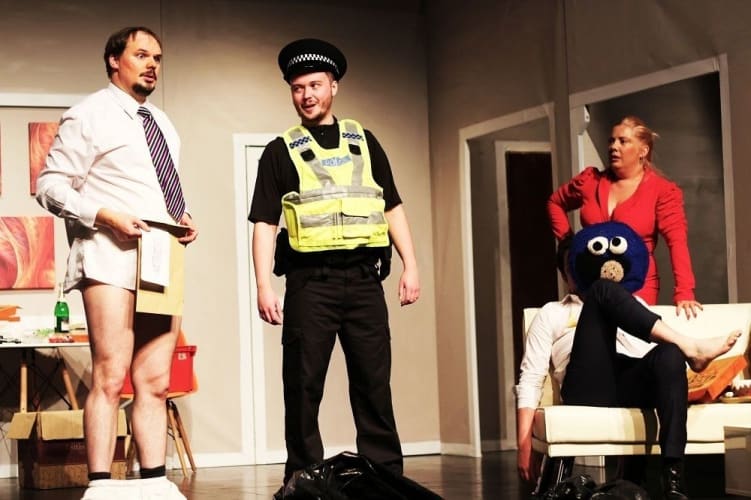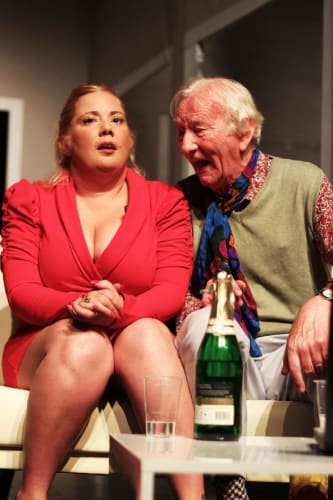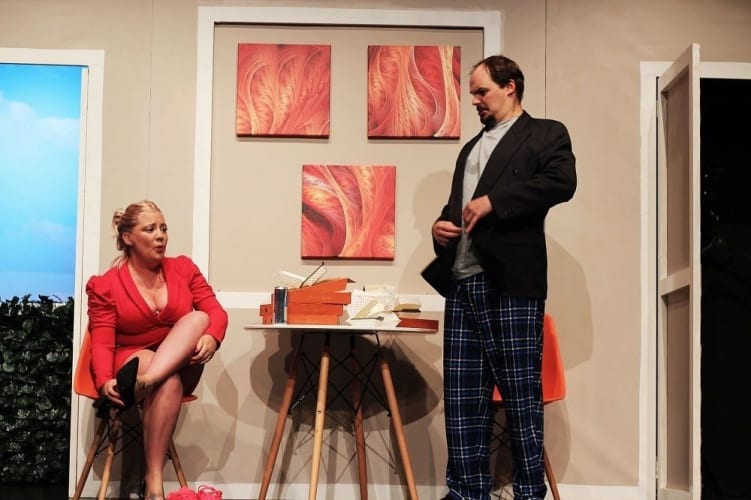 Fringe theatre promotes the staging of productions that might be too experimental or edgy for the mainstream. All Above Board reverses this approach staging a farce—regarded as one of the safest, most popular types of theatre—on the fringe. Farce has, with the sublime Noises Off and the breathtaking physical work of Mischief Theatre, developed into a sophisticated form of entertainment. All Above Board is, however, a reversion to a cruder approach; some of the gags and characters—Ray Sutton's lecherous artist—are well past their sell-by date.
In an effort to secure a knighthood, reformed banker Timothy Upton-Fell (Robert Stuart-Hudson) recruits PR agent Florence Spink (Kathryn Chambers) to publicise a charity he is developing. Complications arise as All Above Board, a reality TV show hosted by Matthew Board (Connor Simkins), is filming in the building, neighbour and artist Sir Ommany John (Ray Sutton) is succumbing to a form of dementia and prone to chase anyone in a skirt and Tim's vengeful ex-wife is prowling around.
It is not unusual for the first act of a comedy to set the groundwork so the second half can be funnier. However, author Nigel Planer cheats and changes the motivation and the personalities of characters in between the acts. Kathryn Chambers moves from being a shallow PR to a wannabe investigative reporter while Connor Simkins, without prior warning, becomes a needy narcissist. Some of the characters are underused and their motivations vague—it is unclear why Timothy's ex-wife is so angry, and she is used to set up only a single sight gag.
Jokes do not carry forward; a running gag in the first act, that every time Timothy tries to develop an acronym for his charity it spells a rude word, is forgotten in the second. The occasional effort to modernise the classic farce formula is not successful—Sir Ommany John has a fetish for women's underwear.
Farce requires a fast pace so incidents pile upon incidents and promote a mood of constant laughter and also to allow plot inconsistences to be ignored. Director Shaun Chambers sets a pedestrian pace, so the play does not reach the point where laughter becomes uncontrollable. Opportunities for pathos—Sir Ommany John's fading artistic prowess—are not realised and the play never reaches the crisis point where the audience can spot an impending disaster to which the characters are blind.
There is some decent acting from Northern Comedy Theatre. Farce requires a straight man who is constantly frustrated and on the edge of hysteria and Robert Stuart-Hudson more than hits the mark. Connor Simkins's preening, self-hating narcissist is genuinely creepy as well as very funny.
All Above Board is only occasionally funny and is not a good example of a farce.
Reviewer: David Cunningham