All I See Is You
Kathrine Smith
Octagon Theatre Bolton
Octagon Theatre
–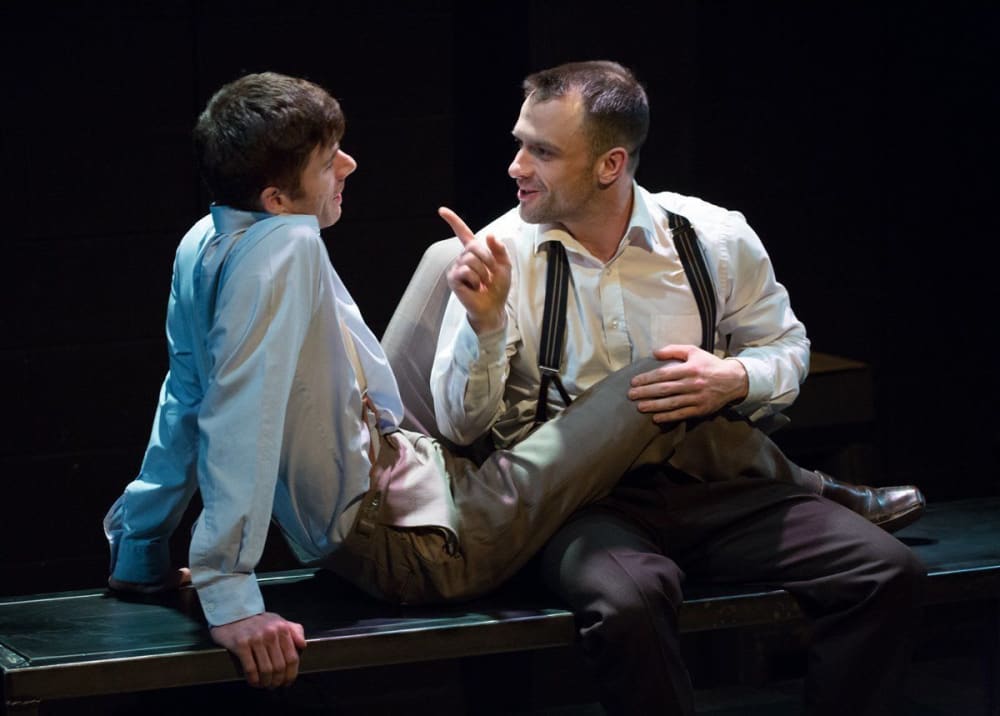 Associate Director Ben Occhipinti, whose production of East is East is currently running in the main house, has also directed this studio production of a winner of the National Octagon Prize, which is, at its heart, a love story under difficult circumstances.
The lovers are Ralph and Bobby, whose relationship begins in a men's public toilet. Bobby has been trying to pluck up the courage to enter this notorous convenience and, while Ralph appears more experienced, both struggle with the confined space of a toilet cubicle so they retire to Ralph's house, two bus-rides away. Where they "do everything"—until Ralph's dad appears.
It gradually becomes clear that this is not set in present times, hence the difficult circumstances and the motivation for writing this play: the fiftieth anniversary of the 1967 Sexual Offences Act, which hadn't come into force at the time the story is set. To consummate their relationship, therefore, is a criminal offence.
Ralph decides the risks are too great as he is training to be a teacher and if the school found out about his sexuality his career would be over before it began. Bobby, who works as a shop assistant in "Woollies", is bitter and rather less discreet, enjoying the gay lifestyle on Canal Street in Manchester, while Ralph starts courting a girl to conceal his sexuality as "it's the best the likes of us can get". However they are still drawn to one another with a force that neither can ignore.
There is worse to come for both of them as they are confronted first by a blackmailer and then by the full force of the law. It tries to end on a note of hope, but there are too many loose ends to indicate that the happy ending is a fantasy and this is far from over.
This two-hander relies very heavily on narration, mostly from Bobby but, just as it appears that this is Bobby's story, it occasionally switches voice to be narrated by Ralph, but never for long enough for us to get to know Ralph as well as we know Bobby. The danger with this style is that the stage picture can be very static while the most exciting action happens offstage, which often happens in this play. While director Occhipinti keeps the action moving at a decent pace for the first half of the play (it runs straight through for about an hour and ten minutes without an interval), the second half is very slow and does drag in parts.
While the plot construction can be a little loose, the story is an interesting and convincing depiction of the secretive life of gay men prior to 1967. Writer Smith has said that she based the story "on news reports and biographical accounts from the 1960s" which gives it the authenticity of research but it is lacking those little details that a dialogue with someone who lived through this time could have provided to give it some human warmth.
However there are some strong scenes when they are given chance to develop and even occasional humour in a script that has much to recommend it. This is helped considerably by a very good performance from Ciaran Griffiths as Bobby, with Christian Edwards managing to do a good job of steering the less-developed character of Ralph away from cliché.
Reviewer: David Chadderton