All the World's a Stage
Boris Akunin, Translated by Andrew Bromfield
W&N
Released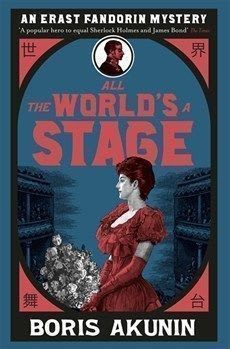 The twelfth book in Georgian crime novelist Boris Akunin's Erast Fandorin series will immediately appeal to all serious theatre lovers.
The writer has chosen to send his cerebral sleuth into the world of Moscow theatre and more precisely a company called Noah's Ark, in 1910/11 a serious rival to the Moscow Art Theatre and the Bolshoi.
There, at the instigation of an old friend, Chekhov's widow Olga Knipper, he finds himself in the midst of multiple murders. All of these revolve around the company's feted and fated leading actress Eliza Altairsky-Lointaine. To compound his many problems, as the body count multiplies, our hero falls madly in love with the beautiful actress who rejects all of the older man's approaches in a silent effort to save his life.
The efforts that Fandorin takes to charm the actress include writing a play in a few days, which then becomes the talk of the town. As a bonus for readers, this volume includes the full text of a rather charming pastiche set in Japan.
However, before getting on to that, we are steeped in Russian (and to an extent global) theatre history, proving that Akunin has researched diligently, steeping himself in the subject and creating a convincing milieu as a background to his murder mystery.
The theatre company that director Noah Noahevich Stern has created is an archetype, filled with recognisable characters from the world of the stage, backstabbing (one of them literally) and supportive in almost equal measures.
To give a flavour, starting at the top Stern is a tyrannical, self-obsessed director, with a weak assistant in love with the art form (not to mention the leading lady). There is also a lecherous, haughty leading man but perhaps the authenticity is best displayed by some of the minor characters who stand and wait for their brief moment in the limelight.
While Boris Akunin and Erast Fandorin have both matured a great deal since the series opened with The Winter Queen almost 20 years ago, much of the plotting shares weaknesses common to many crime novels, presenting a group of fairly irrational potential murderers before the amateur detective finally pulls a rabbit out of a hat.
That is a relatively minor quibble with a novel that is both a wonderful read and exceptionally informative about the state of Russian theatre a century ago. This volume published by Orion at £20 (£7.99 for the e-book) should definitely be on the Christmas gift list of everyone with an interest in theatre, mature love or mass murder.
Reviewer: Philip Fisher