All Mouth
Jonathan Lewis and Miranda Foster
Menier Chocolate Factory
(2007)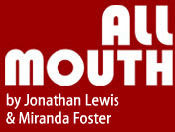 All Mouth is intended as a satire on the acting profession but, far too often during its two hours, it seems to be satirising itself.
It takes place in a large Soho flat, designed by Anthony Lamble, which is used as a sort of Green Room by four struggling act-ors (in the pretentious sense). They have gone beyond stage or screen work and are now "stuck in the audio wilderness" of advertising voice-overs, supplemented by the oohs and aahs of dubbed porn.
This is the stuff of lowest common denominator sitcom and the writers do not disappoint, with a series of limp jokes and predictable scenes, as the occupants bicker over a young hunk, worry about their broken homes and imagine that their careers are about to take off.
To add to the mix, plummy-voiced veteran Digby has mysteriously been lined up for Desert Island Discs and there is an actors' strike brewing over digital voice farms, which inexplicably allows them all to wear brand new donkey jackets.
Co-author Jonathan Lewis directs a cast led by Christopher Benjamin as Digby, a man more interested in his ego and his unsubtly-named catamite Rod (James Russell) than his career.
The best scenes are those in the studios, as advertising executives from around the world try to get the actors to enthuse about their products, though even here, the impression would have been much stronger had the accents not been so poor.
All Mouth is riddled with inconsistencies and has far too few good situations or jokes. By the end, there is even a suspicion that the five-strong cast has lost faith in the script and is working too hard to cover up perceived weaknesses with a lot of mugging.
The Menier is riding high in the West End with Little Shop of Horrors and preparing a Broadway transfer for Sunday in the Park with George. With that kind of hit rate, they can be forgiven the odd lapse.
Reviewer: Philip Fisher