All My Sons
Arthur Miller
Apollo Theatre, Shaftesbury Avenue
(2010)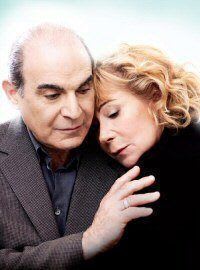 Ten years ago, Howard Davies had a great triumph with Arthur Miller's searing investigation of honesty and guilt, All My Sons, in the Cottesloe Theatre at the National.
Though William Dudley's design still lingers in the memory today, it seemed at the time that the success was built on a wonderful cast led by Julie Walters and Ben Daniels who, along with Davies and Dudley, took the 2001 Olivier Awards by storm, each winning their relevant category.
Now, played within another Dudley masterpiece behind a proscenium arch, it is clear that Davies' vision is impeccable, as well as his ability to cast and direct the finest of performers. The new team excel in an evening framed between two explosive moments.
The first leaves the audience stunned before even they learn the story of the Kellers, an All-American family living the fraud that became known as the Great American Dream, and the second delivers the tragic coup de grâce.
The setting for what is effectively a modern version of Greek Tragedy says much about what is to take place. A symbolic semi-jungle borders the comfortable white wooden home of the Keller family and the garden where their hopes and dreams are dramatically altered by a series of revelations in 2½ of the most gripping hours that one could hope to spend in a theatre.
We are in 1947, when the world was still recovering from the second war to end all wars. By now, David Suchet's Joe Keller is a successful businessman and well-loved pillar of the small-town community.
Zoë Wanamaker as Kate Keller is a proud wife and mother, still forlornly hoping beyond hope that her pilot son Larry will miraculously return though it is 3½ years since he was reported missing in action.
The return of Annie - Jemima Rooper playing Larry's former sweetheart but also the daughter of Joe's old business partner - is a catalyst for life-changing revelations prefigured in the stormy opening scene.
She has come from New York to marry the Keller's other son Chris, a handsome, good-natured muscleman played by Stephen Campbell Moore. This couple may be mismatched in size but there is little doubt that they love each other without understanding the devastating implications.
Annie's father is in prison after 21 air force pilots died as a result of faulty aeroplane parts supplied by the business that he ran with Joe. Keller senior had only escaped prison due to the good fortune of falling ill with pneumonia on the fateful day when they were manufactured.
Following in Annie's wake comes her brother George (Daniel Lapaine) with a message from their father. Suffice to say that this blows apart not only the future for the loving young couple but also Joe and Kate.
By the end of the play, the hopes and dreams have become sick jokes, while the shocked audience is still struggling to come to terms with the family's loss and by extension that of their country.
Watching All My Sons would always be a great experience regardless of the production qualities. In Howard Davies' hands it is something more, as both David Suchet and Zoë Wanamaker give exceptional, potentially award-winning performances: he moving from relaxed confidence to terrified panic, while the devastating Miss Wanamaker apparently starts out totally neurotic but becomes significantly more so in her desperation to control events that are already in freefall.
The support is equally strong, with Stephen Campbell Moore expressing great emotion as Chris realises the power of history, working well with Jemima Rooper whose character fights a losing battle to maintain her head when all around are losing theirs.
This kind of production does not come along every week. Book now, while you can still get tickets.
Playing until 11 September
Visit our sponsor 1st 4 London Theatre to book tickets for All My Sons
Reviewer: Philip Fisher