Almost Near
Pamela Carter
Samuel Julyan in association with Neil McPherson for the Finborough Theatre
Finborough Theatre
–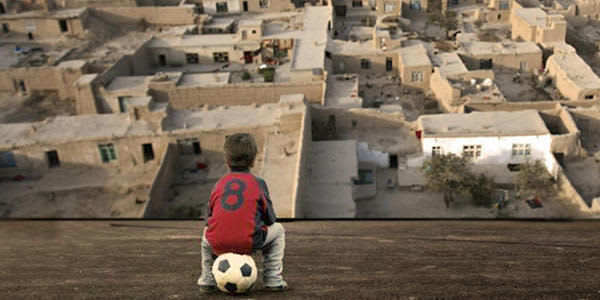 Pamela Carter's play, a Finborough commission now receiving its UK première after a run in Germany at Dresden Statshauspeel, intercuts scenes in Britain and in Helmand Province in Afghanistan, not necessarily chronologically. It touches on many things including a child's need for emotional security, exploitation of another's trauma and the attitudes of army personnel.
A stage littered with bodies in combat camouflage appears to be some kind of art installation. Behind them, designer Fly Davis hangs slashed canvas that could be a military tent or belong to local people in Iraq. It hides the set of the production of Thérèse Raquin with which Almost Near plays in repertoire and pushes the action almost into the audience's laps.
Director Audrey Sheffield does wonders fitting four person fights into this space, even though they are playful ones, and the rents provide a convenient way for characters to dissolve out of the picture.
Sculptor Louise's nine-year-old son Jeff appraises his mother's work, approving a realistic hand and picking-up a blown-off arm, and then it seems we move back to when Louise is preparing the work, photographing a hired male model dressed and made up as a casualty—one of the figures seen already, a guy who, when their sessions are finished announces he is off to join the army.
Louise, already estranged from her structural engineer husband Ed, develops a sexual relationship with the model Kevin, while in Iraq the wounded are seemingly resurrected. The situation is hardly original—the dead who do not realise they are dead—but it provides an opportunity to consider how little the occupying forces understand or really register the people they are among.
Concerned at Jeff's fascination with violence and war, his apparent lack of friends and his invention of an imaginary Buddy, Louise urges Ed to get him a pet: a cat that Jeff uses to bring his parents back together in a macabre way that only he and Buddy comprehend.
But who is Buddy? Is it the Arab lady in a headscarf who was seen hovering around the installation, who seems to be the same person who removed a watch from Sergeant Jackson's severed arm? With Jeff she enacts a funeral ritual but, in encounters with Ed and Louise, she seems a real refugee and in Iraq the soldiers see her as a terrorist suicide bomber. I am still trying to work that one out. Does she perhaps represent our own inability to accept and understand the other?
The ideas here are not clear-cut, but it is a play that resonates and it is well played with young Andrew Gilbert as Jeff, Kate Miles and Michael Sheldon as his parents and Mariam Haque as the enigmatic Buddy.
However, it is the squaddies, a totally believable bunch of mates, that make this production one worth seeing. Princess (Adam Philips), so-called because he is so concerned with his appearance and who appears to be Kevin, Nicey (Tom McCall), who may not very quick-witted but is always nice to everyone, Chips (Oliver Mott) who seems the most sorted of them and Sergeant Jackson (Amy Loughton) without family or friends back home, are all well-defined characters and play with splendid teamwork. It is a reminder that actors rely upon each other just as much as military personnel.
Almost Near plays on Sunday and Monday evenings and Tuesday matinées only.
Reviewer: Howard Loxton