Thérèse Raquin
Based on the novel by Émile Zola, book and lyrics by Nona Shepphard, music by Craig Adams
Finborough Theatre
–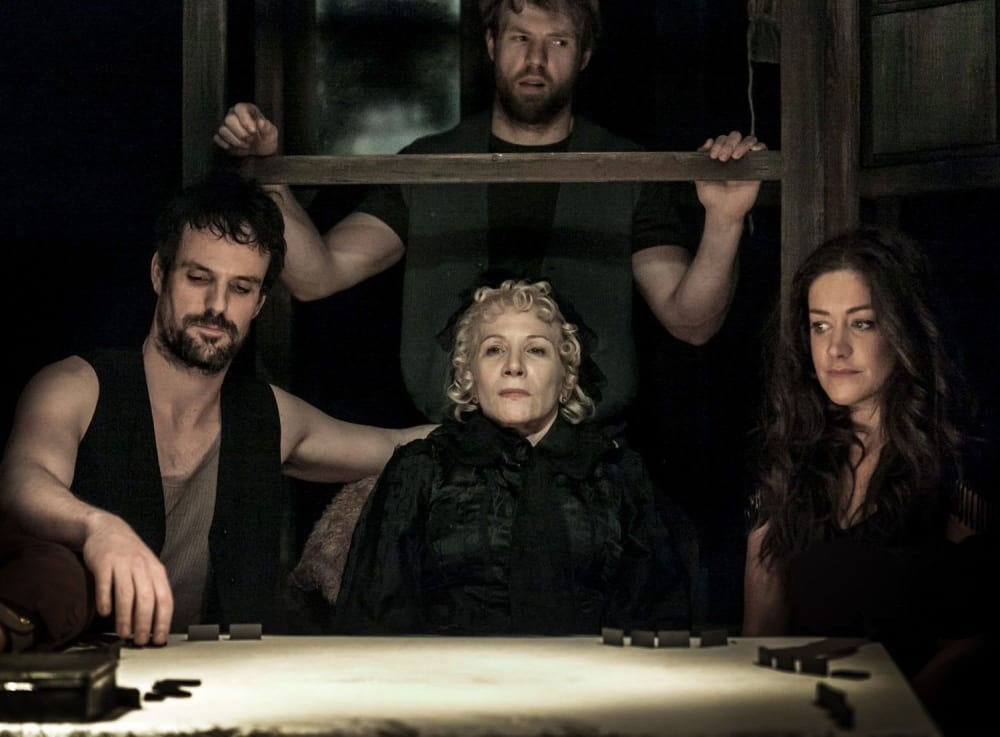 With elemental passions to grab the attention, Émile Zola's epic, realist novel of love and murder is perfectly suited to adaptation.
As well as providing a gripping read, it has been turned into an unforgettable TV serial and more than one successful play. This latest two-hour long "radical adaptation", created by Nona Shepphard who also directs, is billed as a musical but has as much of the character of an opera, perhaps falling somewhere between Britten and Sondheim.
Refreshingly, it is performed in the tiny Finborough auditorium without microphones, which is becoming an increasing rarity these days outside opera houses.
The Finborough rarely fails to surprise and often delights with its small scale works that expand the space and viewers' horizons.
Weaving their way around Laura Cordery's busy wooden set that takes up much of the limited space, a dozen-strong cast including pianist / musical director / actor James Simpson somehow find enough room to fill the 19th century Parisian home of claustrophobically cosseting but chillingly memorable Mme Raquin, portrayed by Tara Hugo.
She shares this with her timid son Camille played by Jeremy Legat and his almost silent cousin-wife Thérèse.
Julie Atherton's taciturn character seems even-handedly stony-hearted, whether in the company of husband, mother-in-law or domino-playing neighbours.
Just when one begins to imagine that no blood courses through her body at all, one Thursday evening at 8:22, Camille decides to bring home an old childhood friend, Ben Lewis's handsome Laurent.
The muscular, bearded painter, who earns a living alongside Camille as a railway clerk, seems innocent enough, despite a powerful singing voice.
However, once he and Thérèse find themselves alone, lust takes over with risk providing an exciting additional aphrodisiac. From that moment, the marriage must surely be doomed and an unforgettable tale unwinds.
By the end of two hours, all four lives have changed irrevocably and the audience will have been entranced by a timeless story delivered with great panache by all concerned.
In this version, the plot has been pared down and then enhanced with songs written to complement the harrowing subject matter rather than leave the audience humming.
The final result can occasionally get waylaid by Craig Adams's dark musical compositions but is a good mixture of Zola and light (but also very dark) opera that should satisfy fans of both genres and deserves to sell well.
Reviewer: Philip Fisher