Alphabetical Order
Michael Frayn
Hampstead Theatre
(2009)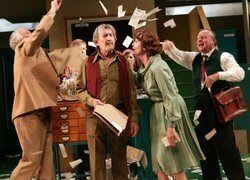 Bearing in mind how many playwrights have worked as journalists at some point in their careers, it is surprising how few plays have been set in the world of news media. The classic example must surely be The Front Page and, a couple of years ago, Steve Thompson wrote Damages, but not that many others come to mind.
Michael Frayn's bittersweet comedy was first seen at this theatre in 1975 starring Billie Whitelaw and Dinsdale Landen, prior to a West End transfer that garnered the Evening Standard Best Comedy Award.
It is not only a play set in the world of news but a metaphor that shows remarkable prescience, appearing just as Margaret (now Lady) Thatcher started out on what turned out to be a devastating (in every sense of that adjective) career.
Building on his time at The Guardian, Frayn very deliberately divides the 2¼ hours into very distinct halves.
Before the interval, events take place in a newspaper library - designed by Janet Bird who makes great use of the theatre's substantial stage space - that looks like a turquoise bombsite. This is both an expression of the personality of its head librarian, a dizzy earth mother named Lucy, played with great heart by an extremely funny Imogen Stubbs, and a comment on a society and industry that were hopelessly disorganised and challenged by what were known as Spanish practices.
The library is the regional newspaper's engine room, providing not only information but moral support for a stream of journalists desperately in need of it. The chaos is so great, though, that Lucy recruits an assistant to introduce some semblance of order.
Chloe Newsome's cheerless Lesley is Lucy's terrifying, potentially tyrannical antithesis. Both unfazed and unamused by the joking and horsing around, she does exactly as asked. The result is seen after the interval in a library that is exemplary in its tidiness but totally lacking in soul.
What could have been a symbolic battle to the death between chaos and order in fact leads to another death. In a moment that must have been seen as poignant by every journalist in the theatre, the newspaper succumbs to its mounting debts and folds.
A play that had up to that point seemed suitably ironic and somewhat dated suddenly began to say all too much to a country in a recession that might yet make the mid-1970s look like a holiday camp.
While the conflict between the two female librarians is the centrepiece, there is a great deal more to Alphabetical Order. It is an affectionate tribute to the days when broadsheets were broadsheets and the Internet was not even thought of. It is also a sometimes highly amusing comedy of a very traditional kind.
The characters are all representatives of type but nevertheless make telling points while making us all laugh, particularly before the interval. Gawn Grainger is a splendid character actor and makes squiffy, inarticulate Arnold, who struggles to reach even the high point of monosyllabic statements, sympathetic.
Similarly, Ian Talbot is touching as jovial Geoffrey, the omniscient, ageing messenger boy, and Jonathan Guy Lewis a model of indecision playing John, who is forced to choose between the two women.
Despite a slow opening to the serious part of the evening after the interval, Christopher Luscombe's revival of Alphabetical Order is a worthy choice to represent Hampstead productions in the Golden Jubilee year. It will undoubtedly please the theatre's traditional audience and might just have what it takes for another West End transfer almost 35 years on.
Playing until 16 May
Reviewer: Philip Fisher