Alston At Home: Opening Gambit / Brisk Singing / Rasengan / Unease… / Mazur / Overdrive
Choreography Richard Alston, Martin Lawrance, Ihsaan de Banya, Joseph Toonga
Richard Alston Dance Company
The Place, London
–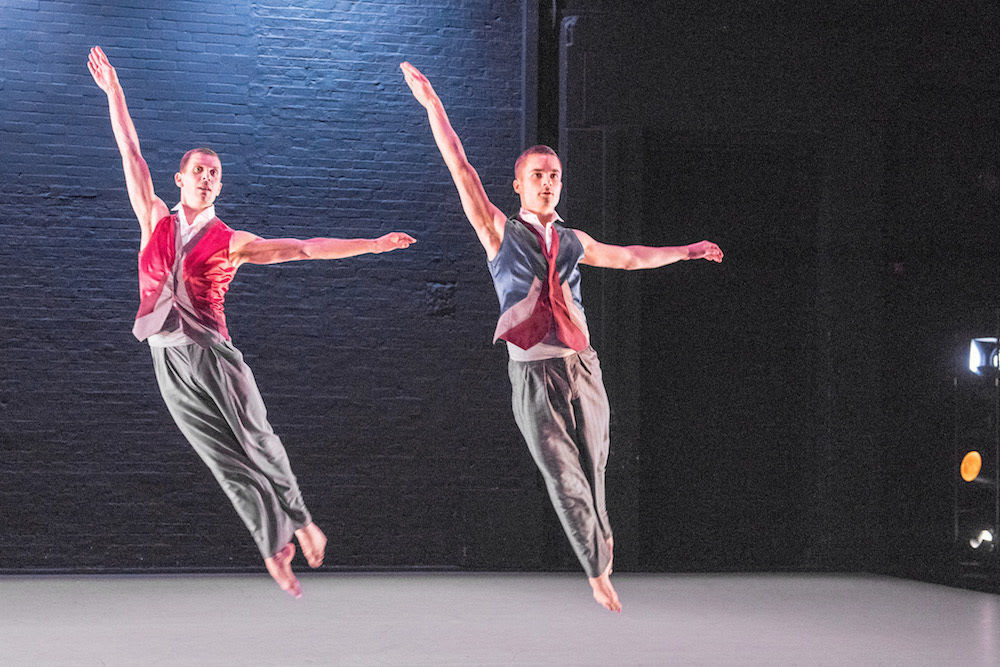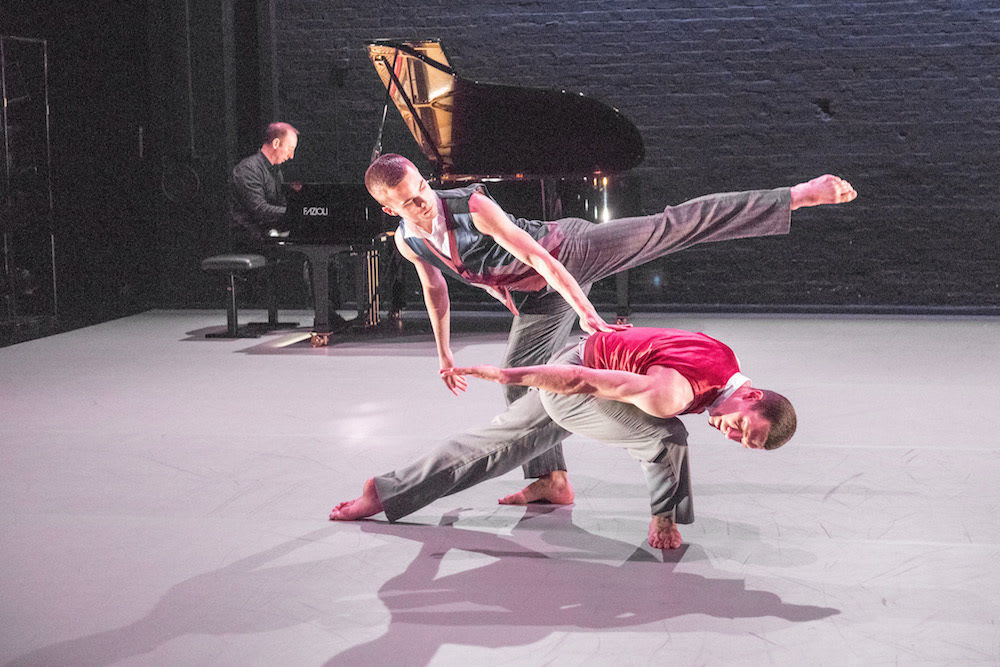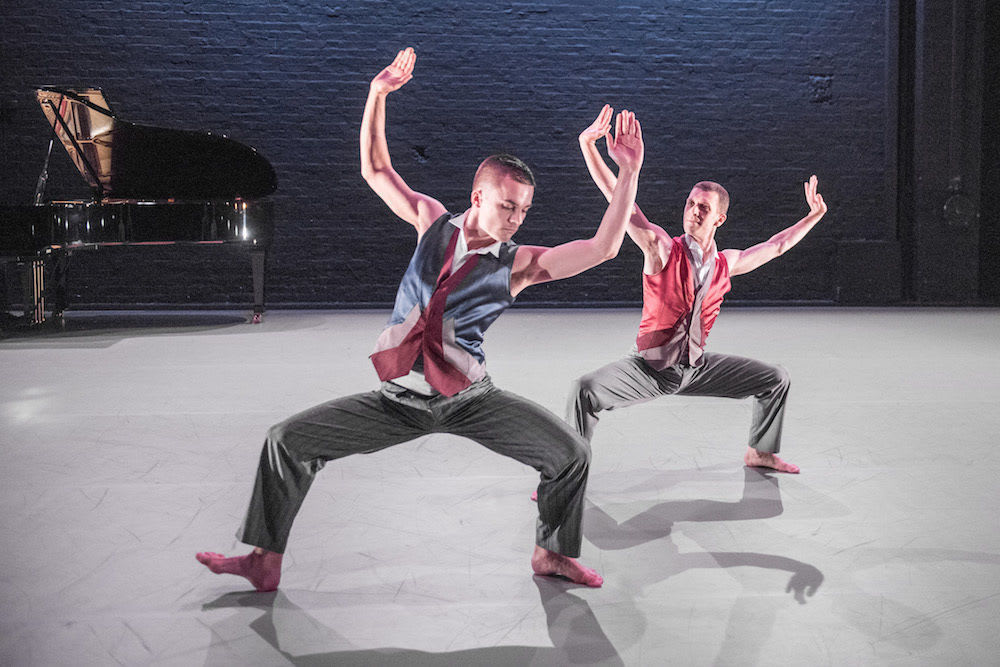 Richard Alston nails his colours to the mast with a programme that has the young audience—this is not press night—cheering at the end of an evening that runs on high adrenaline as well as way over the running time.
Fine dancers, six pieces, four new works, four choreographers, looking back and to the future, nurturing new talent, but above all Alston At Home is about Alston celebrating the end of a long tour, his company's twentieth anniversary tour.
The piece that blows me away—fifth in the evening's pecking order—is his new duet, Mazur, for Jonathan Goddard and Liam Riddick to Chopin's Mazurkas (Op.30, Op.7, Op.33, Op.68, Op.67, Op.41, Op.50) played live on stage by Jason Ridgway.
Soulful, expressive, emotional, joyful, reflective—Chopin's music enacted in beautiful choreography by two dancers at the height of their talents, Goddard's technique strong and solid, Riddick sharp and light as air as he spins and spins.
In smart suit trousers, gorgeous waistcoats by Peter Todd, two compatriots lose themselves in their past: tiny snatches of folkloric mazurka echo throughout the choreography.
In duet and solo after solo they present their performances generously, with open arms and reverences to us, their thoughts and feelings, internal dialogues made visible, even as Riddick shields his eyes.
Zeynep Kepekli's lighting fluctuating the mood, which ends on a note of hope, in shifting cadences souls are revealed: two friends—brothers in arms. Mazur alone is worth the price of entry.
The evening opens and closes with blockbuster numbers: ten dancers blasting their way through Martin Lawrance's brief new Opening Gambit and Alston's longer Overdrive (2003).
Associate choreographer Lawrance twenty years with the company, very much his master's pupil, repays and replays his memory of flight and abandon in Alston's choreography. To Julia Wolfe's Dark Full Ride Part 1 he takes us on an Alstonian aerodynamic trip.
Percussive beats and relentlessly fast moves, manic clock springs and ticks, the dancers freewheel to freestyle jazzy sounds. Youthful energy and stamina, challenging each other on a battlefield borrowed from street dance.
Alston's short duet from his 1997 Brisk Singing cools the pace and temperature. Danced by University of Michigan students Maeve McEwen and Michael Parmalee—Alston's reach is far and wide.
Rameau's baroque Entrée from Les Boreades, its classical references Alston picks out in bucolic and courtly dance. The boy in knee breeches and waistcoat, she in ruby dress, dance innocent love.
There's something baroque in dancer Ihsaan de Banya's first piece for Alston's company, Rasengan, with its courtly trio of dancers (Oihana Vesga Bujan, Nicholas Bodych and de Banya) in their long elegant silk shifts over trousers.
Not knowing that Rasengan is 'a technique that involves focusing chakra to the hand and making it swirl in a tight spherical shape', I see T'ai Chi hands pushing and pulling qi energy in to the body and away from it. 
Roseate lighting expands the arena, the moves get larger, the space ship bigger, its electronic beeps and chirps and hums, white noise crackles and sputters (Ryoji Ikeda) giving way to static, the static of interconnecting bodies in an uneasy forcefield.
Joseph Toonga's new Unease… seeks to explore 'the rawness and precision of hip-hop with the shaping and structuring of the contemporary choreography.'
Ambient music, not heavy beats (Celesta's Interlude by Orin Norbert of Soul-hop) finds de Banya the solitary muscly male leading four females in anguished tense flow interrupted by popping moves. Fast jerks and slow-motion fuse, bodies sway and twitch in disjointed disquiet.
Nothing disjointed about Alston's propulsive signature style Overdrive to Terry Riley's Keyboard Studies #1, its musical sequencing and progression the purring engine, whilst Charles Balfour's lighting frames and colour-codes the mood and time of day.
Five boys, five girls give themselves to St Vitus's dance. Can't stop, can't stop: in various permutations the dancers cruise at optimum pace, sweep across the floor like gazelles, flash like neutrons in perpetual motion. And Riddick is the favoured one: hard to keep one's eyes off him.
Reviewer: Vera Liber