Alston
Choreographed by Martin Lawrance and Richard Alston
Richard Alston Dance Company
Sadler's Wells
(2010)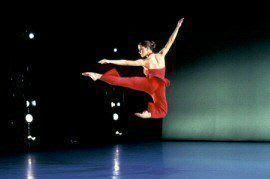 For two nights only Sadler's Wells plays host to Alston, as the programme is titled, though one of the three pieces is by his protégé Martin Lawrance, whose choreography is not unlike his mentor's. Then, the company tours the UK, alternating the middle Petrushka ballet of this programme with Light Flooding Into Darkened Rooms (1997) and Shuffle It Right (to Hoagy Carmichael's music).
As is often said of Richard Alston, it is his musicality and artist's eye that has sustained his career over some forty years. And pure dance - not depth of characterisation, drama, or even dazzling pizzazz à la Mark Morris, who resembles him the most in his musical response and joy for dance, but pure and simple movement to music, the body carving the score in space, on this occasion unobtrusively but beautifully lit by Charles Balfour.
The sheer pleasure of dance, the musical enjoyment, make for a pleasant evening - subtle colours of costume and light, and choreography that lulls with its repetition and sweeping movements. One sees the through-line from Ashton, Cunningham, LCDT, and Siobhan Davies (with whom he shared a company for a while).
Bach's Brandenburg Concertos Nos 2 & 3 drive the dance in Martin Lawrance's one-year-old To Dance and Skylark - a twenty-six-minute ode to the bliss of physicality. One lit cold blue, the other warm red. In matching two-tone costumes of unisex tops and shorts, Alston's able dancers in couples, singly, and en masse, make the courtly but fast and complex Bach playfully accessible. In obeisance to its tempo, they race, leap and turn, flit and fly in changing permutations, all propeller arms and fleet feet - very Alston, if not as succinct and tidy.
Alston's two numbers, the fifteen-minute Movements from Petrushka (1994), and the twenty-five minute Overdrive (2003), continue in similar mode: there's no mistaking Alston's default movement-propelling arms and tilting torsos, even when he tries for narrative and psychological depth in Petrushka, melding the puppet with his interpreter Nijinsky's mental collapse.
Surrounded by eight happy folksy dancers in black trousers and white shirts, Petrushka (in 'James Dean' black), out of step with the carnival carousers, arms flailing, hyperactive, circles the on-stage piano, clutches his head, and falls in a crumpled heap on the floor. Pierre Tappon, as the suffering puppet, is a fine enough dancer, but this literal and clichéd homage to Fokine and Nijinsky is neither here nor there
The delights of Movements from Petrushka, to Stravinsky's Trois Mouvements de Petrouchka, are the on-stage piano playing of Jason Ridgway, and Liz Reed's drop backcloths reinterpreted from Alexandre Benois's designs, one a fairytale St. Petersburg skyline, the other black silhouette demons with red mouths and eyes flying on broomsticks across a yellow sickle moon.
Overdrive, to Terry Riley's layered electronic Keyboard Study # 1, is the most interesting piece of the evening - saved for last - an intelligent exuberant kinetic visualizing of its fragmented repeating and overlapping 'oriental' rhythms. In Jeanne Spaziani's stylish outfits of loose trousers and sleeveless tops in delicate shades of grey and red, the dancers, warmed up by the previous numbers, excel in maintaining the intricate tempi and structural tensions, and dance full out. The title is most apposite.
And the lighting, changing the colour spectrum from varying shades of purple, to grey, grey-lilac, grey-green, swimming pool blue, turns the floor into a marvellous colour-washed canvas for the swiftly shifting patterns of dance etching the stage framed in light. One is swept along by the energy and the insistent thrum of the music and dance - Alston gets it together not cutting edge like Wayne McGregor, but with a steady persistence.
Touring production to Brecon, Brighton, Northampton, Norwich, Shrewsbury, Glasgow, and Leicester. Further information from www.theplace.org.uk
Reviewer: Vera Liber