Alys, Always
Lucinda Coxon, based on the novel by Harriet Lane
Bridge Theatre
–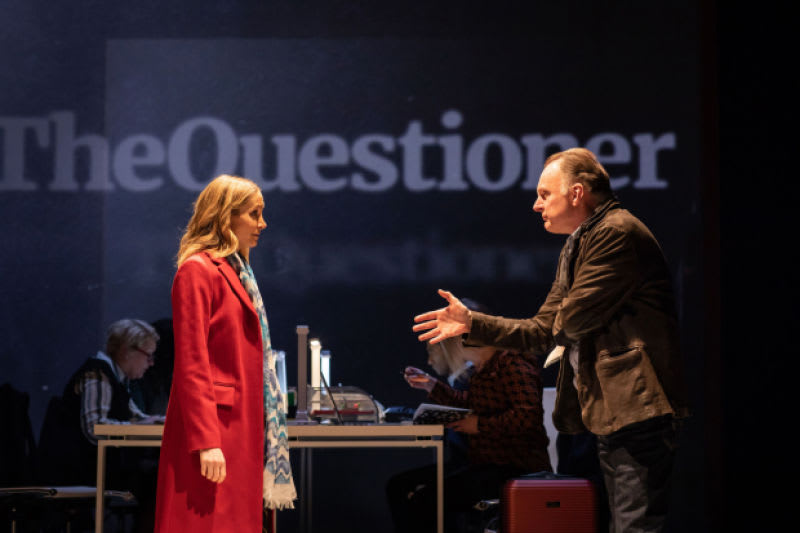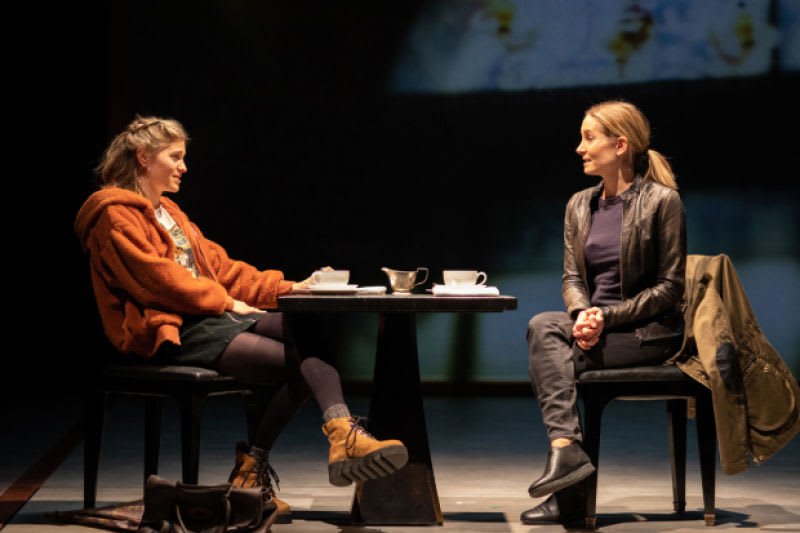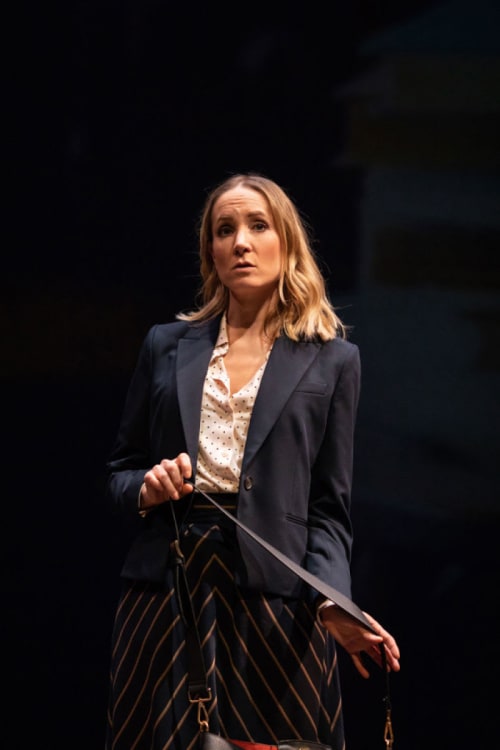 The Alys (pronounced Alice) of the title makes only the briefest of appearances, dying in a car crash as Lucinda Coxon's stage adaptation of the popular Harriet Lane novel of the same name opens.
Her final moments are witnessed by Joanne Froggatt of Downton Abbey fame taking the role of Frances, the evening's central character and a narrator, required to deliver screeds of exposition during a production directed by Sir Nicholas Hytner on a thrust stage designed by Bob Crowley, cleverly utilising the Bridge's stage machinery to keep things moving, while aided by some poignant cello compositions by Grant Olding, played by Maddie Cutter.
Although most of her duties might naturally carry the title administrative assistant, the self-possessed young woman works as a sub-editor on the books pages of The Questioner, a broadsheet struggling to compete with the times (or for that matter The Times).
Her prospects offer limited prospects for advancement, given that Frances has little opportunity to show off her talents until the moment when she becomes the beneficiary of an unlikely coincidence.
The victim of the car accident just happened to be the wife of a Booker prize-winning novelist, Robert Glenister playing Laurence Kyte. In an effort to calm his highly-strung son and daughter, the writer invites the aspiring journalist to share her brief memories of the dead woman with them.
A highly stressful meeting for all concerned leads to a budding friendship with their daughter, Leah Gayer's Polly, a deeply immature hedonist who soon becomes dependent on her new best friend.
In no time at all, our protagonist has transformed herself into a close friend of an influential family, which helpfully gives her inside information that attracts the attention of her boss, Sylvestra Le Touzel as Mary, the kind of strict authoritarian who so often has a heart of gold.
Slowly but surely as the 2¾ hours elapse, Frances becomes closer and closer to the Kyte family, while at the same time advancing her career at a speed that might otherwise have been highly improbable.
At a fairly early point, the direction of the evening becomes obvious. From then on, viewers can sit back and relish an undemanding plot that has many of the attractions of gently amusing TV psychological drama. As such, it fails to go very deeply into the psychology of any of the characters but will chill the souls of all who watch philandering Laurence make a fool of himself as, following the footsteps of both Mary and his daughter and to varying degrees almost everyone else, he is coldly and calmly seduced by ambitious Frances.
The likelihood is that this play, which lacks the cut and thrust of the highest quality theatrical drama, will primarily appeal to fans of the novel, although Joanne Froggatt, Robert Glenister and highly promising stage debutante Leah Gayer all have their moments.
Reviewer: Philip Fisher