Amadeus
Peter Shaffer
Olivier Theatre (National)
–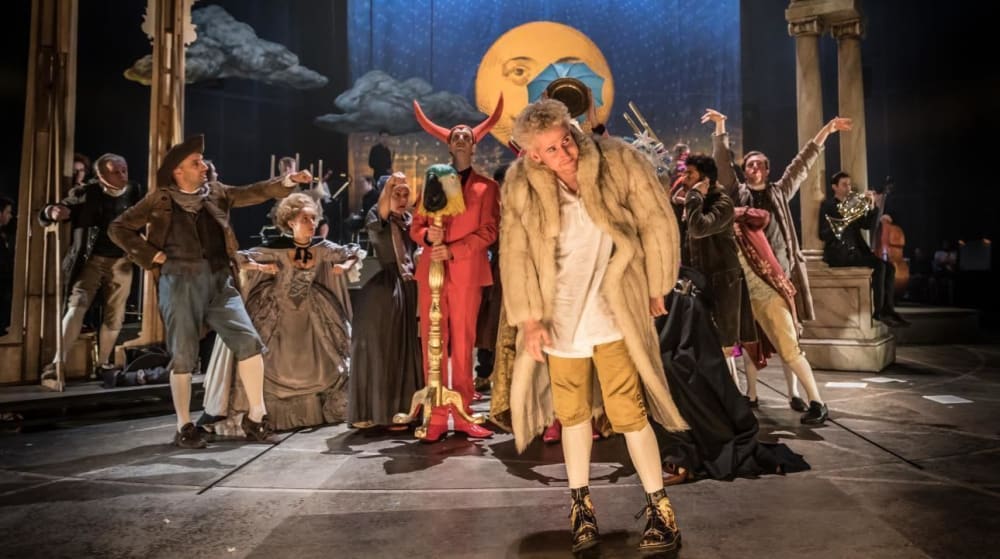 Michael Longmore's revival of this biographical homage to perhaps the greatest composer to date is almost perfect in every regard.
Amadeus is a play of dualities. In 18th century Vienna, it pits the tyro Mozart against the respectable court composer Antonio Salieri, but also both men against their inner (or perhaps in Mozart's case, outer) demons.
At the same time, the play uses the medium of music to demonstrate how the world, rich and poor alike, can allow finer instincts to overcome innate vulgarity.
Although the setting by designer Chloe Lamford is simple, eschewing lavish design to maintain pace for three hours that absolutely fly by, everything else about the production makes the most of the National's generous resources.
Not only is there a small team of talented singers on stage but the full, young orchestra of the Southbank Sinfonia, every member of which is brave enough to act as required with boundless enthusiasm and considerable skill in support of the leads.
Their presence ensures that the heavenly music of Mozart is heard to good effect and even the odd (inferior) composition from Salieri.
Peter Shaffer's masterstroke was in his portrayal of the central figures. Lucian Msamati's Salieri (a part originally played by the great Paul Scofield under Sir Peter Hall's direction in 1979) is shown as an Italian musician of great talent and ambition, not to mention supreme social skills.
However, having tried to make a Faustian pact with God in an attempt to "blaze like a comet across the firmament of Europe" he found his musical glory stolen. This would be bad enough for a proud man in any circumstances but when the sneak thief is a genius with the behaviour of an unruly, "obscene child", that is too much.
His music may be divine but the composer's lecherous behaviour is anything but. This annoys not only Salieri but also Mozart's long-suffering but devoted wife, Constanze played by Karla Crome.
While offering support, the more quietly lecherous Salieri's mission, confessed from his deathbed 32 years later, is to destroy his rival, whatever the cost to his own soul, as he elaborates in an ongoing dialogue with his deity. As the disappointed Italian, the immaculate Msamati perfectly balances surface hypocrisy with inner pain and admiration of his competitor's music and its "absolute beauty" that he can never fully hide.
Playing his foil, Adam Gillen has great fun as a pre-punk dressed in garishly clashing costumes with an assortment of colourful DMs and even an earring. Like Simon Callow, who created and inhabited this marvellous role, he will almost certainly go on to enjoy a long and fruitful career. It helps Gillen that, while the young man may act the fool almost all of the time, Mozart does deliver one magnificent set piece speech uncharacteristically lauding the art form that he loves.
At the same time as this musical genius is wrecking his reputation and becoming a laughing stock, even in front of Emperor Joseph II, Tom Edden demonstrating flashes of his trademark wit in returning to the scene of his greatest triumph playing Alfie in One Man, Two Guvnors, he is composing immortal music that shows no sign of waning in popularity over three centuries after his death.
There seems little doubt that Amadeus will be one of the big hits of the autumn and anybody in love with classical music, eccentric characters or a fantastic yarn about jealousy and genius should not miss out.
For those living further afield, the performance on 2 February 2017 will be broadcast to cinemas across the world under the banner of NT Live.
Reviewer: Philip Fisher