American Idiot
Music by Green Day, lyrics by Billie Joe Armstrong, book by Billie Joe Armstrong and Michael Mayer
Apollo, Hammersmith
–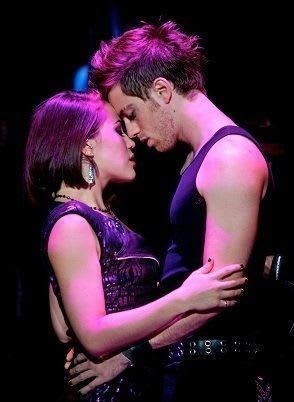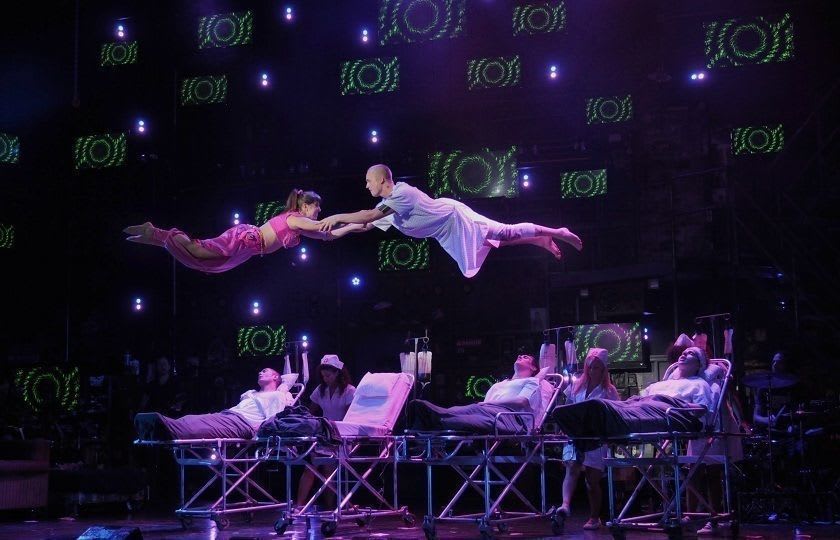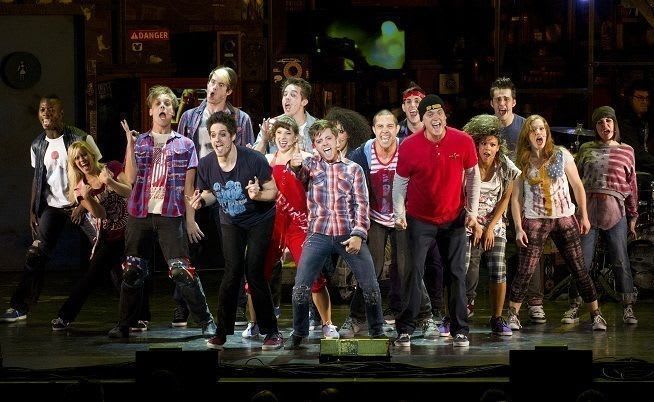 American Idiot is a contemporary (heavy) rock opera that thrives on the music of Green Day. It is characterised by a massive overdose of energy and attitude which together guarantee that audience members will come away enthused.
In the early scenes, after revving everybody up with a lively version of the title song making full use of the 36 TV screens set along the walls, it is hard to imagine how any kind of plot will be fitted into two, action-packed hours alongside 21 songs and choreography to die for from Frantic Assembly's Steven Hoggett.
In fact, the triple coming of age story, which echoes Hair to a fair degree, appears almost by osmosis, more in the fashion of an opera than a play.
Simply, Alex Nee's Johnny and his two young pals (all three represented by actor-singers who are also guitarists) want to prove that they are men and go.
They therefore head off across the United States in different directions, anatomising the current state of The Great American Dream and demonstrating that it is none too healthy.
Johnny wants a job and a girl—the role of Whatsername filled by rock chick Alyssa DiPalma. He can hold down neither, eventually finding his muse St Jimmy, played by Trent Saunders, far more addictive in the most literal sense.
Thomas Hettrick as Tunny joins the army, much to his friends' disgust, and pays for it with a leg. Strangely, for a Green Day jukebox musical, he wears all of the team tattoos, still not competing in proliferation with any of the real band members.
Casey O'Farrell completes the trio playing Will, who gets a girl, Kennedy Caughell's Heather, and baby as a job lot, almost overnight.
Enough of the story. Most people who are attracted to a Green Day musical will be more interested in the song and dance and both are tremendous. The leading sextet all sing well and do more than enough on the acting front.
They are well supported by a great rock band led by Evan Jay Newman, who give their all and replicate Green Day's music almost well enough to allow you to imagine this is the real thing. Highlights include "St Jimmy", "Know Your Enemy", and in quieter mode, "Wake Me up When September Ends" before a rousing version of "Good Riddance (Time of Your Life)" provides an encore.
The choreography is top drawer, with amazing variety complementing a selection of Hoggett's trademark moves and even some aerial scenes.
The direction by Michael Mayer together with scenic and lighting design from Christine Jones and Kevin Adams complement this, being far closer to the staging for a spectacular arena rock concert than a typical night out at the theatre.
American Idiot may not be that deep but, with popular music delivered well, unforgettable choreography and the cachet of Green Day, provides entertainment that will appeal to younger non-theatre audiences, hence the choice of a music venue rather than a theatre.
It is just a pity that the show is only playing for a fortnight, since it would have a ready-made UK audience for much longer, with every chance of becoming one of those cult shows that people return to again and again.
Reviewer: Philip Fisher