American Nightmare
Matthew Bulgo
The Other Room
The Other Room Theatre, Cardiff
–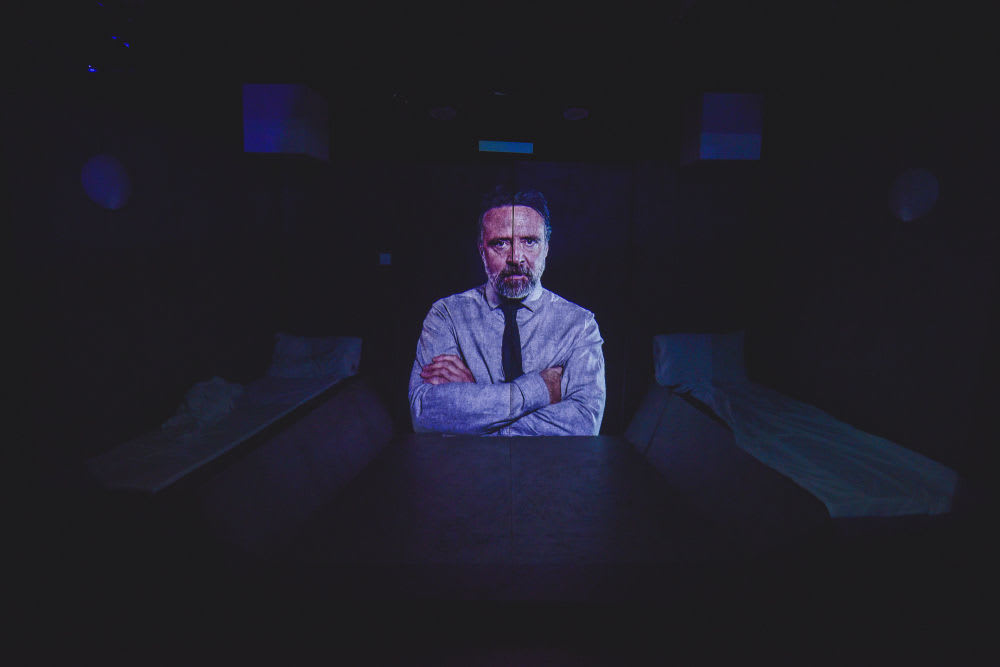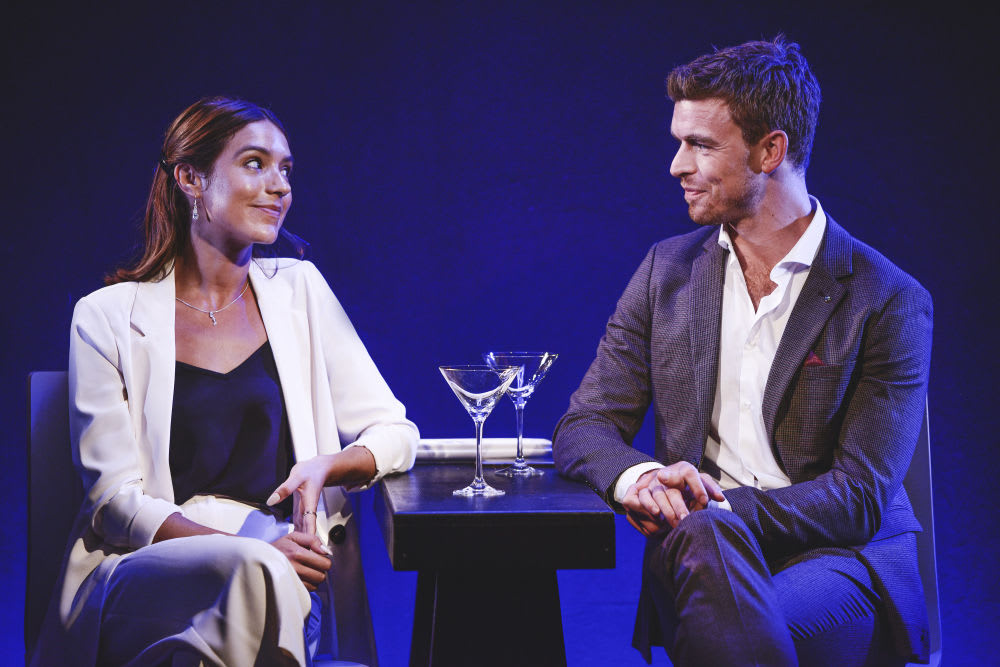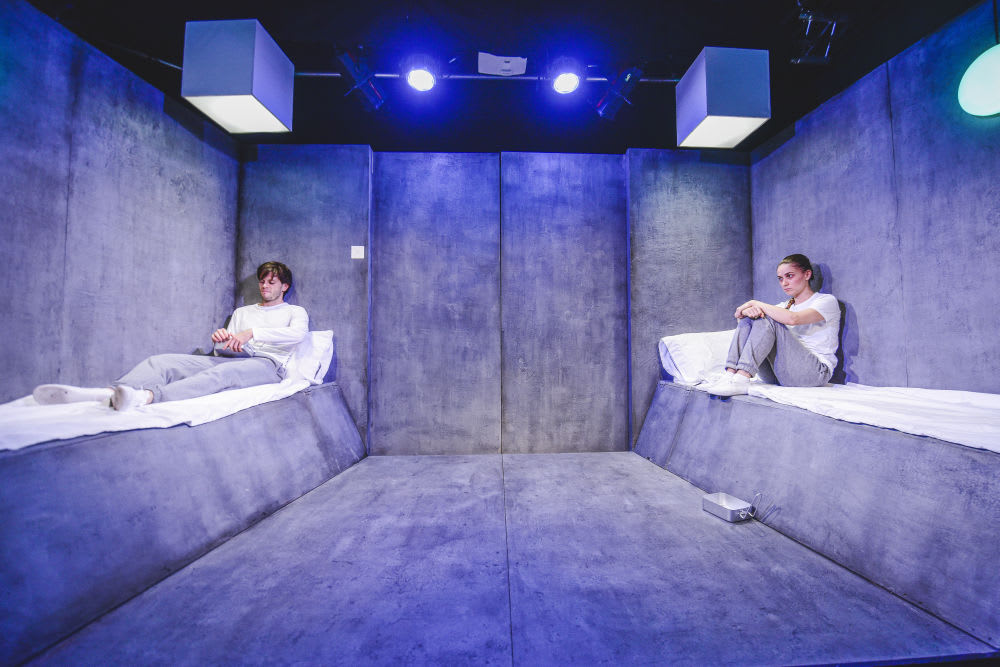 Due to the unique way that theatre in Wales is funded (actually, probably not that unique), The Other Room has, hitherto, only been able to commission one new play per season. It is therefore heartening to see that their new Violence Series comprises three original pieces, starting with Matthew Bulgo's dystopian American Nightmare.
This is, it turns out, an expanded and reconceptualised version of a ten-minute play which played as part of the venue's Young Artists' Festival a couple of years ago (to declare an interest, I worked on it and am mentioned in the front-matter of the published text, which is nice).
As the action commences, we are presented with two figures recumbent on rudimentary beds in a grey dormitory, clad in T-shirts and tracksuit bottoms. It quickly becomes clear that Mississippian Elwood—Gwydion Rhys—and Mid-Westerner Daria—Lowri Izzard—are strangers to one another, recently arrived in some kind of boot camp. There are electronic implants in their arms which communicate information about their physiological states to the people in charge, with lights to the side of their beds providing instant feedback.
The spiky Elwood is the more clued-in as to the purpose of the training and the competitive nature of their environment; the sparky Daria seems more easy-going, delighted to have some brief respite from a life of rooting about in dumpsters for food and providing sexual favours for small change. For, as Simon Clode's video imagery, Tic Ashfield's sound design and Katy Morison's lighting effects indicate, we are in a time of strife and disorder; a future America on the brink of social collapse.
Which is where the other two main protagonists come in. Periodically, a panel on Delyth Evans's set opens up to reveal a more upmarket scenario—a smartly dressed man and woman dining in a high-end restaurant many stories above a riot-hit New York City.
These are Ruth Ollman's Clara, an icily flirtatious young businesswoman, and slightly naive Englishman Greg—Chris Gordon—who, it transpires, is being courted not for his qualities as a lover, but his skills as an architect. For, as it turns out, an epic reconstruction project is in the offing.
The training-camp, to which we periodically return, exists in a different time-scale and is overseen by a military hard-ass played, in suitably intimidating video projection form, by Richard Harrington. It slowly become clear that Daria, Elwood and their unseen colleagues are being trained up—physically, psychologically and technologically—to prepare the ground for the new beginning being planned by Clara and her co-conspirators.
Bulgo's script is sharp and cynical, the corruption which is occurring within the society he portrays reflected in the evolving relationships within the uneasy non-couples. Director Sara Lloyd ensures an effective contrast between the two pairings: Ollman and Gordon chillingly civilised as they contemplate the unthinkable with varying degrees of equanimity, Rhys and Izzard increasingly hysterical (hats off to fight director Kev McCurdy).
American Nightmare is not quite as disturbing as it might be, since the premise seems so extreme (check back with me in ten years' time, though). There is also much uncomfortable humour amidst the existential despair. The prevailing tone, however, is one of tension, throughout ninety absorbing minutes.
Reviewer: Othniel Smith