The American Pilot
David Greig
Royal Shakespeare Company
Soho Theatre
(2006)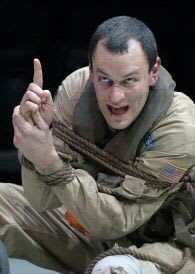 David Greig is a real chameleon of a playwright. He writes numerous plays in many different styles. It should therefore come as no surprise that this two-hour long RSC transfer from Stratford is unlike anything that he has previously written. Strangely, it might be closer to Outlying Islands, his wartime play set on the Outer Hebrides, than any other.
The American Pilot is set in an unnamed country that might be Afghanistan or Iraq. The idea of the prisoner of war billeted with a confused family of locals has been done to death in a European context but seems fresh here.
Through his eyes, we see how harsh life is in a country that has been at war for decades and where death is a constant companion. The subject matter also allows the writer to make some less than complimentary observations about the punitive nature of contemporary American imperialism.
David Rogers as The Pilot is first seen lying, as if crucified, on the floor of an idealistic Farmer played by Tom Hodgkins. They may not be able to communicate with their captive but the locals recognise that he represents another, richer world. To the host, he is "The most beautiful human being I had ever seen" and others believe that he has some superhuman glow.
Inevitably, a debate ensues about what to do with the infidel. He has landed up on the wrong side of the faraway tracks, amongst Mujaheddin or Kurds who oppose the Yankophile government and now have a potential weapon.
While Jonathan Slinger's Trader would like to make money from him, the Farmer's determined Daughter, 16-year-old Evie played by Sinéad Keenan, who is eventually cast as an unlikely modern Joan of Arc, sees him as a Messiah who might save her people.
The power in the area is in the hands of David Rintoul's swaggering Captain, a tired man who wishes that he had settled in Norway when the chance arose.
He is accompanied by a lily-livered sidekick, his almost son-in-law Matthew (Paul Chahidi). This meek guerrilla translates the words as best he can but cannot help his countrymen to overcome the cultural differences. He also fails to hide his own grief and disbelief at the loss of a fiancée who literally evaporated when an American bomb hit a wedding ceremony.
With music played by Ali Shahsavari on a Santour (a kind of Iranian xylophone), accompanied by the cast using makeshift instruments, director Ramin Gray ensures that his audience is steeped in an Eastern atmosphere. With the help of designer, Lizzie Clachan from Shunt, he also closes the play in an absolutely unforgettable fashion.
David Rogers conveys the alternating fear and hope of the hostage - think poor Norman Kember but alone and isolated - while David Rintoul as the proud but increasingly desperate Captain and Sinéad Keenan as the star-struck teenager provide the strongest support.
The American Pilot is a brave, poetic play that sensitively looks beneath the headlines to show what life must be like in a war zone, but rarely gets too grim. The highest praise that one can offer David Greig, regarding this multi-layered play, is to suggest that it gives the impression of having been written by a native.
Peter Lathan reviewed this production during the RSC's 2005 season in Newcastle
Reviewer: Philip Fisher