Amid the Clouds
Amir Reza Koohestani, translated by Vali Mahlouji
Royal Court Theatre Upstairs
(2005)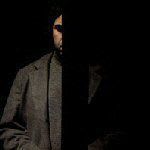 It isn't every day that London welcomes a play written in Farsi (Persian). It is more than just the language of Amid the Clouds that is unfamiliar to Western viewers.
The writer Amir Reza Koohestani also directs and favours an extremely downbeat delivery, regardless of the nature of his often extremely harrowing subject matter.
At the start, we have a long voiceover that develops into a poetic prologue that becomes a top ten of drowning nightmares, as a refugee finds himself sinking into a Bosnian river and Imour is born underwater.
The lights then rise to reveal two actors submerged in giant, water-filled fish tanks with a third awaiting them. When first the talented Shiva Fallahi, who plays a girl and Imour's mother, and then Imour (a mumbling Hassan Madjooni) rise to speak, it appears that we are on the set of an Iranian production of some obscure Beckett play.
The parallel stories that develop are those of refugees who leave Iran in search of sanctuary. The girl believes that the baby that she is carrying results from immaculate conception but gullible conception seems more likely. As she heads west towards a camp in Calais, she finds Imour. He has been born out of one illegal flight and is now embarking on another with England as his ultimate destination.
The pair form a team and begin to find a mutual need until tragedy strikes. From there, all that Imour can do is help the girl to fill a yawning chasm in her soul.
The delivery throughout Amid the Clouds is so low-key that you can forget that a drama is being acted out. This is more like a slight short story about a moving and important subject.
It is good that the theatre has begun to address the problems of emigration from dangerous countries and the difficulty of immigration into more amenable ones such as our own, especially in the context of constant news stories of hopeful asylum seekers being returned to torture and death.
It is a pity that, despite some often appealing language in Vali Mahlouji's translation, which is delivered by surtitles, any sense of urgency or drama is played down.
Reviewer: Philip Fisher