A Minute Too Late
Complicite (Jozef Houben, Simon McBurney and Marcello Magni with Annabel Arden)
RNT Lyttelton
(2005)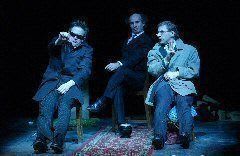 For 21 years Complicite have been one of the finest and most exciting theatre companies in the world with their experimental, primarily physical style. To celebrate coming of age, they have revived their second piece, performed by the team that devised it and appeared in the original production.
A Minute too Late is a meditation on death, a subject viewed from every conceivable standpoint in a packed 75 minutes. Death may be too serious a subject for comedy but nobody bothered to tell director Simon McBurney and co. This piece leaves its audience laughing out loud almost throughout, while never really showing disrespect for the dark reality of loss.
The opening takes place in Tom Pye's simple representation of a graveyard under a motorway, that could have been designed by Rachel Whiteread. There the geeky, bespectacled and recently widowed protagonist, played by McBurney, arrives to pay his respects to his lamented wife.
Soon, he enters the world of dreams and, on occasion, nightmares. This is a place where the whole experience of death is experienced with fluid rapidity and a remarkable sense of art and beauty. This is Complicite's trademark.
Much of the action is depicted in mime by McBurney together with two collaborators. These are Italian arch-clown Marcello Magni, a Max Wall-look-alike who could have walked (or tripped) straight out of a silent comedy, and Belgian Jozef Houben, a tall Flemish man who seems to have stepped straight out of Monty Python.
There is much slapstick together with some verbal humour and, in even more surreal moments, Dennis Potter-like dance sequences and a psychotic, hearse-driving gunman with aspirations to become Michael Schumacher.
The range of imagination and ingenuity is amazing. We are presented with everything from problems with rubbish, flowers, crumbling memorial stones and stiffs in the cemetery through a struggling death registrar's office to human home comforts such as a kettle and lamp stand.
This is an extremely funny show about the most serious and devastating subject. It succeeds as much as anything, because of the way in which it subtly adds to the understanding of loss. For that, not to mention the belly laughs, it deserves the sell-out success that this short run will undoubtedly achieve.
Reviewer: Philip Fisher