Amphibians
Steve Waters, based on an original idea and research by Cressida Brown
Offstage Theatre
Bridewell Theatre
(2011)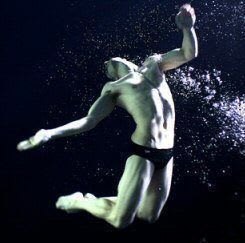 With the Olympics coming to London next year, Amphibians will be the first of a stream of sporty plays in the capital. Pleasingly, this play by Steve Waters, who in a busy month has also had Little Platoons open at the Bush, sets the bar high for his competitors.
Amphibians manages to be very much more than the sum of its parts, having much in common with last year's pair of choreographed boxing plays, Sucker Punch and Beautiful Burnout.
Director Cressida Brown, who seems to believe that traditional theatres are for wimps, has stripped back the Bridewell to one of its former incarnations as a swimming pool.
Spectators are obliged to suffer discomfort for 100 minutes, seated on wide wooden steps, their hardness eased only by towels provided to sit on. It does not help that the theatre is crammed every night of the sold out run, which is inevitable, given the unique quality of what is on show.
The play narrates the dual story of Max and Elsa, whom readers will remember as our swimming Olympians in 2012.
Chronologically, it starts when they are 14-year-olds desperate to emulate their respective role models, Michael Phelps and Rebecca Adlington.
In fact, the powerful emotions are recollected in tranquillity a lifetime (in their teen terms) later as the pair meet again having gone their separate ways.
With the aid of a coach who drives his charges by instilling hatred of himself into their hearts, the pair progress through the rankings, losing a whole chorus of training partners along the way.
Little does Jan Knightley's tough Andy Mackintosh know it but, from long before it became legal, the pair had another secret weapon, sex the night before each race.
The quality of the writing comes out in the way that Steve Waters not only creates a Boy's Own tale of an epic journey to achievement but introduces a distance which allows us to see the youngsters as contrasting human beings.
Max, played by Sam Heughan is a natural, driven loner who without swimming might have ended up on life's scrapheap. His only interest apart from Elsa is swimming and even in his late twenties, the world has nothing more to offer.
Tellingly, on their night of mutual Olympic glory, he is happy to start over and win in 2016, while Louise Ford's more grounded Elsa moves on to marriage and motherhood, without looking back.
While this would be enough to keep an audience happy, Cressida Brown has other ideas. She packs the time with far more than an acting out of the text.
In addition to following a tale that is given a numinous quality by the musings of Gloria Onitiri as a Goddess, Arion, in a haunting space, we get music, projections and beautifully choreographed dance and movement.
Amphibians is an artistic pleasure with its mix of popular storytelling, good acting and fine directorial vision and nicely whets the appetite for the sporting deluge to come.
Reviewer: Philip Fisher