An Actor's Life in 12 Productions
Oliver Ford Davies
Book Guild
Released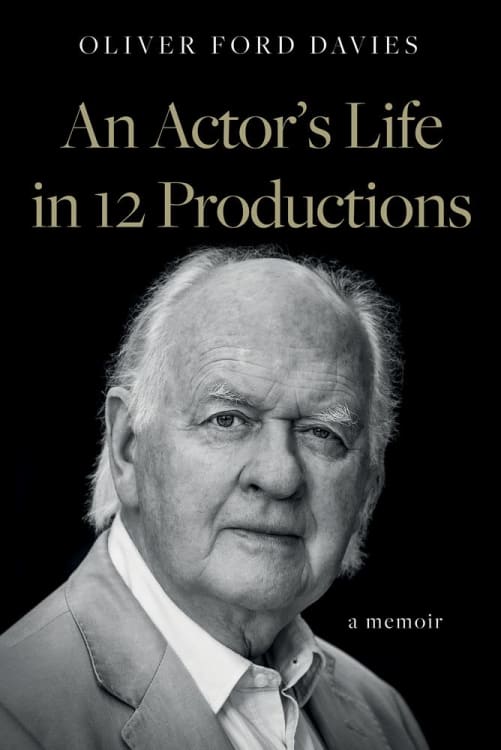 Now in his 80s, Oliver Ford Davies is an instantly recognisable actor, although he was never destined to be a screen idol or stage legend.
As Richard Eyre was to write while directing Ford Davies in David Hare's Racing Demon, he is "slightly donnish, ineffably good-willed; he's like a really effective vicar."
For better or worse, that was always to be his destiny. An early mentor, Peter Dews recognised that even as an aspiring actor at university in Cambridge and just after, here was someone who was destined to playing older roles so would not come into his own until the age of 50. That prediction proved to be prescient.
Anyone who has seen the actor on stage or screen is likely to agree with the Eyre conclusion that he seems perfectly suited to portraying a university Don. That was how he started out, spending a couple of years lecturing at Edinburgh University after coming down from Cambridge, where he did well both academically and in the theatre.
In his late 20s, Ford Davies was confronted by a choice between a life in academia or something less certain as an actor or possibly writer / director. The ensuing decision has long been good news for his many devoted fans across a career that now spans 60 years, though his mother was never convinced that sacrificing the security of a tenured role was a good idea.
One of the pleasures of this book is its ability to remind readers of many forgotten productions and performances. As they go through the 12 productions in the title and so many more in what is effectively a biography of highly talented but under-appreciated actor, readers are reminded that Oliver Ford Davies always seemed to be in the room where it happened, albeit not necessarily in the centre.
His story is a nostalgic reminder of the golden days of theatre. He started out in rep, learning his trade the hard way, before spending years working at both the RSC and the National. He loved playing in Brecht, Chekhov and Shakespeare, making a memorable King Lear and Polonius to David Tennant's Hamlet, but also enjoyed new writing, forming strong bonds with Davids Hare and Edgar and even performing in his own well-received King Cromwell at the Orange Tree.
Despite having abundant talent that was identified early, he was firmly established as a character actor and for years rarely, if ever played star parts. That didn't change until Richard Eyre finally cast the 50-year-old to play the lead at the National in Racing Demon, after which he rarely looked back.
Suddenly, he was in greater demand, getting many leading roles and some opportunities on big and small screens. If nothing else, this helped the left-leaning actor, who never forgets his financially disadvantaged fellows having been there, to make some reasonable money, if never a mint.
Practitioners will learn a great deal, since Oliver Ford Davies is a good analyst, able to synthesise ideas for writers and directors as well as actors while giving a good impression of what acting life in good times and bad is like.
While he has always been popular amongst his peers and with audiences, there was still surprise and approbation when he unexpectedly won an Olivier for best actor leading Juliet Stevenson to happily gush, "for the first time ever I saw the point of awards when I saw you standing there. That somebody whose work had been so committed, sustained, and who has supported so many others with such generosity, imagination and heart for quite a few years, should now receive such general recognition and acclaim seems to make sense of the otherwise rather dubious event."
Readers can enjoy the pleasure of following his career through ups and downs from schooldays as an actor-director and long periods in the doldrums, getting opportunities but very little money, on to three decades of deserved success in a book that is beautifully written and is a wonderful tribute to a fine actor.
Reviewer: Philip Fisher