An Actor's Life – Ralph Richardson
Garry O'Connor
Applause Books
Released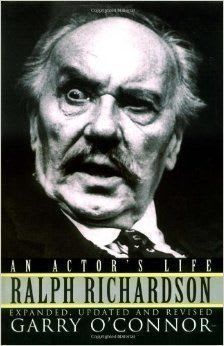 Although he was clearly one of the pre-eminent actors of his age, somehow history has not treated Sir Ralph Richardson as generously as Laurence (Lord) Olivier or Sir John Gielgud.
It is possible that the other duo are better remembered today because of their high profile film appearances as much as their stage and backstage work.
Garry O'Connor's biography helps to restore Richardson to the company of his fellows as a great man of the stage.
This seemed unlikely in early days when Richardson was separated from his father and two brothers after mother decided that she could take no more of what this author believed to be her husband's infidelity and decamped to Sussex with her youngest son.
There, the young man endure a tricky childhood and ineffectually tried a number of trades, including attempting to follow his father as an artist.
Good fortune and a measure of enthusiasm brought the future Sir Ralph to the theatre and you could say that he never looked back. However, lacking in confidence and although tall and stately, not handsome in the manner of Olivier, it took the young man time to graduate to larger roles, let alone become a leading actor.
Along the way, Richardson contracted a marriage to a tragic heroine Muriel (Kit) Hewitt, an actress who became afflicted with the thankfully now almost forgotten sleeping sickness and died at 35.
By this point, the actor had begun to make his mark and was earning enough to indulge his love of speed, motorcycles, cars and planes all appealing greatly.
Richardson now began to take on the great roles especially under Harcourt Williams at the Old Vic where he made his name and then graduated to movie-making, proving particularly popular with Alexander Korda.
Wartime brought a new marriage of great longevity to another actress, Meriel Forbes, and fresh challenges as, together with the man who would become Lord Olivier and the younger John Burrell, he took over the reins at the Old Vic. The ending of that era was packed with controversy, as the great actors were effectively sacked in absentia.
Throughout his long career, Ralph Richardson suffered setbacks as often as he achieved greatness on stage, probably not helped by his diffidence and lack of self-confidence at times.
Even so, by the end of his career, Sir Ralph Richardson could be regarded as a worthy member of the triumvirate with Olivier and Gielgud that redefined classical acting and the British stage during the middle years of the 20th century, eventually moving on to modern plays often in the company of Gielgud.
Rather than presenting a straight biography, Garry O'Connor combines the life story of a very private man with commentary about his own efforts to get appointed as official biographer, the rather grudging relationship that developed between the two men and extracts from a couple of interviews that have helped to round out a highly regarded and informative book that makes a welcome reappearance in British bookshops thanks to American publisher Applause Books.
Reviewer: Philip Fisher