An August Bank Holiday Lark
Deborah McAndrew
Northern Broadsides
New Vic Theatre, Newcastle-under-Lyme
–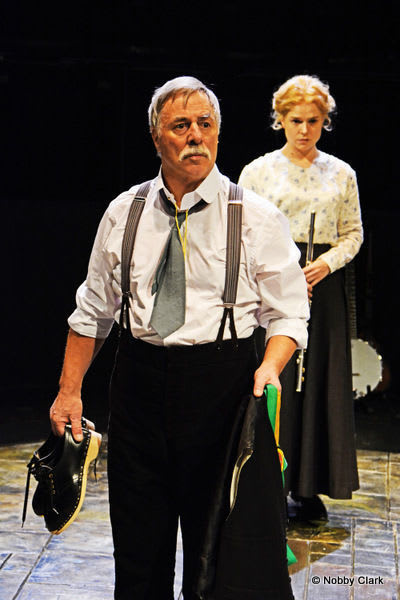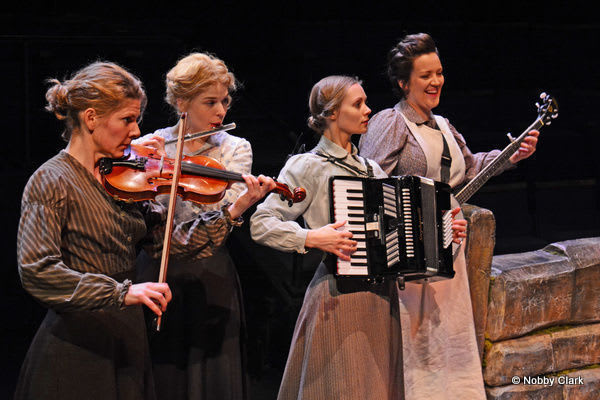 Theatre companies across the UK have been contemplating how they can commemorate the centenary of the start of World War I. For some, it signals the revival of plays which have been gathering dust for a considerable time; for Northern Broadsides it means performing a new play written especially for the occasion.
It was actually five years ago when the company started planning for the landmark. Founder and artistic director Barrie Rutter rang Deborah McAndrew asking for a play. He even gave her the name of the piece and said he wanted it to be about folk dancing.
The title is derived from Philip Larkin's poem "MCMXIV" in which he describes young men queuing up to enlist "as if it were all an August Bank Holiday lark".
McAndrew decided to set the play in a Lancashire cotton-mill community where life and clog dancing continue regardless; "you'd never think there was a war on" says one of the characters in Rutter's perceptive and sensitive production.
An August Bank Holiday Lark highlights the north-west rushcart ceremony, a ritual in which parishioners took rushes—hay or straw—to replace worn-out parts of the floor of a parish church. They were taken on a rushcart and there was great rivalry between villages to see who could build the biggest structure.
An August Bank Holiday Lark features a huge rushcart which is constructed on stage and dismantled during the interval.
The play also allows the cast to exhibit their clog-dancing prowess in a couple of stirring numbers cleverly choreographed by Northern Broadsides resident director Conrad Nelson.
But don't think An August Bank Holiday Lark is merely a succession of gimmicks. There's an excellent ensemble of 12 who bring out all the nuances as well as the depth in McAndrew's writing.
The fact that she has written for Northern Broadsides before—adapting Nikolai Gogol's The Grand Gesture and A Government Inspector among others—shows throughout.
She must have had Rutter in mind when she penned the role of the village squire John Farrar and Rutter gives a sterling performance as the self-centred disciplinarian who tries to remain stoical despite suffering heart-melting loss.
Rutter gets some of the funniest lines, berating fellow dancers for their exuberance—"it's not a Red Indian rain dance!"—and questioning the wisdom of going somewhere different during the summer: "Imagine people going on holiday to Wales—on purpose!"
McAndrew expertly shows how important things are only for them to become unimportant when the realities of war take their toll.
There's also tenderness when Frank Armitage (Darren Kuppan) and Mary Farrar (Emily Butterfield) profess their love for each other despite the squire's refusal to let them walk out together.
Just as I was beginning to think the play would run its course without any wartime incidents, a major injection of tension in the second act is almost unbearably poignant and brings a lump to the throat.
An August Bank Holiday Lark is excellently written, superbly staged and well acted—there's not a weak link in the cast, some of whom are more than capable musicians as well as being impressive dancers.
The play, which goes on tour after its New Vic run, will resonate even with people who've not been bereaved through war as well as those who've suffered the ultimate loss.
Reviewer: Steve Orme