An Enemy of the People
Henrik Ibsen in a version by Florian Borchmeyer
Schaubühne Berlin
Barbican Theatre
–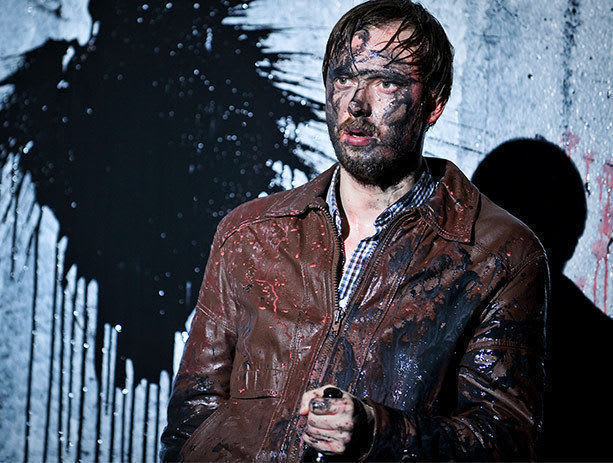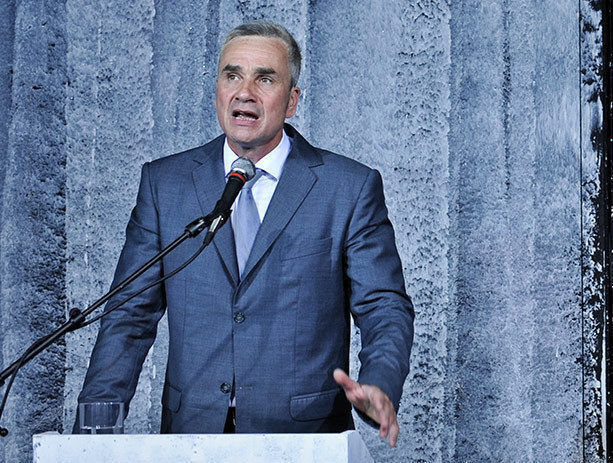 Watching Thomas Ostermeier's dazzling reinterpretation of An Enemy of the People, it would be easy to assume that this was a German play written in the last few months.
The overriding concerns with the environment and the way in which developed countries are governed will chime with anyone who takes an interest in society or politics today.
As always with the Artistic Director of the Schaubühne Berlin, the aesthetic is determinedly modern with leanings towards the radical.
On this occasion, the staging takes place in an open set designed by Jan Pappelbaum and adorned with chalked, Brechtian graffiti on black walls.
The play's protagonist is Thomas Stockmann, a badly dressed, bearded mad scientist with a death wish desire to illuminate and educate a society that would much prefers to be kept in the dark.
The Doctor's unworldliness soon becomes apparent when he attempts to propagate his discovery that the baths which make his town a renowned tourist attraction are contaminated by factories including that of his wealthy, strutting father-in-law, who comes complete with a scene-stealing alsatian.
The town's newspaper editor smells a scoop and gets excited but soon communal hypocrisy of the kind that has become all too familiar in our age of spin sets in.
Swiftly, the excellent Christoph Gawenda's Stockmann finds himself opposed by not only father-in-law but also Ingo Hülsmann playing his brother Peter the Mayor, the head of the residents' association and everyone else except for Eva Meckbach as his long-suffering wife, Katarina.
In this version, she is an interesting character acting as wife and mother but also getting closer to the newspaper editor than is comfortable.
The play moves into a different debate and gear when the Doctor is invited to declaim to a ready-made audience beyond the fourth wall.
His powerful diatribe soon leaves the pollution behind to concentrate on the weak and facile society in which we all live today, whether in Scandinavia, Germany or the United Kingdom.
This hard-hitting attack is cleverly turned into a well-moderated (by Aslaksen or actor David Ruland) audience debate about the arguments being put forward.
This is a big risk by a brave director, as it soon becomes clear that several of those willing to share their views struggle to differentiate between the actors and their characters.
The gamble ultimately gamble pays off, bringing the play right into the lives of visitors, which is the purpose of political theatre and this piece more than most.
Throughout, the story is told with great clarity, although viewers who do not speak German might find keeping up with the central speech via surtitles a little bit of a challenge
By the end, spectators have not only been challenged by Ibsen but also Ostermeier and their fellows in one of the most unusual and rewarding productions to hit London this year.
Reviewer: Philip Fisher