An Excess of Overcoats (A Comedic Medication of Mime Sketches)
Peter Mortimer and the cast
Cloud Nine
Alphabetti Theatre, Newcastle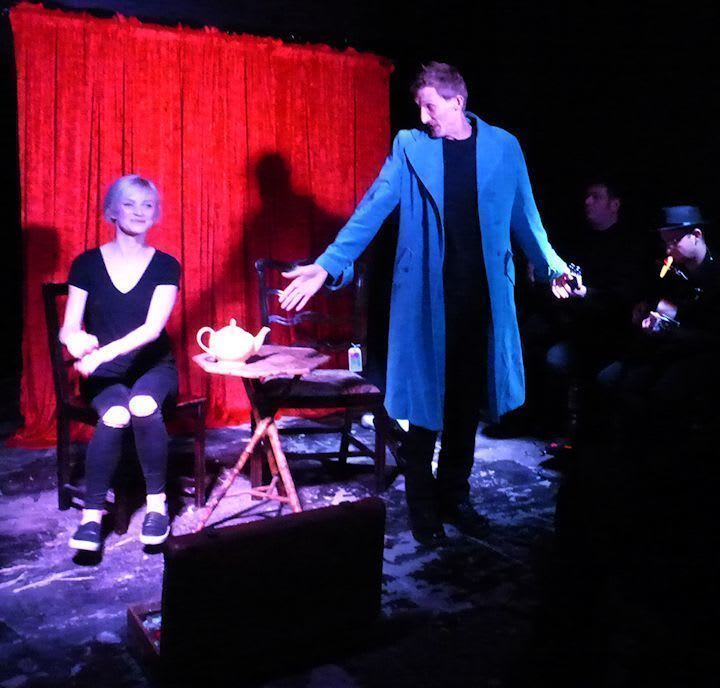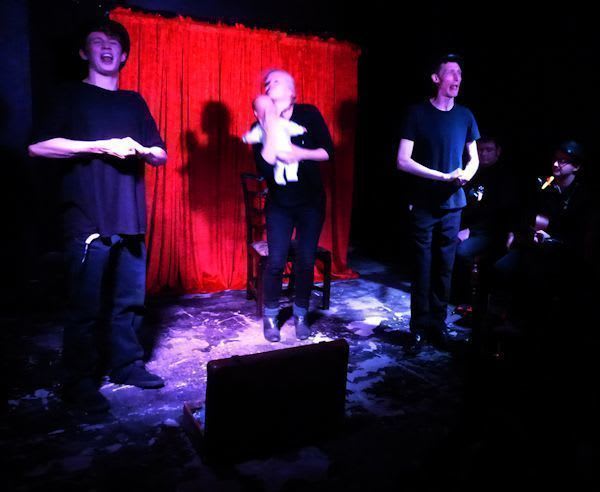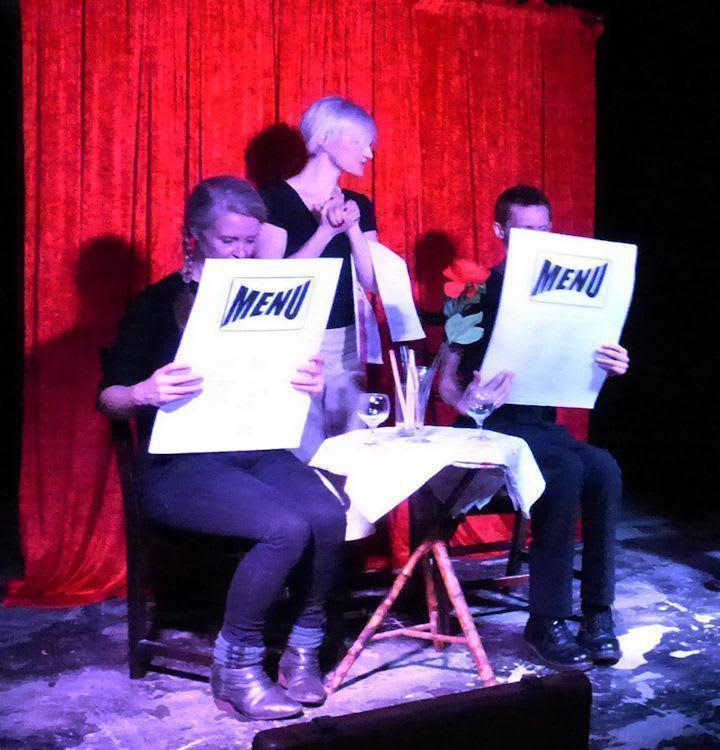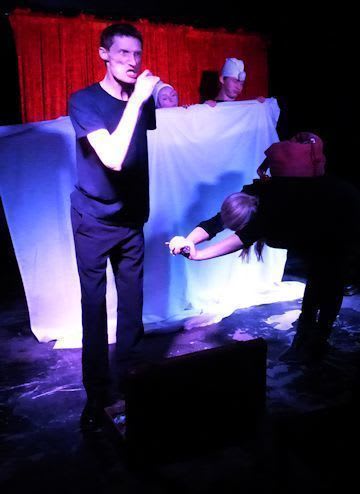 Mention of mime nowadays will likely conjure up a picture of a white-faced clown, eyes wide and mouth in an O of surprise, trying to find a way out of a glass box (an invisible glass box, of course), and elicit a sigh of "oh no. Not again..."
But in fact mime has a long and honourable tradition in theatre. Our pantomime grew out of the Italian Commedia dell' Arte, which was mime. In fact the mimed Harlequinade, which arose from the Commedia, was an essential ingredient of that most British of art forms, panto, until well into the nineteenth century when it gradually vanished, although its slapstick comedy remains central to this day in chase or slosh scenes.
But mime was rescued from the doldrums into which it had sunk, surprisingly enough, by technology—the invention of the motion picture, which, although it did have its serious side, lent itself particularly well to comedy as the enduring populartity of Buster Keaton, the Keystone Cops and Charlie Chaplin proves.
It is from this modern mime tradition that Cloud Nine takes its inspiration for An Excess of Overcoats. The titles, for example, are presented to the audience on black cards which exactly mimic silent movie dialogue screens—but there is also another influence at work, writer Peter Mortimer's fascination with the Absurd—Ionesco, N F Simpson et al—which has been a feature of many of his plays since Marmite, or A Goat in the Wilderness in October 2012.
There are six sketches—Bedding Down, A Baby Called Biff, Suicide, Banking on It, An Excess of Overcoats and The Waiter—performed by a company of four—Arabella Arnott, Zoë Hakin, Robbie Lee Hurst and Torin Pearce. The sketches are accompanied by continuous live music on two guitars and a kazoo by Bugman (Ryan Siddall and Simon Fitzpatrick), music which captures the essence of silent movie piano accompaniment whilst being wholly original.
It has to be said that it's not all mime; there is a small amount of speech. In A Baby Called Biff, for example, Hurst and Pearce provide the baby screaming noises and in An Excess of Overcoats there is a little dialogue between Hakin (the Wife) and Hurst (the Husband).
But who wants to get embroiled in a minor semantic quibble when you're being entertained? And entertained we were. The pieces are funny and the cast throw themselves into the performance with great gusto and obvious enjoyment, keeping just on the right side of grotesque, for reaching that line but not stepping over is the essence of this kind of comedy.
It's an interesting and fun departure for Mortimer and Cloud Nine. One wonders where they'll go next.
The short tour continues to the Low Lights Tavern in North Shields on 23 and 24 November and the Yoga Station in Whitley Bay on 25.
Reviewer: Peter Lathan