An Ideal Husband
Oscar Wilde
Classic Spring Theatre Company
Vaudeville Theatre
–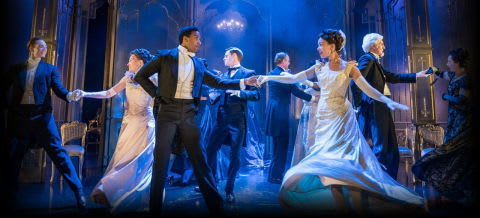 Oscar Wilde's career may have been cut short while the writer was in his prime but it continues to glitter a century on. Jonathan Church has created a lovely, traditional revival of The Ideal Husband, first produced in 1895, reminding viewers that this playwright may focus on the upper classes but he is witty and urbane, poking fun in their direction at will.
Designer Simon Higlett keeps the settings simple, although the third act setting in a gentleman's apartments louchely suggests a seraglio, while the costumes are lavish and effortlessly evoke the era.
The evening opens at a party in the home of Lord and Lady Chiltern. Nathaniel Parker plays the former who happens to be not only The Ideal Husband but also an upstanding government minister with every chance of making the Cabinet, while Sally Bretton is his good wife, the epitome of honesty and decency. Quite why such upstanding models find themselves gate-crashed by Frances Barber playing malicious Mrs Chevely is not immediately apparent, although that may have been a common issue even for the best members of fin de siècle society.
From her arrival, it is clear that this scheming lady of a certain age has evil on her mind, desirous of persuading her host that the highly dubious Argentine Canal Company is worthy of public support. His Lordship's resistance is quickly overcome when the smiling lady unveils a plan for blackmail that is irresistible and shows up this representative parliamentarian in the kind of murky light that is all too common amongst his peers today.
The evening moves into overdrive in an unforgettable third act that is filled with intrigue, comedy and some particularly fine repartee between succeeding pairs of actors of whom the common thread is Freddie Fox in the role of the mildly disreputable Viscount Goring.
First, he creates hilarity in an interchange with his monosyllabic butler, moving on to exchanges featuring perfect timing that may owe much to the fact that the elderly Earl of Caversham is a double father since he is played by the octogenarian Edward Fox, who belies his age much to the delight of the audience.
Next, a showdown occurs between the Viscount and the blackmailer, in which each seeks to outdo the other in their smiling skulduggery.
Even so, at the opening of the final act, many threads remain open but, by the end of the 2¾-hour running time, Oscar Wilde being such a master of his art, every single loose end has been satisfactorily tied.
A skilfully chosen cast, led by supremely confident performances from Frances Barber and Freddie Fox (although the latter occasionally lapses into body language that feels too modern for the period) is strong from top to bottom and it is particularly worth noting the efforts of West End debutante Faith Omole as the ingénue, Miss Mabel Chiltern, who sees Viscount Goring as an ideal husband and matches him word for witty word throughout the evening.
While this comedy of manners may not be one of Wilde's more renowned plays, it is still a gem. The plotting and construction are perfect in a manner that is almost Shakespearean, while there is a stream of wonderful aphorisms that speak volumes about the late Victorian age but also our own.
Reviewer: Philip Fisher