An Oak Tree
Tim Crouch
Traverse Theatre
–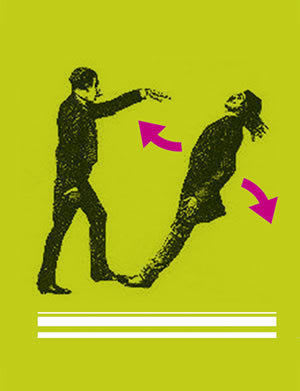 An Oak Tree is a kind of conceptual game played by Tim Crouch, as he carefully choreographs not only the performance but audience reaction to it.
This is the tenth anniversary production of a piece inspired by an equally unfathomable art work of the same name created by Michael Craig-Martin, currently curating and exhibiting at the Royal Academy Summer Exhibition. Rather than a large tree, that consisted of a glass of water on a shelf, which was presumably intended to make visitors doubt labels.
On one level, this 75-minute play tells the story of a tragic accident in which a charlatan hypnotist killed a twelve-year-old girl. It explores the impact on the perpetrator and the girl's family, especially her father, Andy.
By the end, we are supposed to feel the remorse, anguish and self-pity of the two men, along with the frustration of Andy's wife.
The gimmick that has kept An Oak Tree in the repertoire for a decade is Crouch's idea to use an unprepared actor to play Andy, themselves and a handful of extras.
Each day, the actor-volunteer changes and, over the years, some big names have got involved on both sides of the Atlantic, everyone from James Wilby and Roger Lloyd-Pack to Laurie Anderson and Alanis Morissette.
At the press performance in 2015, Aoife Duffin proves to be a tearful companion, giving her all when she should arguably have been preparing for her own opening night later on the same day.
At times she must have felt like a ventriloquist's dummy, reacting to whispered instructions, sometimes issued via earphones, but the Irish actress managed to get caught up in the drama very quickly.
The concept is designed, like so much of the playwright/performer's work, to make viewers consider the nature of theatre and story-telling and does pose a series of questions about the ways in which the public responds to stage stimuli.
This is a slick show that will both amuse and irritate many viewers, while some will undoubtedly look at theatre differently having seen it. That is a good justification for this revival in a city where performance is currently taking over from real life.
Reviewer: Philip Fisher