An Ode to Time
Choreography, costume design and musical direction María Pagés, direction María Pagés and El Arbi El Harti
Compañía María Pagés
Sadler's Wells
–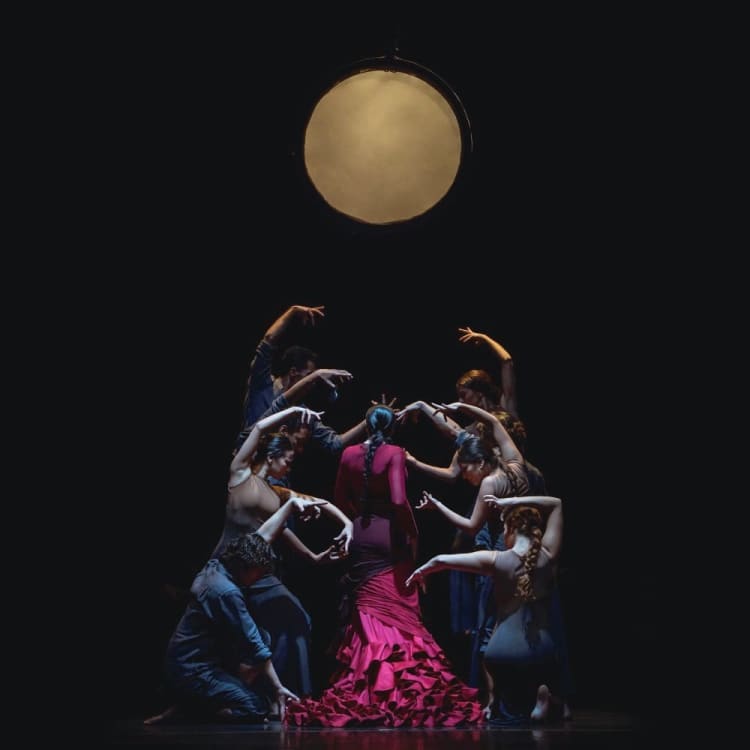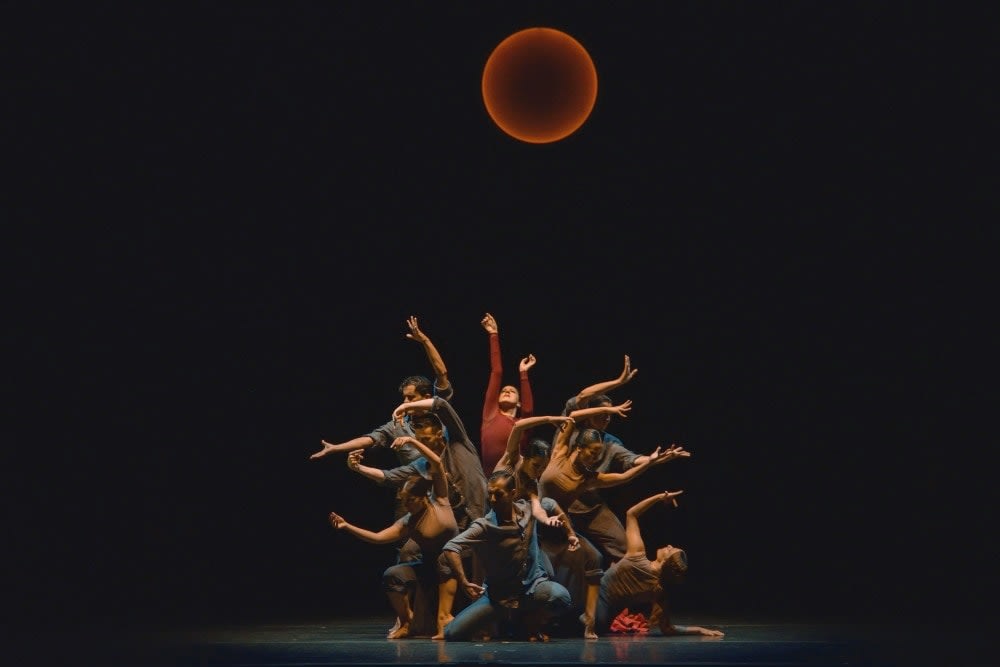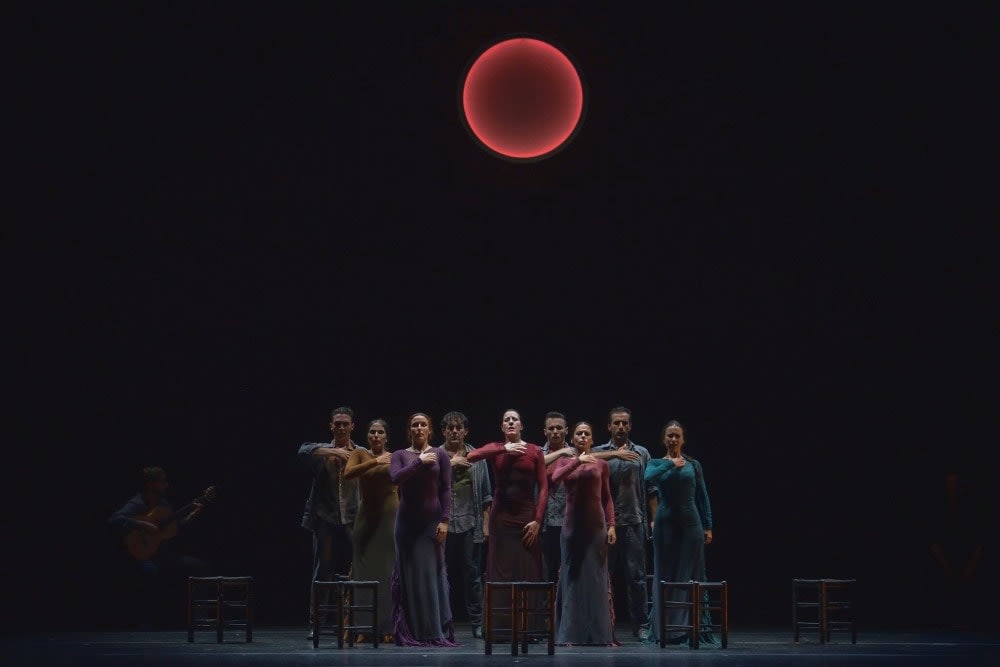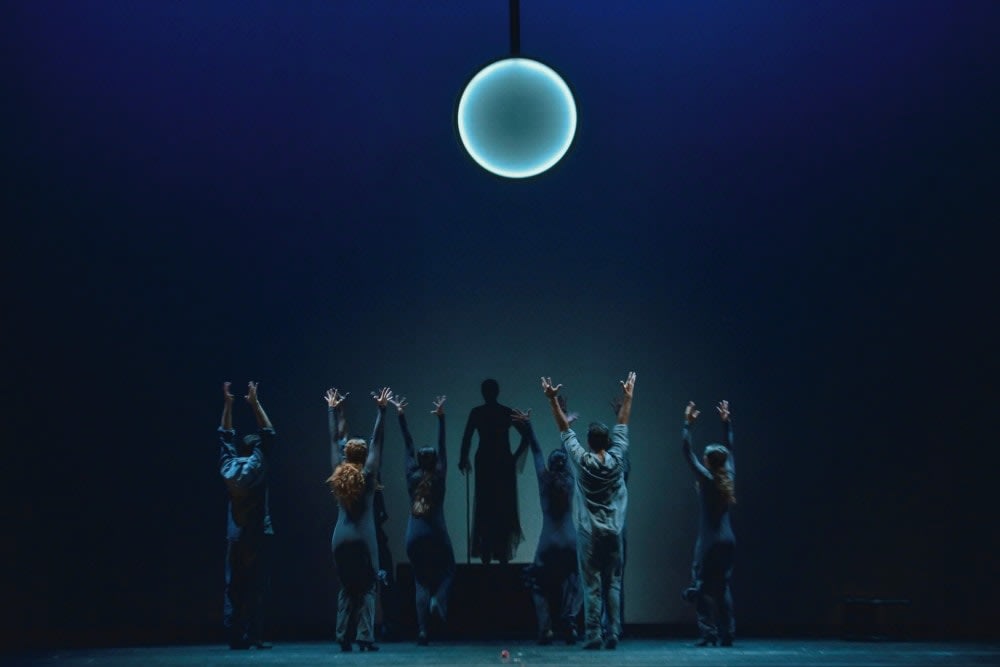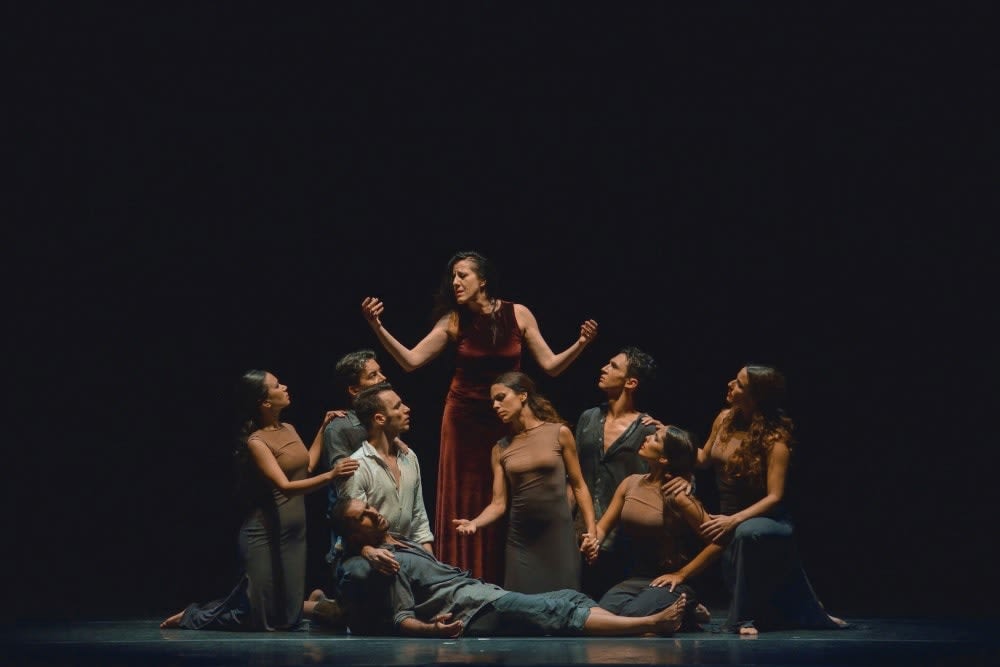 Doyenne of the flamenco world, María Pagés danced in Antonio Gades's company, choreographed for Carlos Saura, established her own company some thirty years ago, will reach her sixth decade in July next year, and recently won the 2022 Princess of Asturias Award For The Arts for her talent and commitment to Flamenco. They don't come more illustrious and creatively ambitious than that.
She's a must-see, a matriarch of dance, but she's not resting on her laurels. Her An Ode to Time has a through dramatic narrative arc in twelve chapters (you need the programme for that), delivered in deafening sound: feet, hands, castanets, singers (two), musicians (two guitars, violin, cello and cajón drum) all on full volume—maybe a trifle over-amplified, but no one's complaining. There's energy in that.
To give you a taste of the intellectual arc, there are references to Pablo Neruda, Picasso's Guernica, Goya, Hebe the ancient goddess of youth, and more. A trajectory of her own dance and life development, a history of her country, the decades of her life, and time itself as captured and measured by the swinging suspended disc, at once the sun, the moon, and time's pendulum (stage and set design Eduardo Moreno, lighting Pau Fullana and Dominique You).
Darkness—lots of darkness—melodramatic shadows and light—the lighting is painterly. I think of Lorca and Goya's black paintings. And again wish my Spanish were better able to understand the songs, whose lyrics (lyrics, dramaturgy and texts by El Arbi El Harti) must be so relevant. So much is missed by an English audience. We have to read the language of the body, and her body is very expressive, especially the arms and hands.
Shawls and bata de cola satisfy the traditionalists. Her troupe of eight dancers, four male, four female, initially in grey, surround her like protective coral fronds in the sea. It's a community finding comfort and solace in each other, but also turning against each other at her command, a Franco figure beating out the call to war with a stick against a darkening sky. The natural world is invoked in sound and bird wing arms—they fly in unison, but splinter under human hubris.
Literal and allegorical, the sun goes down, the moon comes up: she is silhouetted against their inexorable waxing and waning. Ninety minutes are maybe too long: I am tripped up by a false ending about fifteen minutes from the end, but, like time, An Ode to Time marches on with what feels like an epilogue addressed to today—men in army overcoats, executions, grieving women, group pietas—Guernica being repeated. And we are back to where we started amongst those fronds, the cycle of life.
It is serious, emotional and epic. Speak body and it speaks across nations. Hands cover her body like ancient prints—this is now and this is all our yesterdays. She reminds me of Isadora Duncan in her long emoting solos, which feel like an exorcism. And the defiant Frida Kahlo comes to mind, too. Moody, soulful, and very present, it is her show. It feels very personal.
Reviewer: Vera Liber