And She
Hattie Eason, Cameron Sharp and Rebecca Glendenning
Bonnie and the Bonnettes
Northern Stage, Newcastle
–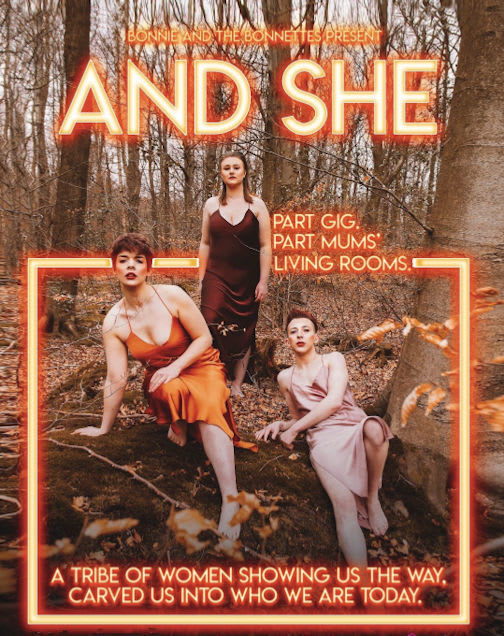 I've been aware of Bonnie and the Bonnettes since their first show Drag Me to Love was produced in the region but, for one reason or another, was never able to get to see the show. I have, however, seen Bonnie (Cameron Sharp) in two productions, Wank Buddies (Live Theatre) and Isolation (Customs House), both of which I enjoyed, so I was determined to see And She.
I'm glad I did. Essentially it's a serious show which is fun, bright, loud and, very occasionally, a bit downbeat, with lots of music. It's gig theatre but with backing tracks rather than live musicians.
It's about mothers—specifically the mothers of creators and performers Hattie Eason, Cameron Sharp and Rebecca Glendenning—and their relationships with their children. It's about memories, happy times, niggles and annoyances, bring nagged and responding to being nagged, good advice and ignored advice, and it's all told by each performer remembering—indeed replaying—conversations, reminiscing out loud, recreating their mothers' stories of their youth, straight to the audience.
It's also told through the songs they sing—the pop anthems, the disco, even the heavy metal, their mothers' music.
There's glitter, confetti, flowers and Prosecco because it's a celebration. Yes, it is serious in that their mothers and their relationships with them are a massive part of their lives but not serious in the sense of an anthropological, sociological or psychological study. God forbid!
No, it's fun and it's funny, bright and even a bit brash, loud and lively, colourful and glittery and a great 75 minutes' entertainment, culminating on the night I saw it (and, I'm told, on the previous night) in a standing ovation.
Touring to Cardiff's Sherman Theatre (1 & 2 October); Omnibus Theatre, Clapham (4 October); Barnsley Civic (19 October); Cast, Doncaster (5 November); ARC Stockton (7 November); Exeter Phoenix (9 November) and Theatre Deli, Sheffield (13 November).
Reviewer: Peter Lathan