And Suddenly I Disappear: The Singapore/U.K. "d" Monologues
Kaite O'Reilly
The Llanarth Group
Seligman Theatre, Chapter, Cardiff
–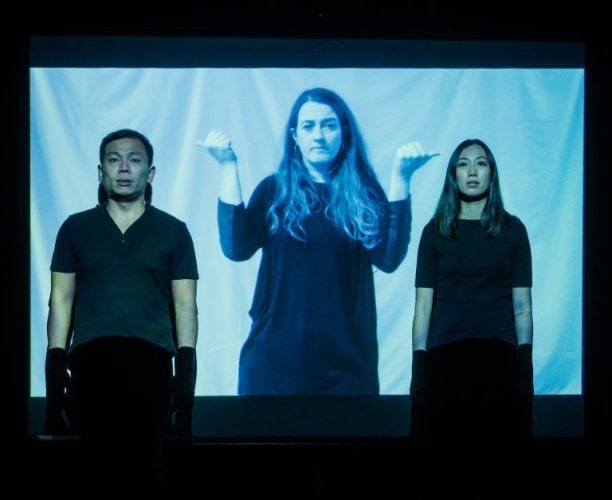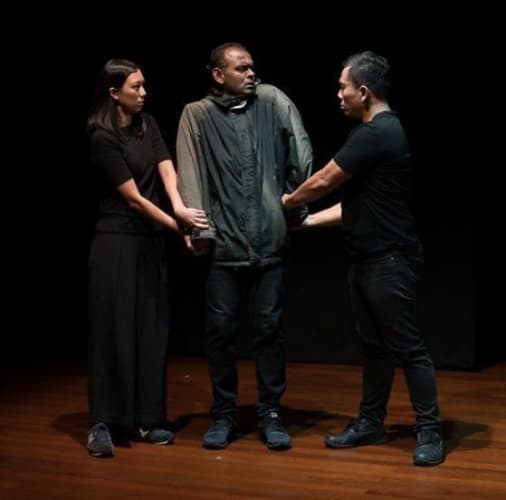 Kaite O'Reilly has devoted a significant portion of her career to depicting disability in drama, whether by foregrounding hitherto marginalised characters or interrogating societal attitudes towards those with visible or invisible impairments. And Suddenly I Disappear… is a typically trenchant piece.
Commissioned by Unlimited, which celebrates and promotes the work of disabled artists, this multimedia presentation was performed at London's Southbank Centre prior to the Cardiff shows; although it premièred, in an earlier iteration, in Singapore in May, the project having significant input from Singaporean creatives.
As proceedings commence, with the actors wandering around the performance space, we are confronted by two large video-screens: one displaying surtitles, the other showing the work of an Oriental calligrapher in close-up, perhaps illustrating the beauty of communication across cultural barriers (videography by James Khoo and Daniel Whittaker).
Following a brief introduction from the ensemble, the sequence of monologues and vignettes begins, giving us a kaleidoscopic picture of disability and attitudes towards it across two diverse cultures. O'Reilly's script is, she has said, entirely fictional, although derived from conversations with disabled people.
Thus, Grace Khoo speaks of the prosperity of her nation having been built on the broken bodies of her ancestors and discusses the tendency of strangers to pray for and lay hands on people whom they perceive as being "special".
Macsen McKay, wielding a sword and shield, points out how many great generals throughout history (Nelson, Napoleon etc) have had disabilities, past injuries rendering them less susceptible than others to physical fear; he relates this to his, or his character's own personal struggles.
Peter Sau gives us a character dealing with a psychological condition which renders him ruthlessly efficient as a business executive, but hopelessly isolated when it comes to personal relationships.
Meanwhile, on video, Sophie Stone merges sign language and dance; Danial Bawtham gives us some disability-oriented hip-hop; and Stephanie Esther Fam and Lee Lee Lim reflect poetically on their experiences.
The most uncomfortable moment is a rant against the dependency culture, delivered Cockney taxi-driver-style by Garry Robson, who rails against amputees who refuse to work, and depressives who are simply too lazy to get out of bed, while lauding his grandmother who crawled up and down the stairs on her bottom several times a day, without a word of complaint. This is all the more dislocatory since his character is in a wheelchair.
O'Reilly and director Philip Zarrilli also give us moments of great beauty—notably the wordless interlude in which an introverted silent man, played by Ramesh Meyyappan, slowly discovers the joy of communicating with the world using his fingers, only to have his enthusiasm physically suppressed by his fellow citizens.
Then there is Stone's on-video reflection on teaching herself to smile, which is immediately reprised on-stage in both Chinese and sign-language.
In contrast, we are given broad comedy as Sara Beer's schoolteacher is shadowed by Sau's self-regarding soap actor, who is researching an award-friendly role. This gives Beer and O'Reilly the opportunity to reprise arguments from their collaboration Richard III Redux in respect of casting and stereotyping.
Politics in the broader sense is also never far from the surface; most explicitly during the segment in which another Beer character discusses her life in a poorly-resourced care home.
The sound design, by Bawtham and Bani Haykal, is subtle; occasionally, O'Reilly's writing seems not to be, painting in rather broader strokes than her calligrapher. This is perhaps inevitable in a piece which leans so firmly on righteous anger.
And Suddenly I Disappear… is a powerful and wide-ranging exploration of a complex set of issues and individuals. Concluding on a note of bitter laughter, it is never less than arresting.
Reviewer: Othniel Smith