The Andersen Project
Robert Lepage
Barbican
(2006)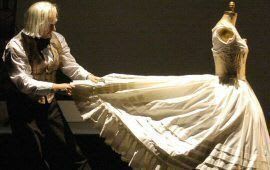 When the Kingdom of Denmark asked avant garde theatrical genius Robert Lepage to help them in their celebrations of the bicentenary of the birth of a favourite son, Hans Christian Andersen, they did not know what they were letting themselves in for.
As a distinguished colleague from a national daily informed me prior to entry, Lepage's main discovery was that Andersen's coded diaries proved him to be a big banker. At least that's what I think that he said, although the only deposits to be seen during the evening were cleaned up from Parisian peepshow booths by the illegal Moroccan cleaner.
The main characters in Lepage's meditation on Hans Christian Andersen and the solitariness of modern life are all loners with artistic sensibilities.
They are also all Lepage as he has chosen to write, direct and take all of the parts, following several previous precedents, most recently, The Far Side of the Moon.
The main character is the Canadian librettist, Frederick Lapointe, who bizarrely breaks all of the rules as he opens the play delivering a lengthy speech with his back to the audience. We are still able to see him as he appears on a large screen that is later used for a variety of often intoxicating multimedia images.
He has been recruited by the Opera Garnier in Paris to write the words for an opera based on an Andersen short story The Dryad, about a nymph who, like Frederick, decides to visit Paris. This provides the framework for a series of naturalistic but subtly zany monologues, punctuated with visual accompaniments.
In Paris, the writer lives above the peepshow and meets the other major protagonist, the hilariously loquacious director of the opera house. This pair have a lot in common, including woman trouble and the struggle that artists and administrators so often face to bring a work to performance.
This allows Lepage a heartfelt dig at the British opera press, following their extreme reaction to his last work on these shores, directing Loren Maazel's 1984 at the Royal Opera House last year.
He also satirises others connected to the arts, reveals Andersen's favourite solitary hobby and delivers a gently comic play about contemporary life and mores that hits a number of insightful bullseyes.
In addition, he offers a series of great comic ideas including a walk in the park with an invisible drug-dependent dog, which also visits its therapist, and an embarrassing meeting with potential funders of the opera project.
Lepage must be the only man who can regularly take over major theatres around the world, all alone and leave 1,000-strong audiences in raptures.
He now knows how to pace himself, to use conveyor-belt sets and dramatic, screened images and to play many parts without there ever being any doubt as to which one he is.
While the material in The Andersen Project may not be on quite the earth-shattering scale of much of the writer's work, nobody should miss the chance to see this one-man extravaganza. No one is quite like Lepage and surely he cannot have the energy to put on such draining tours for too much longer.
Reviewer: Philip Fisher