Andersen's English
Sebastian Barry
Out of Joint
Hampstead Theatre
(2010)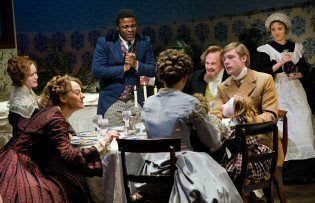 Sebastian Barry's new play for Out Of Joint imagines a meeting that actually took place between two of the greatest writers of the 19th century, Charles Dickens and Hans Christian Andersen, at the English novelist's Kent home, Gad's Hill.
Perhaps appropriately for something set firmly in the Victorian age, Andersen's English is a quiet work with, like many of its characters, passions seething just below the surface. In fact, for those that believe that sex started in the 1960s, the questionable morality of these Victorians will come as a shock.
Worshippers of arguably the greatest English novelist might also feel that his portrayal, in a convincing performance by former Dr Finlay David Rintoul, is harsh. Rather than a loving family man, the writer is driven solely by his own inner needs, trampling over those that no longer interest him and reinventing his family history as if it were nothing more than a new story with which to enthral his devoted readership.
As it is expressed at the start, Andersen's arrival in Kent came just as the Dickens family was about to experience a "Bouleversement" (or "great cataclysm") that would irreparably damage it.
The master of the fairytale and it is suggested an even more popular writer than Dickens at the time, depicted in an adventurous piece of casting by Black actor Danny Sapani, turns out to be less a fellow European than an arrival who could easily have hopped in from outer space.
In fact, though Andersen was not the catalyst and hardly noticed it, the household of mild eccentrics was falling apart, almost imitating its equivalents in some of Charles Dickens' best works, so that at times you hardly know whether to laugh or cry.
On the surface, the union of Charles and Catherine Dickens, given great humanity by Niamh Cusack, supported in bringing up seven children by Kathryn O'Reilly as the latter's sister Georgie, seems perfect. The writer was riding the crest of a popular wave by 1857 when Little Dorrit was published.
The unexpected arrival after ten years absence of his frequently tearful but incontrovertibly good-natured old friend should have made things even better, though the early death of a friend, Douglas Jerrold, at the same time was a shock to the system.
For whatever reason, Dickens himself had fallen out of love with his devoted wife, much to her distress. He was closer to Georgie, although it is made clear that their relationship was never physical.
By the end of the play, egged on by Dickens' immoral friend and collaborator Wilkie Collins, the writer has cruelly dispatched Catherine from the family home and is about to replace her with the actress Ellen Ternan, young enough to be his daughter and, in an intelligent piece of doubling by director Max Stafford Clark, played by Lorna Stewart who is also eldest daughter, Kate.
While their guest struggles with the English language and customs, another outsider has different problems. The cheerful 16-year-old maid Aggie has been orphaned and seen her four siblings die in the Irish potato famine.
A willing worker, she also proves to be too willing to fall for the charms of Walt (the impressively christened Walter Savage Landor) Dickens, a weak lad of the same age being unkindly packed off to the war in India by his heartless father.
The bubbly Lisa Kerr in the role of the maid is left lonely and pregnant, although in a sentimental postscript we discover that, helped by the generosity of a house guest, life treated Aggie's son far better than the father he never knew, who died at 23.
In a deliberately old-fashioned kind of production, enhanced by songs from the Irishman Thomas Moore, Lucy Osborne's traditional set is as incomplete as the struggling family. The creative team inject considerable humour though by having puppets play the three youngest Dickens children.
Some spectators might wish for rather more in the way of fireworks but this thoughtful piece, written in poetic language as befits its dual subjects, both illuminates the character of Charles Dickens and has the ability to move its audience.
Playing until 8 May
Tnis production was also reviewed in Leeds by Ray Brown, in Manchester by David Chadderton and in Salisbury by Kevin Catchpole
Reviewer: Philip Fisher