And Then There Were None
Agatha Christie
The Agatha Christie Company
Yvonne Arnaud Theatre, Guildford, and touring
(2008)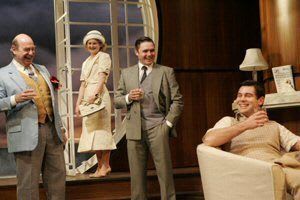 This is the third year for the Agatha Christie Theatre Company, formed in association with Bill Kenwright, and with the collaboration and blessing of Christie's grandson, chairman Matthew Pritchard, the intention being to produce the original stage versions of these thrillers as adapted by Christie herself. She was a very prolific writer – they will be with us for a long time yet.
The first year saw an excellent production of The Hollow, with a splendid Kate O'Mara bringing comedy into the equation, along with suspense and intrigue. I'm afraid I was not at all impressed with the following year's The Unexpected Guest which seemed to me static and stilted with a great deal of dialogue and hardly any action, not helped by Simon Scullion's minimalistic set. As this show began I thought "Oh dear" – again stilted, artificial stereotyped characters – not one you could believe in. That, however, was only a first impression, and very soon the cast gained confidence, we became used to the nineteen thirties manner of speech, and the company produced once again a show equalling the high quality of the first.
Before beginning, the front curtain portrays a dark and forbidding mansion, perched high on the top of a hill in the centre of a small island, not a place I should like to visit, but what a transformation when the curtain rises to reveal the interior - a magnificent drawing room, combining "Art Deco and ocean liner style". A butler and maid rush around preparing for the invited guests, all is light, bright and carefree, especially when the huge glass doors at the back are flung open to reveal a glorious view of sea and sky. Not a thing to suggest the horrors which are to come – "a haven of peace". Scullion has excelled himself on this one! The only thing which seems a little strange are the figures of ten little soldier boys lined up on the mantelpiece, with a framed poster of the well-known nursery rhyme hung above them. In fact this is the only major change to Christie's play – the title. Originally "Ten little Nigger Boys" in a less politically-correct world, it then became "Ten little Indians". I wonder how long it will be before it is deemed derogatory to soldiers!
The ten guests, previously unknown to each other, arrive happily expecting a pleasant weekend, but each of them has committed a crime which went unpunished and retribution is at hand as they are despatched one by one in the manner of the rhyme, but first they examine their invitations each from a Mr. or Mrs. U.N. Owen. The plot thickens - and as the intricate story unfolds the biggest mystery is who on earth can be effectively murdering each one. There is no one else on the island – it must be one of them, but which one?
Gerald Harper is retired judge Sir Lawrence Wargrave, weighing the evidence slowly, deliberately and thoughtfully – he had sentenced a man to death, but believed his judgement was correct. Jennifer Wilson's Emily Brent, morally religious, feels perfectly justified in dismissing a young pregnant girl from her employment – not at all her fault that she then drowned herself. Chloe Newsome, as secretary Vera Claythorne, provides the glamour (some exquisite dresses by Brigid Guy), and also a little love interest with Alex Ferns's Captain Philip Lombard, and even the two servants (Gary Richards and Doris Zajer) don't escape.
After its slightly slow beginning, the play gathered momentum with one death closely following another, and each time one of the little soldier figures was broken, until finally ..well go and see for yourself!
There were a few laughs – in places which I'm sure Christie would not have expected – but this was only due to the different manner of speech in the thirties, and the play kept tension and suspense right to its surprise ending.
Touring to Cardiff, Wolverhampton, Blackpool, Aberdeen, Eastbourne, Nottingham and Glasgow
Reviewer: Sheila Connor