Angelmoth
balletLORENT
Sadler's Wells Lilian Baylis Studio
(2008)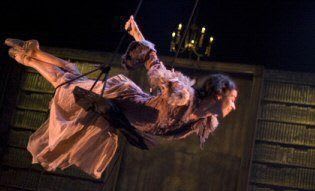 The Newcastle-based balletLORENT (established in 1993) returns to the intimate Lilian Baylis Studio at Sadler's Wells with the ethereal Angelmoth, its delightful special show for children aged four and above - it's only 95 minutes with interval. Choreographed by its founder and director Liv Lorent and the dancers to an original storyline by Ben Crompton who also narrates - in over-amplified voice-over - and, for me, breaks the spell of the dance.
The sound of his distorted voice interferes with Andy Ross's marvellous musical composition of gypsy waltzes and tangos influenced by Central and East European melodies (reminded me of the music in Sally Potter's film The Man Who Cried), and Phil Eddolls's (designer), Paul Shriek's (costume designer), and Malcolm Rippeth's (lighting designer) mesmerizing stage pictures - a treat for the eyes and ears. I wanted to watch the dance respond to the music rather than listen to the words. And I wanted to dance. If it has this effect on children, what a wonderful thing that will be - and it will fulfil one of the aims of balletLORENT's first production dedicated to children and family audiences.
Angelmoth is visually beautiful and enchanting with faded sepia picture book detail - raggedy gossamer costumes dusted with cobwebs, a tiered set, and clever ideas - but cluttered and muddied by subplots. The body language of the seven-year-old boy sitting next to me said it all. He was captivated by the first half, but fidgeted throughout the second.
It is often difficult to sustain the magic of the first half exposition in the second half. Scared of running out of ideas there's often a frantic desperation to fill the story with too much plot to serve the dance, but in the hands of good choreography dance can look after itself. And here it is in good hands. And bodies and feet - the performers are excellent. The decision to have most of the dance on pointes is the right one for this speechless dance and mime bound by neither earthly reality nor gravity.
Angelmoth is a great new fairytale for all children who love to lose themselves in a world of books. Set in a dusty fusty musty library scattered with books on shelves, in piles on the floor and desk, on the book stacks reached by a spiral staircase, it is home to shy librarian Pippanouska (Gwen Berwick - delicate feet and expressive hands) and a bunch of lonely people.
Nose literally in a pile of books - she turns the pages with her nose - possessive mother Madeline keeps her daughter Lydia (Meritxell Pan Cabo) close. Joe (Gavin Coward) hangs about the library because he loves Lydia, and tall illiterate oddball tramp Oswald (Davie Rae) wakes from under a blanket of books on the desk and does a funny tumbling dance. And they all do a charming deportment dance with books on their heads, on shoulders, on faces, on noses.
Into this quiet self-contained Miss Haversham world comes the Stranger (Gary Clarke). He is Pippanoushka's dead grandfather in different form we discover later come to show her the dreamy breathcatching 'other' world of the Angelmoth (a quivering fluttering Winifred Burnet-Smith), where they find Madeline's lost boy (Raymond Roa) and the Siren (Debbi Purtill) that gives him no peace.
After much tribulation and fear all is resolved as in all good fairytales. Thank goodness. I was almost giving up on the wayward plot. The dancing is enough, and the choreography really is very effective in its unhurried simple style - in the first half at least.
In the gothic 'other' world of the second half the choreography takes to the air. On a trapeze and in flying harnesses dancers perform difficult aerial choreography, a giant on articulated stilts bounces high, but the storyline ties itself in knots, and turns the dream into a haunting nightmare - an evil siren with her kiss of death, a mother finding her lost son then losing him again. Melancholy, grief, and bereavement - a lot to take on at the age of four.
To 3rd January 2009
Reviewer: Vera Liber