Angels in America - Part I: Millennium Approaches
Tony Kushner
Citizens Theatre Company, Headlong Theatre and the Lyric Hammersmith
Northern Stage, Newcastle, & Touring
(2007)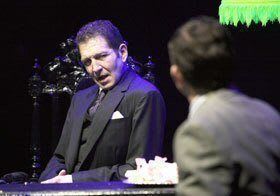 With its inventive style and structure, it hard to believe that Angels in America is the first major work of American writer Tony Kushner. Kushner describes his play as "A Gay Fantasia on National Themes" and an "epic" drama, which obviously means its plots unfold over great distances of time and place, involve many characters, and more than one storyline.
Two complete plays form the entire plot: the first part, Millennium Approaches and its second instalment, Perestroika. Together, they present more than thirty characters in eight acts, fifty-nine scenes, and an epilogue. Thus theatergoers embark on a journey that accumulates to nearly eight hours of theatre.
Part One: Millenium Approaches particularly concentrates on three storylines beginning with Harper (Kirsty Bushell) who is addicted to Valium and openly admits to having "emotional problems" and her closet homosexual husband, Joe (Jo Stone-Fewings). From here we meet Prior (Mark Emerson) who is dying of AIDS and his boyfriend Louis (Adam Levy) who cannot cope with his illness. Spitting and sliming his way through all of this is lawyer Roy (Greg Hicks), who has also been diagnosed with AIDS but denies this with disgust as it "afflicts mostly homosexuals and drug addicts". He goes on to profess he is neither of these things in an extraordinary and rather grotesque scene with his doctor, Henry, the wonderful Ann Mitchell.
Daniel Kramer leads this superb cast of eight through this theatrical marathon which constantly plays with gender roles and startles audiences with its complex and incredibly technical scene structures that often play in the debris of previous scenes. Kramer has choreographed this production beautifully with one particular scene highlighting his precision. The two couples Harper and Jo, and Prior and Louis go to bed and the two stories are played almost simultaneously using the same bed! Harper and Joe using the bottom as their headboard and Prior and Louis using the top end. This was a fantastic scene and perfectly allows the worlds to collide and crash into each other and utterly supports the "Fantasia" Kramer describes.
Designers Soutra Gilmour (set), Charles Balfour (lights) and Carolyn Dowing (sound) obey Kramer religiously and flourish in their difficult task of staging this epic play. Together they create this fantastical environment with gusto, jolting the audience at every moment, constantly demanding attention and never allowing the audience to dwindle or be distracted which is much appreciated considering the length of this play.
Kramer's cab-ride-tour of this "gay fantasia" points out some important political landmarks of America and highlights many other sites of human survival and poignantly captures the theory that no one is safe from themselves. One can't help but think we have been taken the long way round on this journey but it could certainly never be described as dull.
Peter Lathan reviewed Part II "Perestroika"
David Chadderton reviewed this production at The Lowry, Salford, and it was then reviewed by Philip Fisher at the Lyric, Hammersmith
"Angels" runs in Stage 1 at Northern Stage until Saturday 26th May, and then goes on to Cambridge Arts Theatre (29 May - 2 June), The Lowry in Salford (5 June - 9 June) and the Lyric, Hammersmith (20 June - 22 July)
Reviewer: V Mitchell