Angels in America Part One: Millennium Approaches
Tony Kushner
Headlong Theatre, Citizens' Theatre and the Lyric, Hammersmith
The Lowry, Salford, and touring
(2007)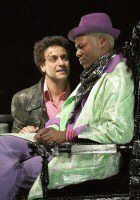 Kushner's huge 1991 state-of-the-nation millennial drama, originally seen in the UK fifteen years ago as a production by the National Theatre, is given a rare UK revival by Headlong Theatre, Citizens' Theatre of Glasgow and the Lyric Hammersmith.
In the first part, Millennium Approaches, Kushner introduces major themes such as Reaganite politics, race, sexuality, environmental destruction, religion, corruption in the US legal system and AIDS just through the interactions of a diverse group of characters and their personal relationships. He manages to do this in a way that is far from superficial but is also not preachy or distracting from the stories.
Roy M Cohn is a top New York lawyer for whom 'clout'—or position in the pecking order—is everything, but recent events are threatening to destroy his health and, perhaps even worse, his reputation in the New York law courts. Joseph Porter Pitt is his protégé, a mormon from Utah and an enthusiastic supporter of Reagan, whose moral code will not let him acknowledge the corruption in his profession or repressed feelings inside himself. Joe's wife, Harper, never leaves their apartment and has a mild addiction to Valium, which gives her some interesting hallucinations that she shares with the audience. Prior Walter also has hallucinations due to the onset of his AIDS-related illnesses and the drugs he is taking to control them, while his boyfriend Louis Ironson is unable to cope with his lover's illness and walks out on him.
The scope of major topics that Kushner covers apparently effortlessly with this relatively small cast of characters is breathtaking, as is the emotional range that can take us from laugh-out-loud funny to deep sadness to anger in a moment.
The production has a superb cast that takes on the formidable challenges of this production—not least its seven-hour length over the two parts—and creates some wonderful performances with each actor playing between two and seven characters. Kirsty Bushell is absolutely superb as Harper, with her childish joy in her hallucinations contrasted with her depression and her irrational outbursts. Mark Emerson as Prior Walter is initially bitter about his disease, but he turns him into a very sympathetic character that you can't help but feel for as his disease progresses and he is abandoned by his lover. Ann Mitchell is great as the rabbi at the beginning, fine but a little slow and pensive as the doctor but absolutely superb as Joe's mother Hannah. There are also great performances from Adam Levy as Louis, Jo Stone-Fewings as Joe, Greg Hicks as Roy, Golda Rosheuvel in a great many roles and Obi Abili as Louis and Prior's camp friend Belize and Harper's hallucinated travel agent. Abili has only recently graduated from RADA, but shows no signs of inexperience or lack of confidence and is wonderfully commanding in all his roles.
Over the three acts, the first act is wonderful, the second seems to drag a bit as some scenes are very slow and some move so quickly it is difficult to pick up what is being said and the third picks up considerably and builds towards its climax. Soutra Gilmour's set design is kept simple, but picks out some items in jarringly bright and unnatural colours, which doesn't quite work. Carolyn Downing's sound design works on the same lines, with natural sound effects turning into something more abstract and back again, which works well a lot of the time but is spoiled a bit by a rather tinny PA sound (at least on the second balcony where I was precariously perched). The ending of this part seemed rather odd compared to the way it is described in the script and not as effective, but again this may have seemed rather different closer to the ground.
Overall there are certainly flaws in the production, but if you can sit for three and a half hours (there are two intervals to stretch your legs) you will see some wonderful acting and some of the best theatre writing of recent years to make you laugh, cry and possibly even think.
>> Part Two
V Mitchell reviewed this production at Northern Stage, Newcastle, and it was then reviewed by Philip Fisher at the Lyric, Hammersmith.
Reviewer: David Chadderton